The Loop
Paired with Normans, Young Aussie Impresses at AT&T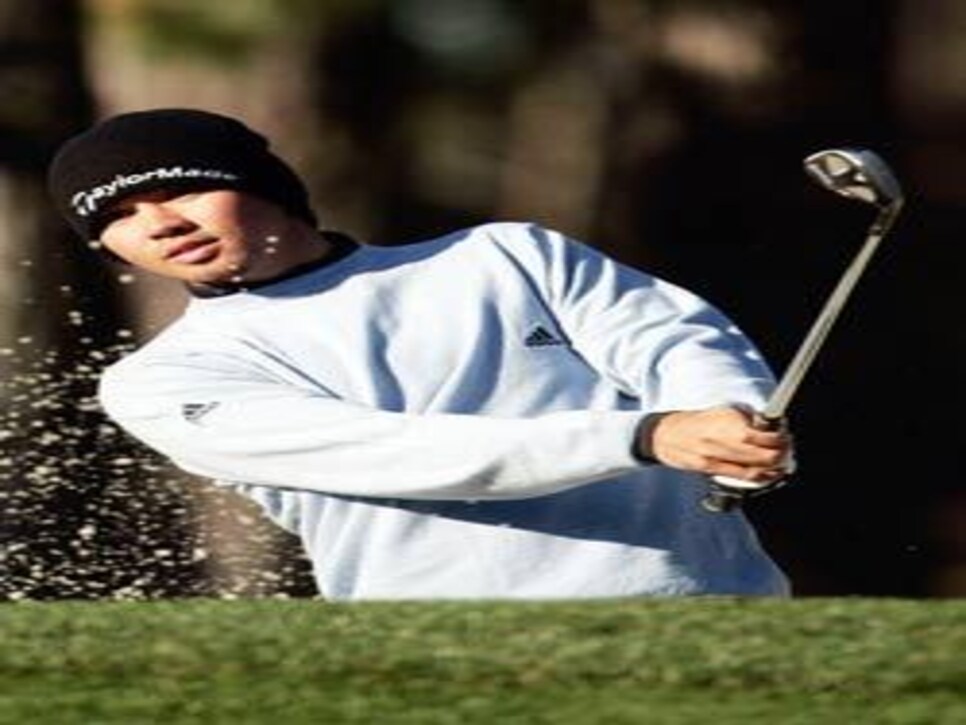 PEBBLE BEACH, Calif.--One is dark-haired with a dark complexion and a powerful lower body that unwinds into the ball like Tiger Woods. The other is blond and lean, his skin weathered like driftwood, and he slides into the ball exactly the same way he did when he drove it better than anyone else in the world. Greg Norman has spent the past two days on the Monterey Peninsula playing golf not just with his son but, perhaps, with his heir, too.
Norman, who turns 52 on Sunday and is the oldest player in the AT&T Pebble Beach National Pro-Am, can, as 20-year-old Jason Day put it to his caddie, teacher and mentor, Colin Swatton, "still mint it." Norman is partnered with Gregory, his 22-year-old son and an aspiring golfer, while fiancee, Chris Evert, has looked on from behind the gallery ropes. But it is Day whose name went up on the leader board after two rounds, and it is Day who may well be Norman's spiritual son, at least when it comes to being the next great Australian player in that seemingly endless list of Aussie talents.
Though they had played together once before the AT&T, Day and Norman don't know one another well. Not yet, anyway. They've scheduled a more relaxed practice round in Mexico at the Mayakoba Golf Classic in two weeks on a course Greg designed. So far, Norman appreciates Day's game mostly from afar and is none too solicitous.
"It's consistently solid. He doesn't make too many mistakes," says the two-time British Open champion. "Putts well. Makes a lot of good four- and five-footers when he needs to. All around good game, I would say. There are a lot of 20-year-olds out there hitting a thousand golf balls a day trying to be better. I wish him well. I just hope it works out for him."
Not exactly the wow factor. And Day has yet to avail himself of the opportunity to find out what made the Shark swim. "When I saw a Nicklaus or a Watson or Trevino or Floyd, I always picked their brain. Absolutely," said Norman, who replied, when prompted, that Day hadn't asked his advice about much of anything.
The young Aussie, who was barely alive when Norman ruled golf, instead chummed with young Gregory. "We got off pretty quick," said Day. "We were always talking about, like, riding motorbikes, snowboarding, watching cartoons, funnily enough."
After Day won the Junior World Golf Championship and turned pro, he got into seven events in '06 on the PGA Tour and made five cuts. But, he was so shy, he wouldn't associate with the other players, preferring to hang out in the caddie pens with Swatton. The backstory of Day, losing his father to cancer at 11 and then losing his way as an adolescent, is well known. Just as well known are his highly publicized comments about wanting to take down Tiger Woods, something Day regretted saying not so much because he aspired to anything less than being the World No. 1 but because he was afraid, when he finally met Woods, that the man he looks up to so much might look down on him.
"He idolizes Tiger," Swatton says. "Tiger changed his life." It was Swatton, golf and a book about Woods that ultimately turned Day's life around at 15, beginning with daily 5 a.m. practice sessions. At Spyglass Hill on Friday, on the downhill par-5 seventh hole, Day smothered a 2-iron on his second shot. It looked destined to one-hop into the water, front and left of the green. Instead, the ball plugged just outside the hazard. It wasn't exactly a miracle at soggy Spyglass, but it was a nice piece of good fortune. Day took a drop, then one-hopped a little half wedge to two feet for birdie.
Day has his teacher on his bag, a steady girl, Ellie Harvey, who he was introduced to at Mavis Winkles Irish Pub in Twinsburg, Ohio, and a healthy right wrist after a cortisone shot, therapy and three and a half months off at the end of last year. Fresh from a solid week in Scottsdale, he chose to rest rather than play practice rounds, despite having never seen any of the three AT&T courses, including the one that requires the most courting and where he'll play today, Pebble Beach. He opted to trust Swatton instead, an approach that has worked out nicely for a young man who needed some looking after.
"The thing with me," Day said of his game, not his life, "is I make a lot of mistakes and I make a lot of birdies. So, if I can minimize those mistakes, I can hopefully go out there and win." Clearly, he's learned from his. Maybe that's why he didn't need Greg's advice. Not yet, anyway.
(Photo: Jeff Gross/Getty Images)**