News
Padraig Harrington really *really* wants to be Europe's next Ryder Cup captain. He also doesn't want to jinx himself by talking too much about it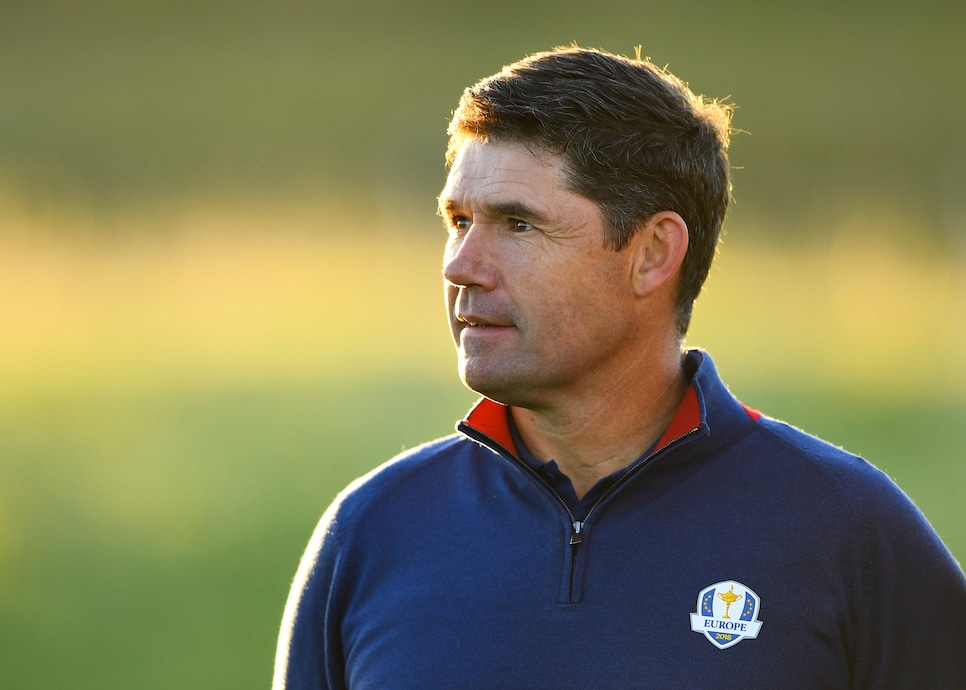 Photo By: Ramsey Cardy/Getty Images
ANTALYA, Turkey — Nothing is official, but if anyone other than Padraig Harrington is named the next European Ryder Cup captain in the coming months, it would be a shock result akin to, oh, someone like Ben Curtis or Todd Hamilton winning the Open Championship. It might happen. It could happen. It actually has happened. But it almost certainly won't.
An assistant captain in each of the last three biennial contests between Old and New Worlds, and six times a player, the 47-year-old Dubliner ticks all of the traditional boxes. He's a major champion three times over. He's still active on the European Tour, where he has amassed 15 victories between 1996 and 2016, and so remains in regular and close contact with the players he is likely to be leading. He's famously bright and eloquent and, well, being Irish is never a disadvantage in the popularity stakes when visiting the United States. The 2020 matches will be at Whistling Straits in Wisconsin, a venue Harrington describes as "a European-style course."
All of which is not to say that Harrington is taking anything for granted. If nothing else, politics and politeness demand otherwise, especially as there are apparently two other candidates for the post.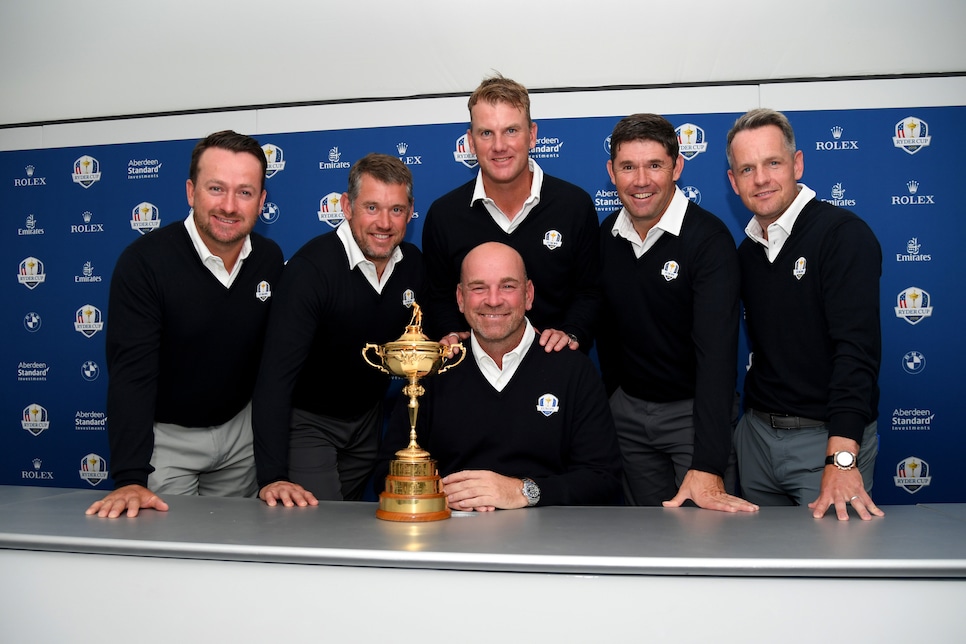 Ross Kinnaird/Getty Images
"I know a number of players have come out and said they feel I should be the next captain," Harrington said. "I think what they are really saying is that they liked what they saw and they would like a continuation of what they have seen and not to rock the boat too much. But I'm trying not to say I'm the Ryder Cup captain for 2020. It has not been decided. But once I start talking about it, eventually it starts looking like I think I am."
And then of course he did start talking. A legendary orator—one might even say "blessed with the blarney"—Harrington just can't help himself when it comes to questions that energize his ever-active mind.
Asked if this whole Ryder Cup thing was already a distraction, he was off and running.
"I'd like to be Ryder Cup captain," he acknowledged. "My name is in the hat but nobody is fully sure when they are going to announce it. I would certainly relish the opportunity and challenge and not go into it lightly. It is certainly not going to be easy for anybody going to the States after we beat them in France. The U.S. will be up for it."
So, it would seem is Harrington, who segued neatly into a discussion regarding the importance of home advantage in a contest the Americans last won on foreign soil in 1993. From there, those assembled for the Turkish Airlines Open, in which Harrington will compete later this week, were treated to his thoughts on the differences between the European and PGA Tours. And, in turn, the disparity in the set-ups of the last two Ryder Cup courses. Where Hazeltine National was almost bereft of rough in 2016 and the pin positions were typically in the middle of the greens, Le Golf National was had narrow fairways and brutal rough.
"It's amazing how different the tours are. Sometimes it's as drastic as going from a links golf course to a parkland golf course. It is actually different golf. It's just the nature of it. In the States they tend to play in nicer weather and on faster, firmer greens. There's less rough in the States, yet it's more important to hit the fairways. Which seems weird.
"Equally, the pin positions are tighter in Europe. Yet you can argue that the pin positions are relatively tighter in the States. If you miss the [faster] green it's harder to get the ball up-and-down. If you have five yards to work with in the States, that can be harder than three yards to work with in Europe."
Back at the Ryder Cup, not surprisingly Harrington had nothing but praise for the job out-going skipper Thomas Bjorn did in Paris. And he is confident the likely American captain in 2020, Wisconsin-native Steve Stricker, will do a fine job two years hence.
"Solid bloke," said Harrington. "Good guy. Tough. Not a man to underestimate. This is a guy who has come back from the driver yips. This is a guy who has become a world class player a couple of times late in his career without the firepower and arsenal other players have. You know when you're going up against a guy like that that he is mentally tough and strong.
"So yes, I think Steve will be a nice Ryder Cup captain. He's the guy you want to play. He's tough but very straight. He's as straight as they come. You know you've got a game when you're playing against him. But there's no messing from his side."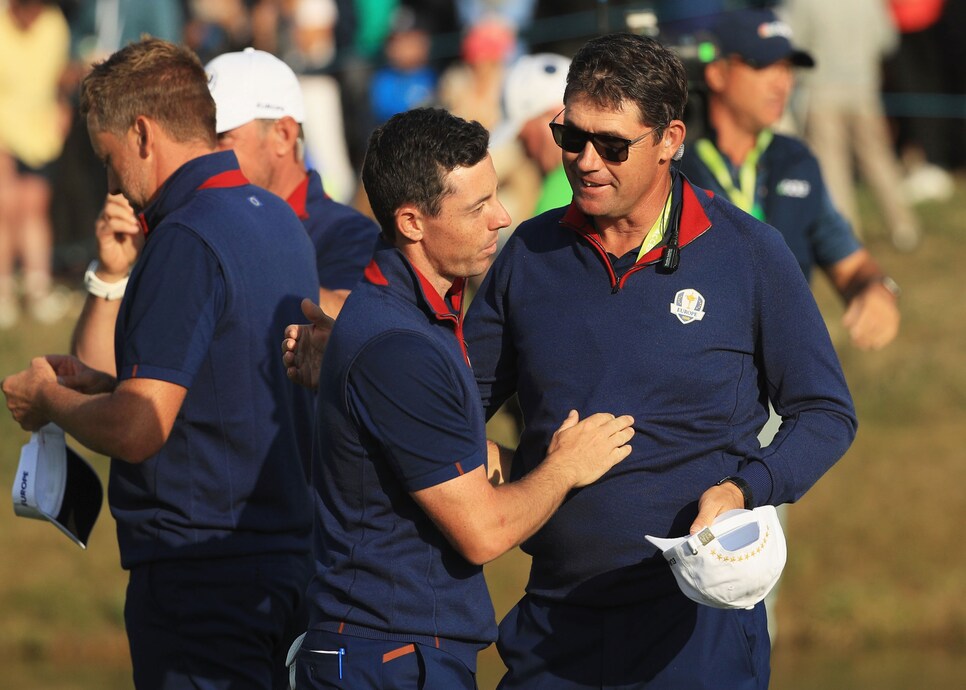 Mike Ehrmann/Getty Images
Which was a theme. If and when he gets the gig, Harrington will not be making any drastic changes to the template that has served the Europeans so well and brought them eight victories in the last 11 matches.
"I would definitely go for continuity if I was captain," he said. "I wouldn't be going out there to do anything new. What we're doing is quite good enough. You just have to make sure you try and inspire the team, get the most out of them and make sure you get the right partnerships going. I would certainly not be trying to rewrite the rule book."
There was one last thing. The weather at Whistling Straits?
"Hopefully it will be cold and windy."