FIRE PIT COLLECTIVE
Why we can't quit our Tiger Woods addiction
Editor's Note: This article first appeared in Fire Pit Collective, a Golf Digest content partner.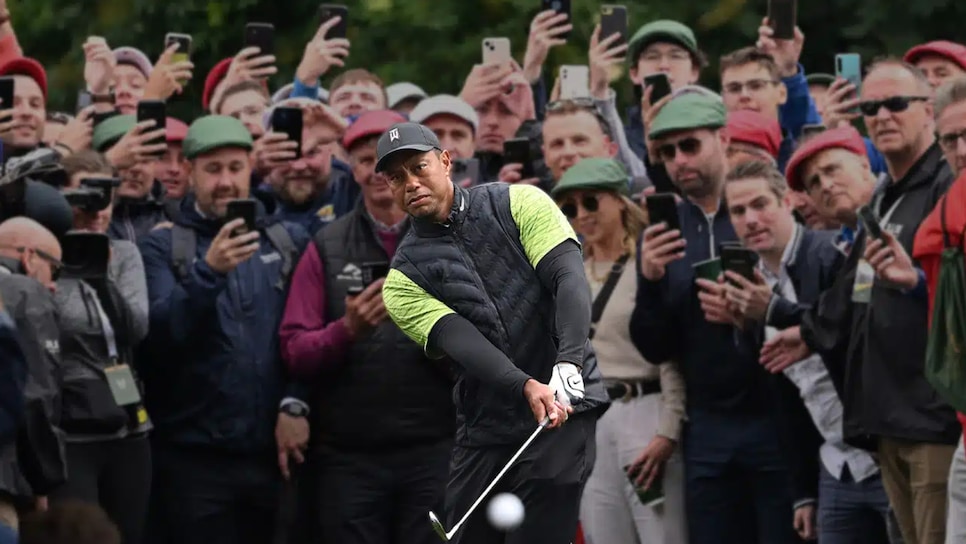 Our addiction to Tiger continues. We should be through the withdrawal stage by now, carrying on as golf fans, one day at a time, what with all this new talent. (Scottie Scheffler! Sam Burns!) But we're not. Tiger is to golf what Steph Curry is to basketball. You can't look away.
Tiger is not playing his own event this week, the Hero World Challenge. He says he has plantar fasciitis. Does he? It's impossible to say. He has a 25-year history of not being candid about his health. But ask 100 golf fans why Tiger's not playing and not one will say fear-of-DFL. If Woods is playing, he will contend. That's the only TW playbook we know.
Can he play in the Father-Son event, the PNC, later this month? He says yes, with 13-year-old Charlie doing the heavy lifting. We shall see.
We shall see is itself proof of our addiction.
Can Woods play 12 holes in Match VII on Dec. 10? Well, he'll have a sidekick for that, too: Rory McIlroy, his friend and now his business partner. That made-for-TV under-the-lights event is another way for Tiger to stick it to Phil Mickelson, as it was Phil who dragged a reluctant Woods into Match I. Tiger is always keeping score. It's in his DNA, and a major element of his greatness. He takes no prisoners. In his prime, did it make him likable? No, and he did not care.
Professional golf used to be about your 72-hole score. That's what drew us in, to the gallery ropes and to our TVs. That was the astounding appeal of Tiger Woods, his ability to post a 72-hole score, to leave it all the playing field. Now professional golf is a soap opera, and a tawdry one. (The 2023 Masters can't come soon enough, and even it will be sullied by the events of 2022.) Now there are levels on top of levels in golf devoted to the low art of posturing. Our addiction to Tiger is good for business, and business is booming. But the business is no longer tournament golf as we knew it, the thing that made Tiger an icon, and the thing that made Tiger yacht- and jet-rich.
Now it's the Hero event in the Bahamas, the PNC event in Orlando, preceded by the prime-time show with the old guys, Tiger and Rory), against the young ones, Jordan Spieth and Justin Thomas. A better match would be Tiger and Rory against Brooks Koepka and Dustin Johnson, representing Team LIV, with Mickelson in the broadcast booth and Max Homa sitting beside him.
The golf world waits with bated breath to see who the next LIV signees will be. Here's one name who seems like he'd be a perfect fit for LIV: Justin Rose of England, Orlando and the Bahamas. Ryder Cupper. U.S. Open champion. Past his prime but still good. Right at home with Louis Oosthuizen and Graeme McDowell and Cam Smith. There is a wrinkle here: Rose is represented by Excel Sports, Mark Steinberg, presiding. As best I can tell, looking at the Excel website, the company doesn't represent any golfers on the LIV payroll. Is that a coincidence? Survey says? Not a chance. Not so long as Tiger Woods is in the mix. If you are anywhere in the vicinity of Team Tiger, there are two views of the world. You're on his team or off it. Koepka and Johnson were never on his team. Tiger bigfoots everyone in the game.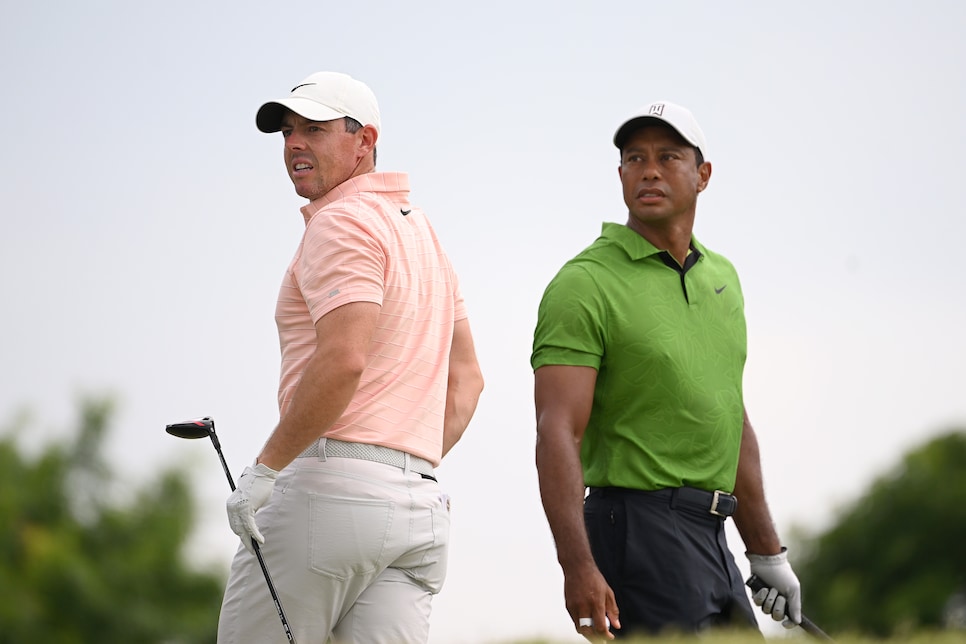 Woods and McIlroy are sharing a mantra these days: Greg must go. Greg Norman must leave his role as the commissioner of LIV Golf before there can be any sort of peace talks between the PGA Tour and the LIV people. Does that make any sense? No. The art of politics, the art of compromise, is all about sitting with people you don't really like and meeting in the middle. This whole Greg-must-go thing is a stall tactic. It's a red herring.
The math here is easy. LIV has the money. The PGA Tour has history. In this day and age, it's not a fair fight. Jay Monahan, the PGA Tour commissioner, noted that for the first time, in public, in June. This has been said before and most likely will be said again: The Saudis have dropped a money bomb on the game, and everybody who can is scurrying around for all this new money. That's about 300 people, including a dozen or so agents,. MBS or some other Saudi billionaire pressed the GO button on this thing that has made a lot of money for a lucky few.
The PGA Tour schedule had grown stale and predictable, and now it is getting remade, in LIV's image. All this money-for-nothing. (How fun would it be to give truth serum to Tiger and see what he really thinks about the PIP money?)
This LIV approach to golf could maybe catch on to a new and younger generation of fans. Is there an appetite for a steady diet of team golf? We shall see. Is there an appetite for a golf league that is committed to traveling the world? We shall see. The Monday Night Golf thing (aka the TGL), in 13 months? It's another form of what LIV is selling. Team play using a simulator, fast and furious, ripe for betting and good bro fun, all in front of a live audience. Hold on to your haggis, peeps.
The main stage will be diluted by all of these side shows, but the side shows will make rich people richer in the short term. Golf but louder is a hilarious catch phrase. For many, the contemplative quiet of the game is central to its appeal. But these are not quiet times.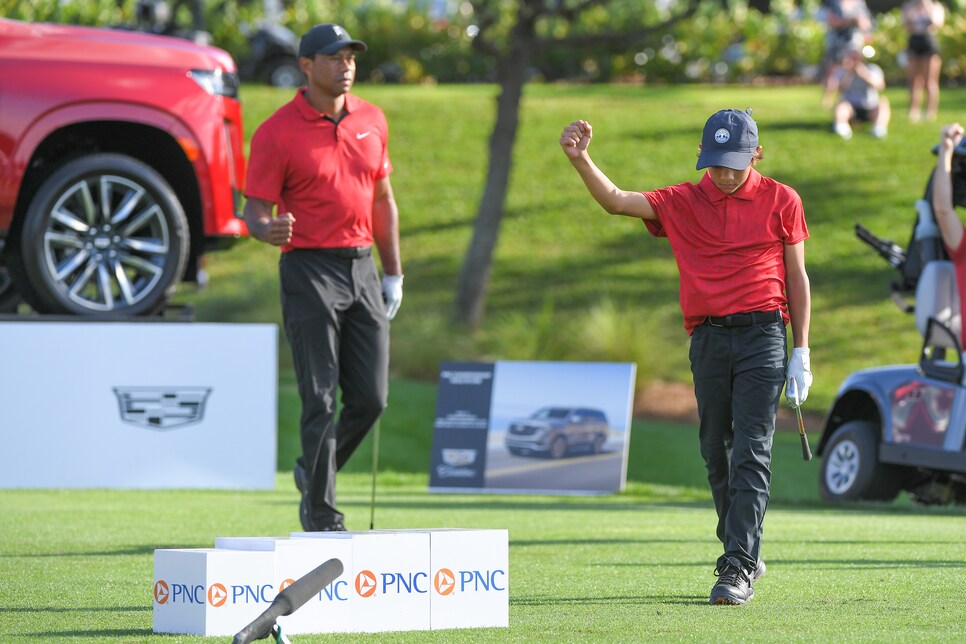 The internet is abuzz with new talent, in the form of Charlie Woods. His swing at 13 is so rhythmic and gorgeous you'd bottle it for your own use, if you could. Right now he's a very nice 75-shooter. There are thousands of other 13-year-old golfers, in the United States and around the world, at Charlie's level or a little ahead or a little behind. Can Charlie someday play Division I golf? That we-shall-see thing doesn't seem fair to raise, when you're talking about a 13-year-old golfer. Kids deserve the chance to grow up without cameras trained on them.
But Tiger, surely in conjunction with Charlie's mother, Elin Nordegren, has decided it will serve Charlie well to have a public life, at least in controlled environments. If you've seen Charlie and Tiger together in public—in the Rose Garden, at the Masters, at the PNC—it's obvious they have a close, loving relationship. Can we agree to leave it at that?
It's a fantasy, I know. This is not just an era of show-me-the-money, it's also the era of show-me-what-you-got. Life is louder. Golf is following suit.