News
Open Championship 2018: Retief Goosen earns a trip to Carnoustie the hard way, one of 12 to get in via Final Qualifying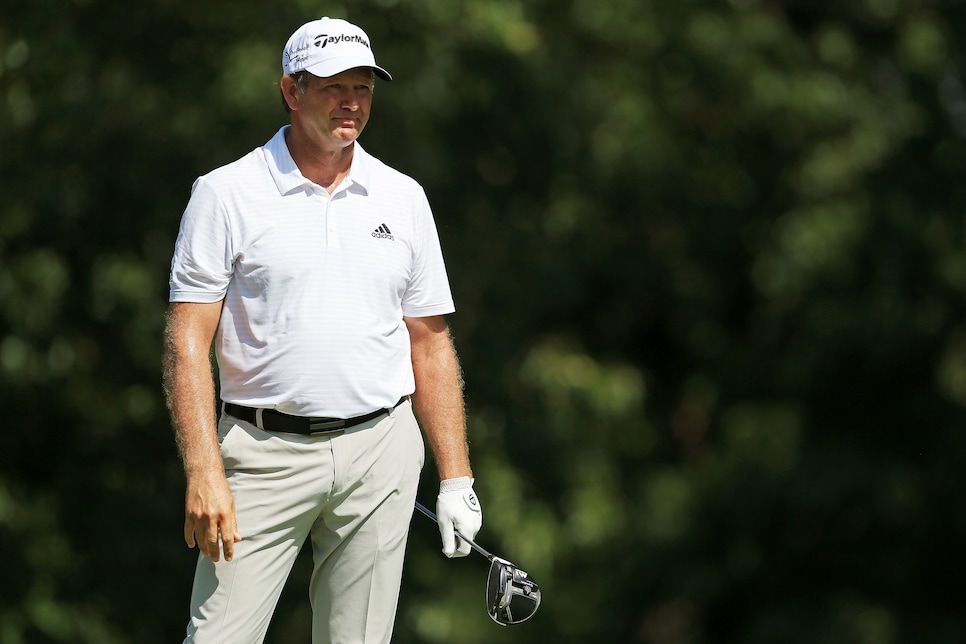 Sarah Crabill/Getty Images
It isn't quite Golf's Longest Day, where upwards of 70 people play their way into the U.S. Open via a dozen Sectional Qualifying sites. Still, 12 spots at this month's Open Championship were on the line on Tuesday at four different sites in the U.K. in what's dubbed by the R&A as Final Qualifying.
The most notable golfer to grab a tee time at Carnoustie: two-time U.S. Open champion Retief Goosen. The 49-year-old South African shot rounds of 71-72 in windy conditions at Prince's in Kent, England. With a bogey on his last hole, after birdies on his 34th and 35th, Goosen was nervous he might have cost himself the chance to play in his first Open since 2015 and the 19th of his career. But it turned out he was safely in.
"I am glad it played tough today, as I play better when it is difficult," said Goosen, who has six top-10 Open finishes, including a T-5 in 2005 and 2009. "I drove the ball well, and my long putting in the wind was good. This will be my last Open as a regular tour player—next year I'll be with the seniors—but I'm looking forward to it. Carnoustie is always tough but I'm sure it will be in great condition."
Also advancing out of Prince's was England's Tom Lewis. In 2011, the then 20-year-old earned low amateur honors at Royal St. George's with a T-30 showing. Shortly after he turned pro and was expected to make a big splash as a former British Boys' champion. Carnoustie, however, will be Lewis' first Open as a professional.
"I have been thinking about the Open for the last seven years," said Lewis, who birdied four of his final eight holes to cap off a 72-68 performance. "I haven't played since I was the leading amateur in 2011 at Royal St George's and that's why I came to qualify at Prince's—this part of the world has been good to me. I've been close at Hillside the last few years but managed to mess up but I didn't mess up today."
Lewis also earned a spot in the field at the U.S. Open last month via sectional qualifying, but missed the cut at Shinnecock Hills.
Here is the complete list of players who advanced via Final Qualifying (20 players competing for three spots at each site):
Prince's
Tom Lewis, England, 72-68
Haraldur Magnus, Iceland, 72-70
Retief Goosen, South Africa, 71-72
Notts (Hollinwell)
Ashton Turner, England, 72-66
Oliver Wilson, England, 72-69
Rhys Enoch, Wales, 72-70
St. Annes Old Links
James Robinson, England, 67-65
Marcus Armitage, England, 65-69
Jack Senior, England, 68-66
The Renaissance Club
Sam Locke (a), Scotland, 69-66
Grant Forrest, Scotland, 67-69
Thomas Curtis, England, 68-69