News
One of Tiger Woods' U.S. Amateur victims sends out perfect tweet during championship match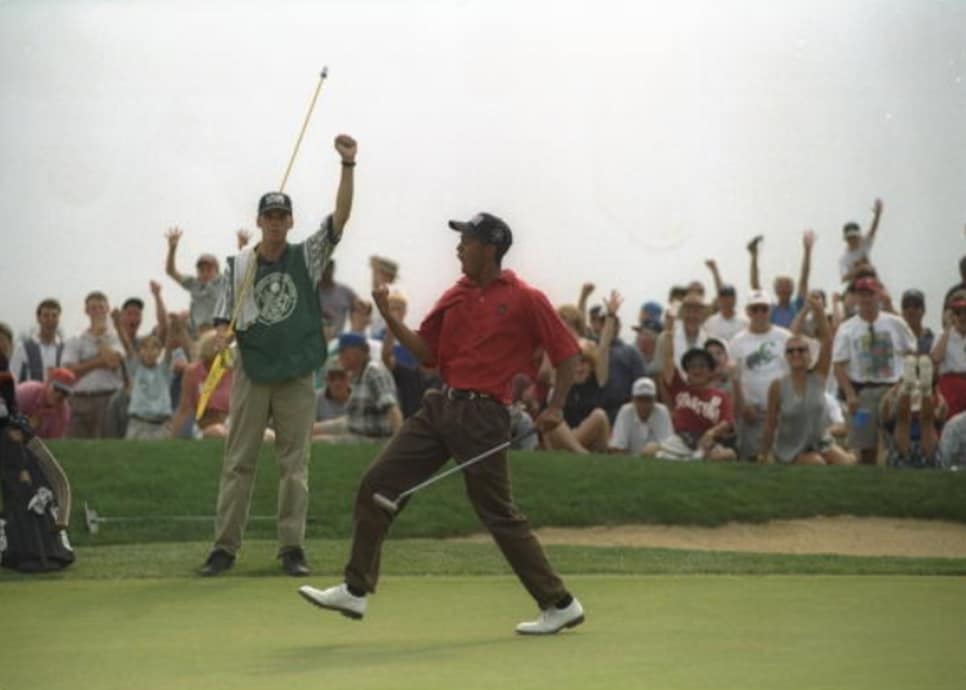 Steve Scott took Tiger to extra holes in the 1996 U.S. Amateur final at Pumpkin Ridge. And Woods needed some heroics of his own to send the match past regulation. So after CBS' Kyle Porter tweeted "A 60-foot eagle you had to have on the 35th hole of the U.S. Am at freakin Riviera? This is unbelievable," Scott had this perfect response:
Although, it wasn't quite as long or quite as late in the round, Scott, now the head pro at Paramount Golf Country Club outside New York City, was referring to the eagle putt Woods dropped on him in their epic 38-hole match. Scott held a five-up lead with 16 holes to go, but Woods drained a 45-footer on Pumpkin Ridge's par-5 11th hole to best Scott's birdie and cut the lead to one. Sound familiar?
Scott held a two-up lead with three to play, but after a memorable moment of sportsmanship (Scott reminded Woods he had moved his mark out of his line before he putted from the wrong spot), Woods birdied 16 and made another birdie on 17 from 35 feet to tie the match. Woods eventually won with a par on the 38th hole to claim his third consecutive U.S. Am title. He turned pro with his famed "Hello, World" press conference the following day.
"That was probably the best Amateur final match ever," Scott said after. "Just to be a part of it, I feel completely a winner."
Twenty-one years later, Ghim had similar thoughts, calling it "an incredible match" and saying, "As disappointed as I am not to win, I still had a lot of fun. I'm definitely gong to look back at this as one of the best accomplishments that I've had and move on."
Like Scott, at least Ghim walked away with an incredible story to tell and a pretty nice consolation prize: A trip to the Masters.