As you wake up on Friday, here's everything you need to know about the third round of the women's Olympic golf tournament
It's always a challenge to back up an historic round. Now try doing it at the Olympics.
On the heels of a nine-under 62 on Wednesday, Nelly Korda played steady on Thursday with the uncertainty of not knowing whether she was competing in the third or the final round of the women's Olympics competition. Posting a two-under 69, the 23-year-old American ended the day with a three-shot lead at 15 under par over India's Aditi Ashok despite not looking quite as sharp as she had over her first 36 holes.
Korda started strong on Thursday, going three under through her first six holes and stretching her advantage to five shots with a birdie on the short par 4 at Kasumigaseki Country Club. But that would be her last of the day, Korda playing her final 12 holes in one over.
"I didn't have a really good back nine," Korda said. "I was kind of spraying it all over the place, I had some testy par putts, but made all pars and I fought really hard to stay in it really."
Of course, it's particularly challenging when it's unclear if you're sitting over a putt on the final hole for gold or whether you have 18 more to play, which in part might explain Korda's inconsistency. The field was told ahead of play Friday that Tropical Storm Mirinae could wash out the final round, and if that was the case then the results after 54 holes would be final.
Korda said her strategy during the third round didn't change despite the uncertainty of what lies ahead. "My mindset is 72 holes, so I'm sticking to that," Korda said. "I'm trying to give myself opportunities and make them, that's all. I'm trying to stay as present as possible and see how it goes."
Weather permitting, Korda has an 8:18 a.m. tee time on Saturday, paired with Ashok and Lydia Ko. Since missing the cut at the U.S. Women's Open in June—and switching back to a left-hand low putting style—she has been the most dominant player in the women's game. In 15 rounds played she's shot a cumulative 66 under par over 270 holes. She has posted three rounds of 63 or lower and just one over par. She claimed her first major title and rose to World No. 1. She carries a confidence that suggests she's ready to close things out once more, just as she's done all three previous times she's held the 54-hole lead on the LPGA Tour in 2021.
That's why it's hard to bet against Korda's résumé turning golden this weekend, whether the unfortunate result of Mother Nature interfering with the final round or Korda coming out and grabbing the victory over 72 holes.
As we put on our waterproofs for the expected wet finish, here are three takeaways from Friday.
India's No. 1 golf celebrity adjusts to a post-COVID-19 game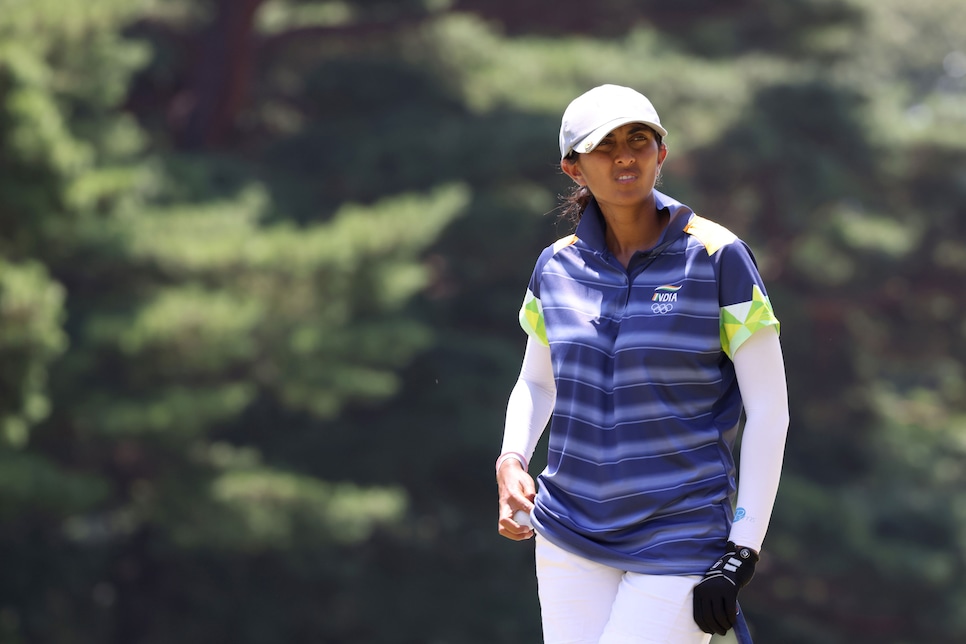 India's Aditi Ashok, the 200th ranked player in the world, is improbably in second place entering the final round, three shots back of leader Nelly Korda.
Chris Trotman
Playing in the final threesome with Nanna Koerstz Madsen and Korda on Friday, Ashok struggled off the tee compared to her playing partners, consistently giving up 50 yards on both. The 23-year-old golf darling in her native India has a reason, however, for why she's 59th in driving distance this week, 15 yards of lost carry the byproduct of battling COVID-19 in May and June this year.
"I do think it took a little bit of strength out of me," Ashok said. "I was never this short."
Ashok, ranked 200th in the world, is averaging 229 yards in driving distance at Kasumigaseki Country Club, compared to 246.4 yards in 2019 on the LPGA Tour [Ashok only played in five events in 2020].
Inbee Park, the gold medal winner at the Rio Olympics in 2016, has proved on the LPGA Tour you don't have to be a bomber to be victorious, and Ashok, who contended for the first two rounds herself in Rio, is taking solace in that by dominating the field with her putter. She leads the tournament in strokes-gained/putting with 9 through three rounds. Hannah Green is in second with 4.9 putting strokes gained.
Despite the distance gap, Ashok posted a three-under 68 on Friday to sit in second place. It's an 11-stroke improvement from her third-round 79 in Rio, which knocked her from in contention to a T-41 finish. She's maintaining perspective on the chance to medal for her country on Saturday, adding fuel to the countless #AditiAshok posts over social media.
"Sometimes the final day, although it's just one round, it feels long mentally," Ashok explained, "so definitely staying patient and hoping we have good weather and hope I play good tomorrow."
Japan's golf medal hopes remain alive
Hideki Matsuyama missed out on the opportunity to grab a medal for the host nation in the men's golf competition last weekend. He lost in a seven-way playoff for bronze on Sunday. That's let the spotlight turn brighter on Nasa Hataoka and Mone Inami for a chance for Japan to medal in the women's competition.
"I spoke to him [Matsuyama] briefly on the day he was leaving Tokyo," Inami explained. "I was actually arriving to the city, and he said that because he wasn't able to win the medal on the men's side he wished us good luck on the women's side."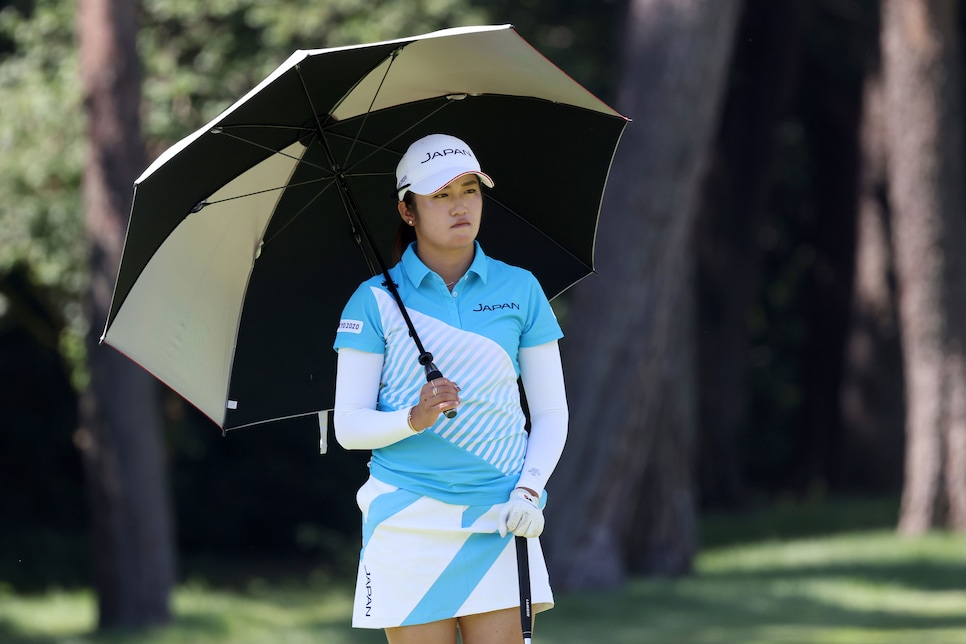 Mone Inami starts the final round tied for third. Should it be washed out, she'll likely be in a playoff for the bronze medal.
Chris Trotman
Both Japanese representatives surged Friday, shooting four-under 67s. Inami sits in the four-way tie for bronze. Hataoka is two back from the third-place gridlock.
"I have some ground to make up to catch the leader," Hataoka said. "But this is a course where anything could happen. My goal is to keep climbing up the leader board."
Inami recognizes the chance the duo has to spread the gospel of golf through the Olympic movement to non-golfers in Japan. With three Japanese broadcast companies airing the Olympics across the nation, plenty of youthful eyes will watch Hataoka and Inami.
"I think the most exciting for the kids is to be able to watch us contend and climb up the leader board," Inami said.
Should the tournament revert to 54 holes because of bad weather, Inami will be kicking herself for her play on the final hole Friday. Sitting in solo third at 11 under, Inami's approach from the fairway on the par 4 went long and her third shot from back of the green went eight feet by the hole. When she failed to make the par-saving putt, she allowed three players sitting at 10 under—Madsen, Lydia Ko and to now all be tied for third place
Rio silver medalist creeps up the board again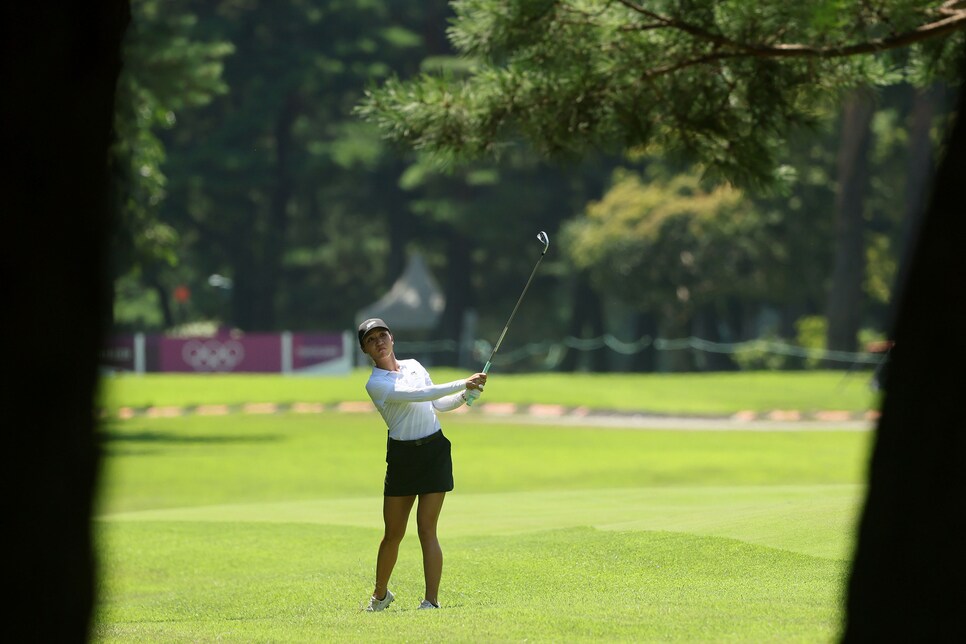 Lydia Ko plays an approach shot on the 14th hole during the third round at Kasumigaseki Country Club. The New Zealand native is threating to pick up another medal to go with her silver from the 2016 Rio Games.
Mike Ehrmann
Lydia Ko was uncharacteristically unhappy with herself after a second-round 67 Thursday. She cursed in disgust at her wedge game. Instead of working on them, she gave them the silent treatment, not practicing in the stifling heat.
"My mental coach [Tong Ko Din] messaged me," Ko explained, "And said, 'Hey, being frustrated and being upset, that's an energy and you can feed off the all sorts of energy.'"
That energy turned into a five-under 66 Friday, the second-lowest round of the day to move into a four-way tie for bronze. At the 2016 Rio Olympics, the Kiwi shot the low score of the third round with a 65.
Most of her work came on the back nine, shooting a four-under 31 to close. The performance served as a reminder that anyone is catchable. Ko brought up Minjee Lee coming from seven behind at the Amundi Evian Championship for her first major championship and Rory Sabbatini's final-round 61 for his silver medal last week as inspiration for her potential charge.
"Sometimes I just don't think you can count yourself out of it and if you feel like you're playing good golf," Ko said, "You're going to have opportunities and at points when you're playing from behind that you know that really it's only gold, silver and bronze, maybe I end up attacking pins that I normally wouldn't in any other situation."