Olympics
Adrenaline fueled Patrick Reed during the opening round of the Olympics. Will it get him through the entire week?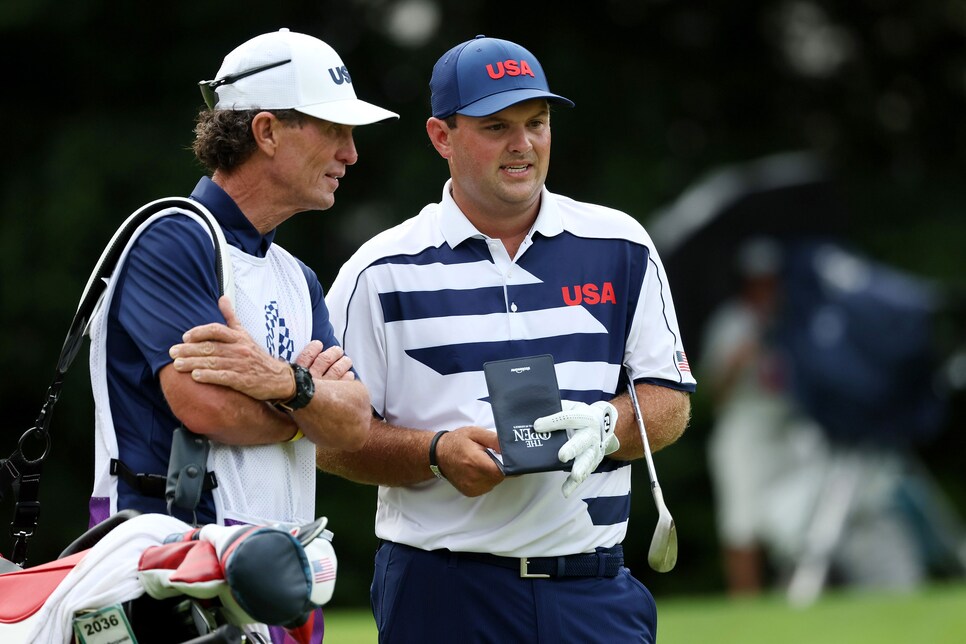 Patrick Reed with his caddie/swing coach Kevin Kirk during the first round of the Olympic Men's Tournament.
Mike Ehrmann
Patrick Reed said he felt pretty good, all things considered, when he teed off at 10:36 a.m. local time for the first round of the Olympic Tournament, less than 24 hours after arriving in Tokyo as a late entry into the men's field. But when bad weather forced a delay in play with Reed on the 14th hole at Kasumigaseki Country Club, the jet lag of his whirlwind trip to Japan hit him.
"I was feeling it during that rain delay," said Reed, who was named to the American team over the weekend when Bryson DeChambeau had to pull out for testing positive with COVID-19.
When play resumed, and Reed got back out, he woke up once more, eventually posting a three-under 68 to put him T-12 after the first round, five strokes back of leader Sepp Straka of Austria.
"Adrenaline got me going early on today, which allowed me to kind of keep going, but really the body hung in there a lot better than I expected."
Whether that adrenaline will help the remaining 54 holes is the question as Reed tries to quickly acclimate himself to Japanese time in an attempt to become a medal contender this week.
Reed's odyssey to his second Olympic games began when he was informed after his third round at the 3M Open on Saturday of the situation with DeChambeau. Given the safety protocols in place for anyone entering Japan, Reed knew immediately that he'd be arriving there no earlier than Wednesday afternoon and would have to forgo a practice round.
That Saturday night, Reed took his first COVID test at a Minnesota hospital. His second came after the final round at TPC Twin Cities and his third near his home in Houston after he flew back to gather his things for the trip across the Pacific.
Reed left for Japan Tuesday morning, landing early Wednesday afternoon. He got to Kasumigaseki at 5 p.m. and got a tour of the course before his opening round.
If jet lag was already going to be an issue, Reed didn't help himself by only getting 35 minutes of sleep Monday night, nervous that he was missing something with his paper work. Or maybe he did.
"It allowed me to go to sleep on the plane and kind of get on time some and I slept through the night last night. I felt good today coming out," Reed said. "Really the swing, even after talking with my coach, the swing actually held in there all day, so wasn't really a swing issue, a couple mistakes out there, not really knowing spots to hit it, kind of ended up in bad spots, but besides that it wasn't too bad."
The one thing Reed left behind in the U.S.: His regular caddie Kessler Karain. "He's worn out. We were supposed to not play last week, decided to play last week and then we weren't supposed to be here this week, so he needed a break," Reed said. "And it was kind of we thought it was a good time for him to take a break going into the rest of the year."