Olympics
Mexico's Gaby Lopez, Paraguay's Fabrizio Zanotti carry country's flags during Olympic Opening Ceremony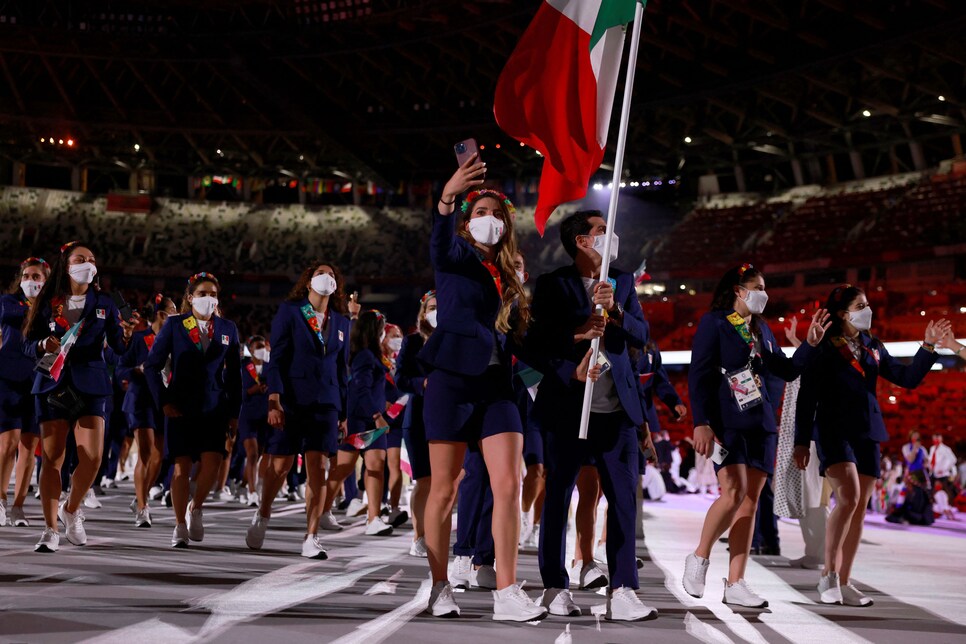 Mexico's flag bearers Gaby Lopez and Rommel Pacheco lead their delegation as they parade during the opening ceremony of the Tokyo 2020 Olympic Games.
ODD ANDERSEN
Gaby Lopez, one of just two Mexican golfers ever to win on the LPGA Tour, has been thinking about the Tokyo Olympics for some time now.
"That's my ultimate goal, being able to peak at that week," Lopez told Golf Channel earlier this year. "That's what my schedule is going to be played around, being rested, being prepared, in time to play well that week."
Even if Lopez doesn't claim a medal when the women's tournament is contested in two weeks, she'll have memories of the Tokyo Games that will last a lifetime. On Friday, Lopez, 27, had the honor of carrying her country's flag during the Opening Ceremony along with diver Rommel Pacheco.
While Japan National Stadium, where the festivities took place, had no spectators for the occasion due to COVID-19 restrictions, the moment was still a big one for Lopez.
"It's a huge honor to be able to represent my country in women's golf in Mexico, which isn't a huge sport," Lopez said earlier this year. "To just inspire little girls and [for them to] see what a golfer and little girl can do to achieve their dreams, that's going to be why I play golf and that's what it means to me and my life and my career."
This isn't Lopez first Olympic experience; she competed in the Rio Games in 2016, finishing T-31.
Apparently, Lopez has been considered a likely flagbearer for Mexico for some time now. After her victory at the LPGA's Diamond Resorts Tournament of Champions in January 2020, she said she was approached by the president of the Mexican Olympic Committee about the possibility of serving in the role that summer. Of course, the Games were postponed until 2021 due to the COVID-19 pandemic.
Lopez wasn't the only golfer who served as a flag bearer during the Opening Ceremony. Paraguay's Fabrizio Zanotti, a two-time European Tour, carried his country's flag along with tennis player Veronica Cepede. Zanotti competed in the Olympics in 2016, finishing T-15 at the Rio Games. In 2016, LPGA Tour pro Julieta Granada carried the flag for Paraguay.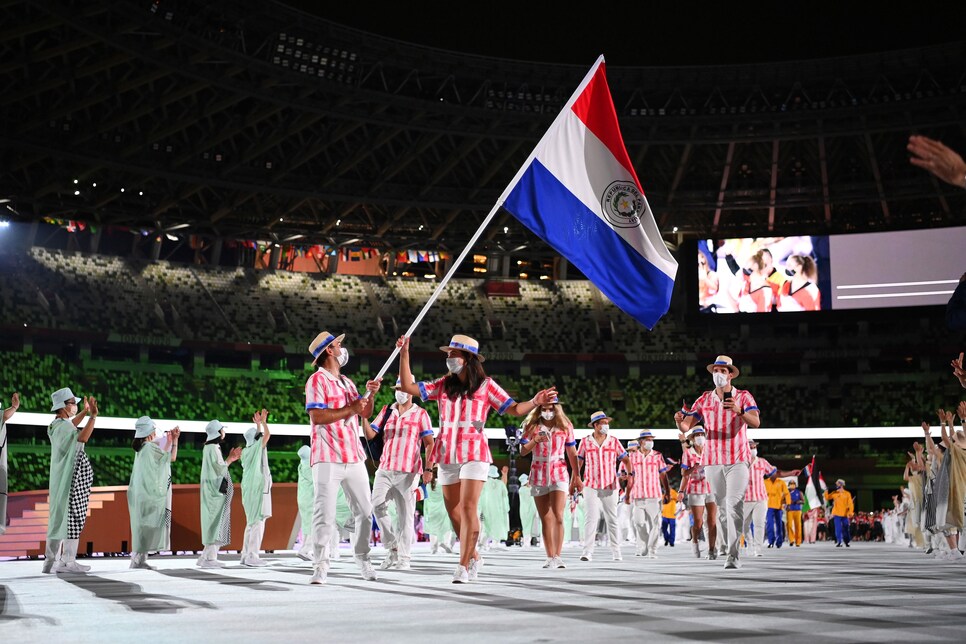 Flag bearers Veronica Cepede and Fabrizio Zanotti (left) of Team Paraguay during the Olympic Opening Ceremony.
Matthias Hangst