Gambling
Northern Trust 2020 DFS picks: Why this might be Tony Finau's week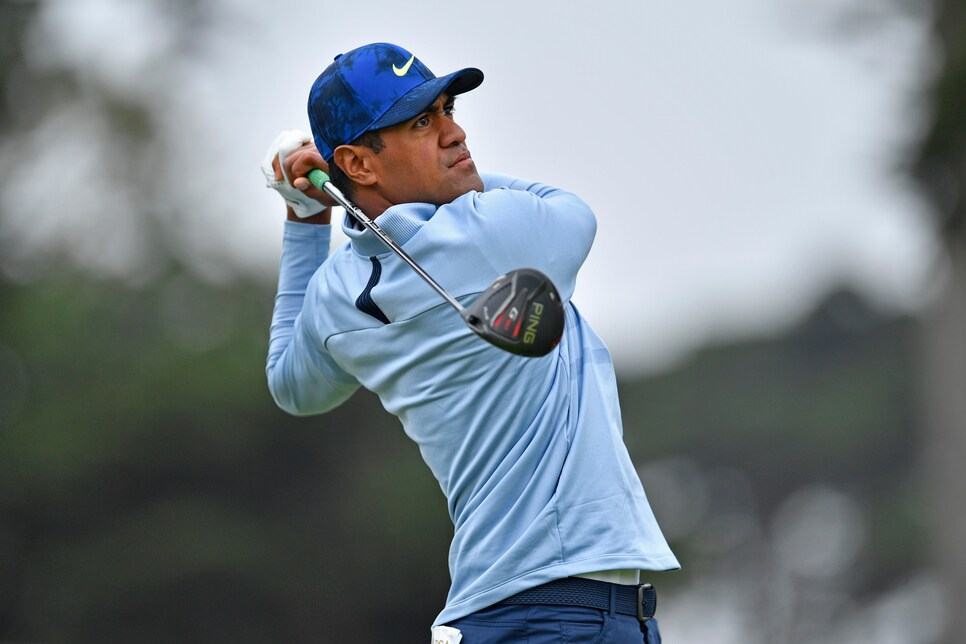 MediaNews Group/The Mercury News via Getty Images
This big-time stretch of golf heats up once again with the start of the FedEx Cup Playoffs and the first of three events with the Northern Trust this week. One thing to keep in mind this week: Make sure to look at past history at the Dell Technologies, and before it, the Deutsche Bank Championship. This year is the first that the Northern Trust has not been held in the New York area (it will alternate between Boston and New York every other year.)
The Top 125 in the FedEx Cup standings are converging on TPC Boston with the top 70 moving on to the BMW Championship next week. With many players taking last week off post-PGA Championship, we'll be weighing their form in addition to their course history here.
Here's how I assess the Northern Trust for your DFS/fantasy lineups and pools this week.
High Upside: Justin Thomas ($11,300 DraftKings | $11,900 FanDuel)
Thomas' success is almost directly tied to his putter and that's a good thing. Even while losing 3.5 strokes putting at the PGA Championship, he was still able to finish T-37. That's certainly below Thomas' expectations but that would have been a certain missed cut for most other players. As evidenced by his win at the WGC FedEx St. Jude Invitational where Thomas lost strokes putting and still won, he can actually succeed in spite of his flatstick. The rest of his game is sublime and he won at TPC Boston in 2017.
Safest Option: Xander Schauffele ($9,700 DraftKings | $11,500 FanDuel)
Schauffele's well-rounded game keeps him in the conversation most weeks on tour. Per the RickRunGood.com database, there are only three golfers in this field that rank inside the top 55 in all four major strokes-gained categories. They are Jon Rahm, Daniel Berger and Xander Schauffele. That has translated into five consecutive Top 20 finishes on tour for Schauffele who will look to add another such finish to that total this week.
Most Likely To Disappoint: Webb Simpson ($9,500 DraftKings | $11,000 FanDuel)
Simpson has struggled at TPC Boston recently, without a finish inside the top 40 in his last four trips. He does have a victory here but it was back in 2011. The major problem is his pricing compared to the skill-set of his peers. There are plenty of great options surrounding Simpson's price so there isn't much of a necessity to try and chase a replication of last week for Simpson.
Pick To Win: Jason Day ($9,300 DraftKings | $11,300 FanDuel)
Day has found something with his irons, it's as simple as that. He's now gained strokes on approach in five consecutive events with the last four resulting in top-seven finishes. Few can match Day's history at TPC Boston. While he doesn't have a win, he had a stretch from 2010 to 2017 where he only finished outside the top 25 once and piled up six top-15s in that span. Day's recent play is much more reminiscent of his play from that peak stretch in 2015 and 2016.
High Upside: Tony Finau ($8,800 DraftKings | $10,700 FanDuel)
It hasn't always been pretty for Finau, with some high-profile Sunday failures, but he's been excellent in the last month. He has three top-10 finishes in his last four starts and has been one of the better ball-strikers since the tour's restart. He's priced to move in a tier of pricing that is full of question marks.
Safest Option: Daniel Berger ($8,900 DraftKings | $10,800 FanDuel)
I'm running out of superlatives to describe how good Daniel Berger has been since the restart. In fact, I'll let the numbers do the talkings. Per the RickRunGood.com database, Berger has gained (on average) 2.27 strokes per round on the field in that stretch. It's the best number on the PGA TOUR and only Berger and DeChambeau have gained at least two strokes per round. Going back even further, Berger has seven top-15 finishes in his last eight starts.
Most Likely To Disappoint: Tiger Woods ($8,700 DraftKings |$10,500 FanDuel)
It pains me to write this about Woods, but he offers the unique combination of inflated ownership and concerns about his game. That is usually not a recipe for success. The concern about Woods is really just the putter. He used a different putter for the PGA Championship and he finished right around the field average on the greens. Even with that being his best putting performance of the restart, he was only able to muster a T-37 finish.
Pick To Win: Patrick Reed ($9,000 DraftKings | $11,100 FanDuel)
Reed finds himself lurking at the top of the leaderboard on almost a weekly basis. Last week at the Wyndham Championship, he was second in the field in Strokes Gained: Off-the-Tee and 14th in the field in Strokes Gained: Approach. Technically, Reed has won this event twice but never when it's been held at TPC Boston. He has also performed well at this course, with three top-six finishes in consecutive years from 2015-'17.
High Upside: Doc Redman ($7,400 DraftKings | $8,900 FanDuel)
We are seeing Redman's game mature right in front of our eyes. Last week's T-3 is his fourth top-25 in his past seven starts, and he's doing it in a way that is the most sustainable. He's absolutely flushing the ball with his driver and irons. Per the RickRunGood.com database, he gained 9.26 strokes on "ball-striking" last week, which is the combination of off-the-tee and approach. That's the third time in the restart that Redman has achieved 9+ strokes in that category. There are only four other golfers who have gone for 9+ strokes in multiple events. They are Bryson DeChambeau, Justin Thomas, Viktor Hovland and Tony Finau. None of those guys have done it three times, like Redman.
Safest Option: Kevin Kisner ($7,600 DraftKings | $9,500 FanDuel)
Kisner is rounding into form, just at the right time. He has three consecutive top-25 finishes with each one improving on the last. It culminated with a T-3 last week at the Wyndham Championship. Kisner relies on accuracy off-the-tee and a strong short game to keep himself in contention. He's no stranger to TPC Boston where he's made the cut in all four trips and has two top 25s in that stretch.
Most Likely To Disappoint: Billy Horschel ($7,900 DraftKings | $9,800 FanDuel)
The narrative is strong with Horschel for this week. Not only is he coming off a solid runner-up finish to Jim Herman last week, but Horschel has memorable Playoff history that includes his winning the FedEx Cup in 2014. I expect this to elevate Horschel's ownership to untenable levels. I also look at his putting stats from last week, gaining 6.94 strokes on the field, and wonder if they are sustainable. Horschel is a notoriously good putter but last week was his best putting event in an entire year. It's difficult to think he'll be able to sustain a flatstick this hot.
Pick To Win: Sungjae Im ($7,700 DraftKings | $9,700 FanDuel)
There's an argument to be made that Im is the most mis-priced golfer in the field. It was a bad stretch of golf for Im at the beginning of the restart, but he returned to form last week at the Wyndham Championship. It was his best statistical week in almost every category since his victory at the Honda Classic back in March. He was 8th in Strokes Gained: Tee-to-Green last week and if he can keep any semblance of that form in Boston, he will easily pay for his salary.
High Upside: Kevin Na ($6,800 DraftKings | $8,500 FanDuel)
Don't confuse upside with safety, because Na offers one but certainly not the other. Na's specialty is finishing on the first page of the leaderboard or getting the weekend off. In his last nine starts, he has three top 10s to match his three missed cuts. He has stayed very on-brand with his TPC Boston results. His last two trips have resulted in, you guessed it, one top 10 and one missed cut.
Safest Option: Talor Gooch ($6,500 DraftKings | $7,800 FanDuel)
There's not much safety at the bottom of the player pool, but Gooch has a skill-set that usually translates to more consistent results. His ability to hit his irons is incredibly valuable in this situation. He's gained at least 4.5 strokes on approach in three of his last five starts with all three resulting in a Top 25 finish. This will be the first playoff start of his career.
Most Likely To Disappoint: Zach Johnson ($6,800 DraftKings | $8,300 FanDuel)
When you're down in this range, recent form always reigns supreme. Expect many owners to chase Johnson's T-7 last week, hoping for lightning to strike twice. I'm less optimistic for Johnson who has two top 25s in his previous 14 starts. His last three trips to TPC Boston have resulted in a MC, a 56th- and a 57th-place finish. I believe Johnson will carry more ownership than he should, making him a fade for me.
Pick To Win: Denny McCarthy ($6,700 DraftKings | $7,900 FanDuel)
McCarthy is best known for his putting stroke and he should be. He's been the best putter on TOUR for two straight seasons and he basically laps the field when it comes to the flatstick. While that is usually not a skill-set I am remotely interested in, McCarthy has found a little something with his irons. He's gained strokes on approach in three consecutive events for the first time in his career. The 6.98 strokes he gained on approach last week at the Wyndham Championship was the highest total in his career. If he legitimately found something with his irons, and can keep it going for one more week, he'll make plenty of noise.
Rick Gehman, founder of RickRunGood.com and the RickRunGood YouTube Channel, is one of the industry's leading experts on golf DFS and gambling. Gehman is co-host of the First Cut Podcast and appears regularly on the Pat Mayo Experience golf podcasts. Follow him on Twitter: @RickRunGood.