Bold Moves
Northern Illinois' kicker celebrated his game-winner on the other team's sideline and lived to tell the tale
MACtion is known for a lot of things -- half-empty stadiums, freezing-cold week night games, 1-7 teams winning games outright. One thing it is absolutely NOT known for is elite special teams play, or clean football in general.
So when Northern Illinois kicker John Richardson lined up a 32-yarder with three seconds left to beat Ball State, everybody—players, coaches, fans, Richardson's entire family—held their breath. MACtion law says something was about to go horribly wrong on this kick. A bad snap, a block, a duck hook. It turned out to be none of the above, as Richardson routinely banged it directly through the middle of the uprights, giving the Huskies a 30-29 win, improving their record to 7-3.
There was absolutely nothing routine about Richardson's celebration, though. Immediately after the ball went through and time had expired, the redshirt sophomore ran directly toward the other team's sideline and didn't stop. He literally ran ON to their sideline, too, and was followed by a number of teammates. It's one of the cockiest celebrations you will ever see on a football field, by a kicker, no less. Somehow, Richardson lived to tell the tale:
This is one of those where you have to rewind it back a few times to actually see what you are believing. How on EARTH did Richardson pull this off without getting his ass kicked into another dimension? This man not only went to Ball State's sideline, he danced on their damn grave and they did nothing about it. Did we mention he's a kicker? They let a kicker frolic around on their damn bench. A KICKER I TELL YOU!!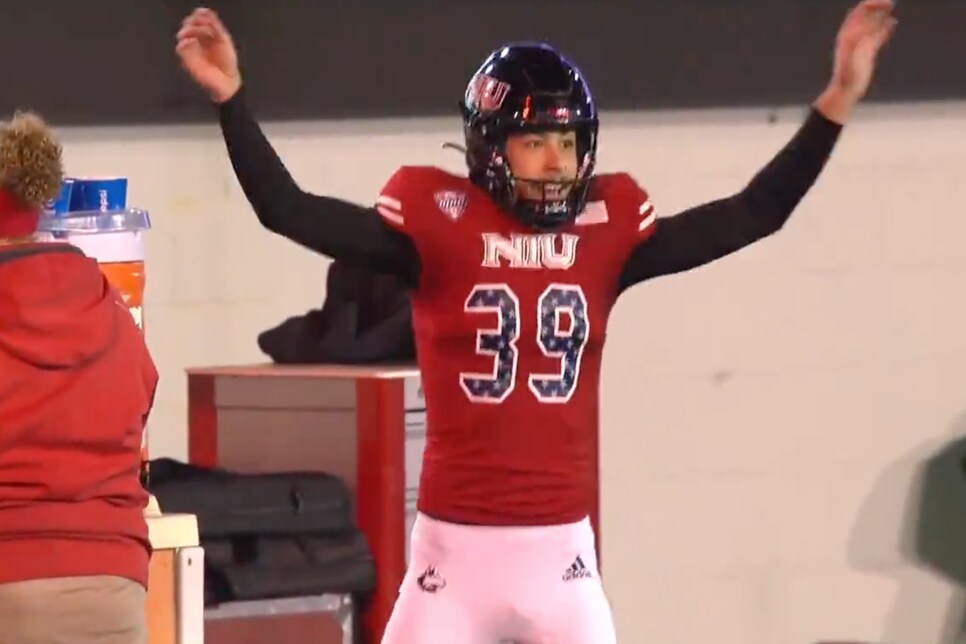 Not to exaggerate, but Ball State might have to shut down the program after this. The fact that no one laid Richardson out while he was gallivanting about is one of the toughest scenes ever. Credit to Richardson for having the stones to do this knowing full well he could have been killed.