POTOMAC, Md. — One question Scottie Scheffler's been repeatedly asked during his recent run is some version of the following: What's given you the confidence to achieve so much, so young?
He then says it comes from seeing other college hotshots have immediate success on tour. Watching Collin Morikawa, Viktor Hovland and Matt Wolff win tournaments convinced him he could win tournaments. Ask Morikawa and he'll say the same thing—just with Justin Thomas and Jordan Spieth subbed in as examples. Young guys derive belief from watching other young guys flourish.
One name you won't hear in any of those answers is Norman Xiong, though he too was once speeding down the Morikawa-Hovland expressway to stardom.
Xiong had an impressive amateur career; he was the top golf prospect in California as a junior, then left high school early to enroll at Oregon. In his first semester in Eugene, which again should've been the second semester of his high school senior year, he won the Phil Mickelson Award as the nation's top college freshman. That summer, he won the Western Amateur and was the youngest member of the increasingly legendary 2017 Walker Cup team alongside Morikawa, Scheffler, Will Zalatoris, Maverick McNealy, Doug Ghim and Cameron Champ. In 2018, his sophomore year, he won the Jack Nicklaus and Fred Haskins awards as the top player in college golf. His coach at Oregon, Casey Martin, called him the best college player he'd seen since Tiger Woods. And he'd know what that looked like—Martin and Woods were teammates at Stanford.
So, Xiong turned pro in 2018, momentum at an all-time high, the world at his fingertips. He signed a big Callaway deal, got his seven sponsor's invites and had no success at all. That may sound harsh. Pro golf can be that way.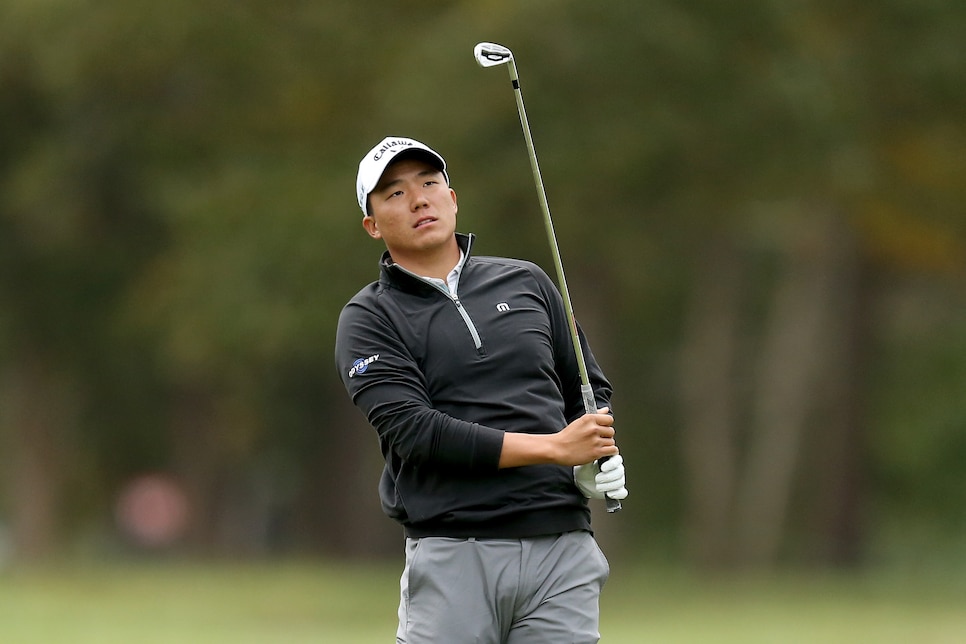 "It's just been a process of learning more about myself," Xiong, still just 23, says. "What works and what doesn't. I've learned so, so much about playing the game at this level."
He learned the hard way. Xiong missed the cut in six of those seven PGA Tour events. He made 21 starts on the Korn Ferry Tour in 2019 and made just five cuts. To date, Xiong has only earned points in two Official World Golf Ranking-sanctioned events: a T-28 at the Emirates Australian Open and a T-26 at the 2018 Sanderson Farms Classic. He's never cracked the top 1,200 in the World Ranking. At present, he has conditional status on PGA Tour Canada and has been on the road for four weeks playing PGA Tour pre-Monday qualifiers and Korn Ferry Tour Mondays.
Which makes his 65 this Monday so significant. Carrying his own bag, Xiong grabbed one of four spots in the qualifier for this week's Wells Fargo Championship, which will mark just his second PGA Tour start since that opening stretch four years ago.
The challenge now is viewing this week as just another tournament; not a golden opportunity to jumpstart his career.
"Obviously that's a thought, but I'm focusing on my goals on the golf course. The controllables—just want to play hard and leave it all on the course," he said.
Xiong had a friend from back home in San Diego—he lives in Vegas these days—fly out to caddie this week. He got his first look at TPC Potomac on Tuesday.
"It feels grand—very substantial, which is nice," Xiong said.
The same can be said for the opportunity he now has. Four good rounds are all that stands between him and a career-shifting week.