News
Despite big lead, Norman Xiong has to hold on to win Western Amateur in 22 holes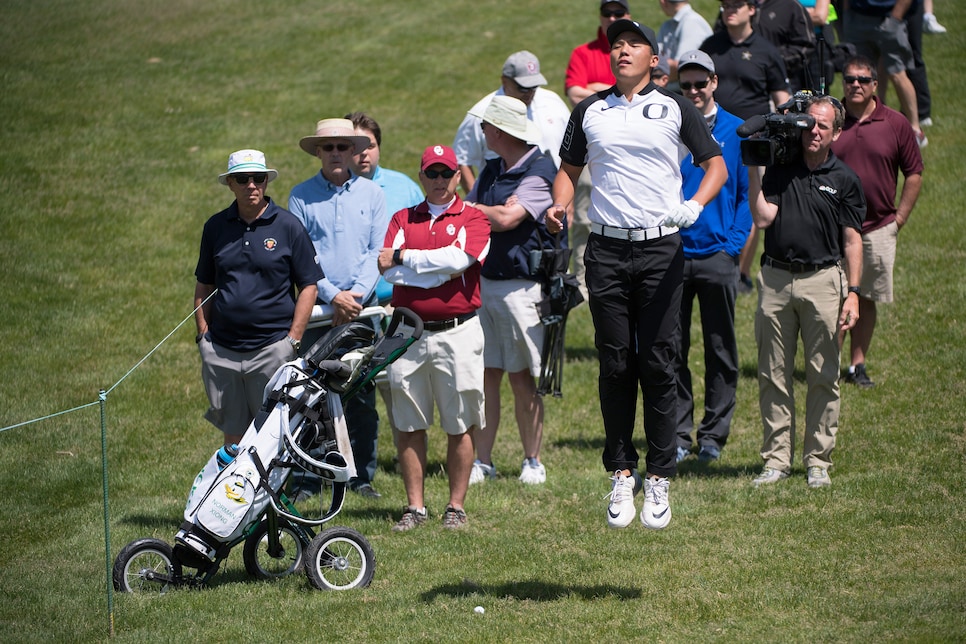 It's tricky business playing with a large lead, or at least trickier than one might think. Norman Xiong now knows this from experience. The rising sophomore at the University of Oregon can happily say he won the 115th Western Amateur title on Saturday at Skokie (Ill.) Country Club in 22 holes over Clemson's Doc Redman. But only after watching a 4-up lead through nine holes and 3-up edge with four holes to play disappear.
Safely becoming the first 72-hole stroke-play medalist in the championship to earn the match-play title since Chris Williams in 2012, Xiong claimed he never once believed he actually had the victory over Redman locked away. On the contrary, the 18-year-old from Canyon Lake, Calif., admitted to becoming more nervous.
"After 16, I started to feel it," said Xiong, who was named the national freshman of the year in 2017 after enrolling in Eugene only in January. "I got a little more nervous, a little more tense. Before that, I was loose. Doc and I had fun out there … before 16, it was a relaxing round. We tried to keep it light, even though it's such a big stage."
After making five birdies in the first 14 holes, Xiong dropped the 15th, 16th and 17th to Redman, the ACC freshman of the year at Clemson last spring. Redman then nearly pulled off the most amazing of comebacks when he lipped out a 20-foot birdie try that would have given him the title on the 18th hole. (He followed by conceding a four-foot par putt to Xiong to send them to extra holes, not wanting the match to end on a possible miss from his opponent.)
As it would turn out, the duo would go four extra holes, making it the longest final match in Western Amateur history. But only after Xiong lipped out a 15-foot birdie try to win on the 19th, the pair then halving the 20th with pars and 21st with birdies (Xiong's from 15 feet after Redman two-putted).
On the 22nd hole, Xiong was 12 feet away for birdie while Redman was more than 100 feet. When Redman couldn't two-putt for par, Xiong finally closed the match out, and 145 holes of golf in six days of competition.