The Loop
Nick Kyrgios fined €15,000 for doing NSFW stuff with a water bottle while at W
Nick Kyrgios is the most naturally gifted tennis player on earth right now. Don't @ me:
Unfortunately for tennis, Nick Kyrgios is also, in the industry parlance, an enormous douche bag. He's a McEnroe manchild with the work ethic of your cat. He breaks rackets just because he's forgotten what it's like to buy them and once told Stan Warwinka that his girlfriend was sleeping with his best friend mid-match. He's obscene and obscenely entertaining, exactly what tennis needs and the worst thing about it, and this weekend he found a creative new way to not really give a shit at the Queen's Club Championship in London: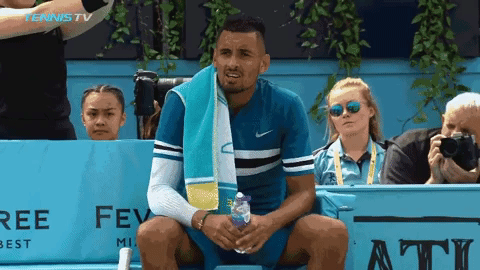 Unsurprisingly, Kyrgios, who would rather self-destruct than actually lose, pulled off this little stunt in the middle of a straight-set loss to Marin Cilic in the semi-final. After a €15,000 fine for the gesture, the full-grown middle-schooler, who can usually be found on the back of the bus picking on emotionally vulnerable kids because his parents don't give him enough validation, took home just over €90,000 in prize money.