The Loop
NFL wide receiver Golden Tate is golf-obsessed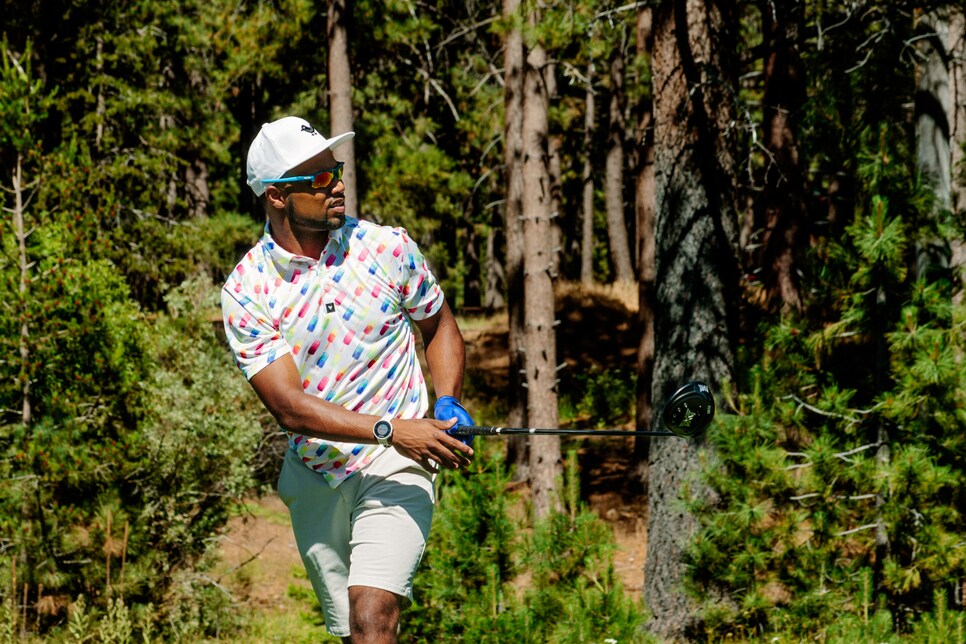 Tradition. Form. Focus. Debate over how to take a drop that will rage until the sun burns out. Yeah, golf takes itself pretty seriously. But for Detroit Lions wide receiver Golden Tate, it's about one thing: having a good time.
Decked out in a vibrant, popsicle-print polo at this summer's American Century Championship in Lake Tahoe, Tate was clearly having a blast.
The 2015 Pro Bowler bent down on his haunches and unleashed an enthusiastic fist pump after smoking a high fade over the corner on a dogleg. Two holes later, he flashed his baseball skills—Tate was drafted by the San Francisco Giants in 2010—by using his putter to hit tennis balls lobbed to him from speedboats.
"At the end of the day, golf is supposed to be fun. I don't like playing courses where it feels like a job out there," says Tate, who had 92 catches, more than 1,000 yards receiving, and five touchdowns last season. "That's one thing I always remember: No matter how bad I play, I try to have fun. What do they say? 'A bad day on the course is still better than a good day at the office.' "
Tate, a member of the Santaluz Club in San Diego, has roots in the game. His grandfather was a huge golfer back in the day, he says. "Unfortunately, I thought golf was such a dumb sport. I didn't understand why anyone would not want to be running around using their athletic ability."
However, when Tate enrolled at Notre Dame on a football and baseball scholarship in 2007, he became an avid golfer and never looked back.
For seven years, Tate swung cross-handed, using a left-hand-low grip. Tired of settling for a par "every now and then," Tate flipped his grip and has now lowered his Handicap Index to 7.6.
In Tahoe, just over a decade after he first picked up a club, Tate finished T-37, a good showing for a guy who was struggling with the putt-er. "I couldn't putt a beach ball into the ocean right now," he said during the tournament. Even his failures get a splash of color, further evidenced by his self-deprecating and golf-obsessed Instagram account: ShowtimeTate.
Unfortunately for Tate, 30, it might be a while before he gets a chance to work on that part of his game. During the season, he spends his one off day a week recovering on the couch. But when asked about starting a golf rivalry with Green Bay Packers quarterback Aaron Rodgers, Tate says this about his team's arch nemesis and fellow golf nut: "Not yet. But we gotta get that going."
The ball is in your, er, fairway, Rodgers.