Are You Ready For Some (Awful) Football?
NFL Football is BACK tonight (sort of)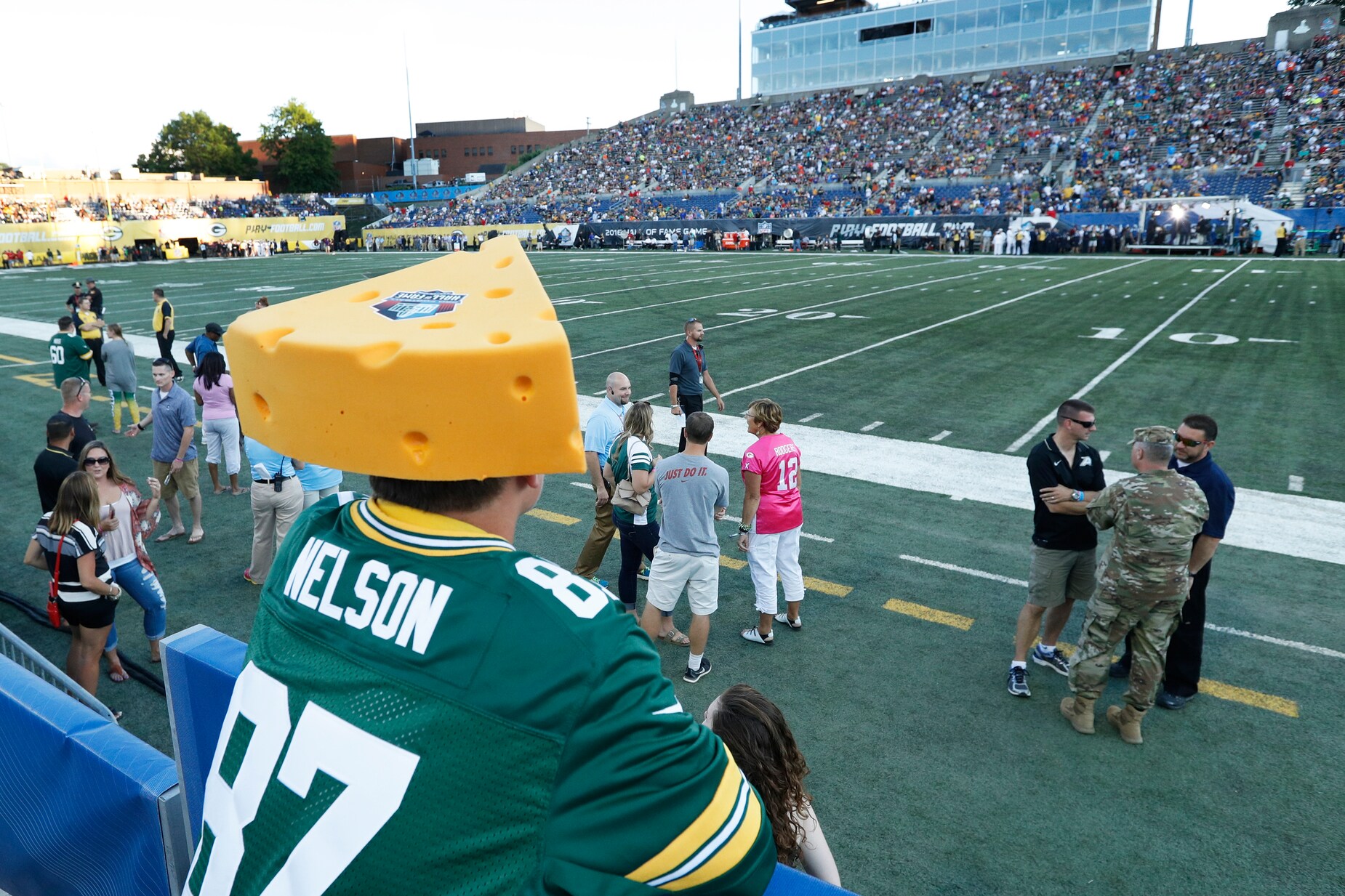 Hall of Fame Game - Green Bay Packers v Indianapolis Colts
CANTON, OH - AUGUST 07: A Green Bay Packers fan looks out over the field prior to the NFL Hall of Fame Game against the Indianapolis Colts at Tom Benson Hall of Fame Stadium on August 7, 2016 in Canton, Ohio. The game was cancelled due to poor field conditions. (Photo by Joe Robbins/Getty Images)
It's been a long, arduous journey through the NFL offseason, but tonight it comes to an end. Football is officially BACK.
Sort of... but not really.
That's right, the WGC-Bridgestone Invitational is not the only huge sporting event taking place in Ohio this week. On Thursday, the Arizona Cardinals will take on the Dallas Cowboys in the Hall of Fame Game at Tom Benson Hall of Fame Stadium in Canton to kick off the abomination that is the NFL Preseason.
So, what should you expect from this glorified scrimmage? Let's answer some of you're extremely pressing questions regarding tonight's tilt:
Sure, why not. It's football on a Thursday, and may actually resemble the garbage the NFL trots out on Thursday nights during the regular season.
Nice! At least you'll get to see Dak Prescott, Ezekiel Elliot and Larry Fitzgerald! Right?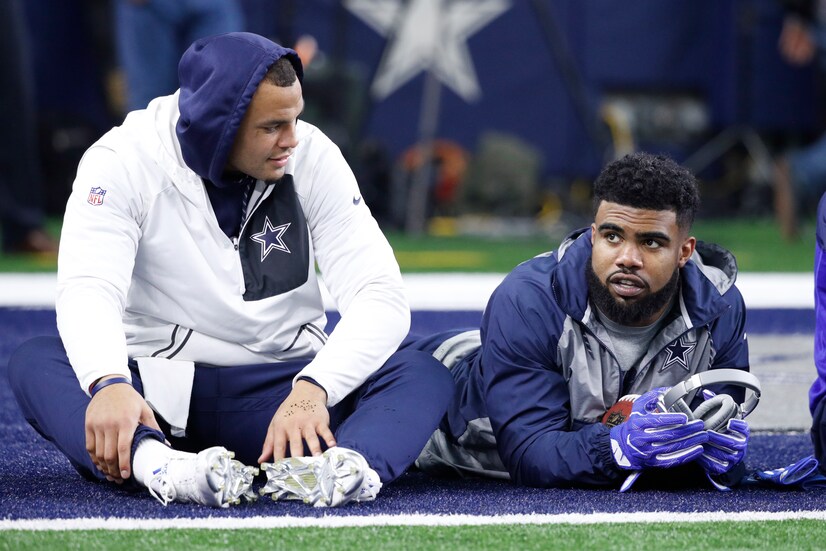 Divisional Round - Green Bay Packers v Dallas Cowboys
ARLINGTON, TX - JANUARY 15: Dak Prescott #4 and Ezekiel Elliott #21 of the Dallas Cowboys look on before the NFC Divisional Playoff game against the Green Bay Packers at AT&T Stadium on January 15, 2017 in Arlington, Texas. The Packers defeated the Cowboys 34-31. (Photo by Joe Robbins/Getty Images)
Yeah, no. None of the aforementioned starters will play a single snap. Both coaches have already said this game is about the younger players getting as many reps as possible (before they are inevitably cut). Get ready for a QB duel for the ages between Kellen Moore and Blaine Gabbert.
Well, he's only the winningest quarterback in college football history, with a 50-3 record as QB of the Boise State Broncos. Unfortunately, dominating the WAC doesn't translate to an NFL Football field, where Moore is 0-2 as a starter.
Will fans actually show up?
Yes, the great people of both Arizona and Dallas will actually, willingly travel to Ohio. To be fair, the Hall of Fame induction ceremony also takes place this weekend, and Jerry Jones is in the class of 2017. As for the Cardinals representation, Kurt Warner is also in the'17 class, and he almost won them a Super Bowl that one year.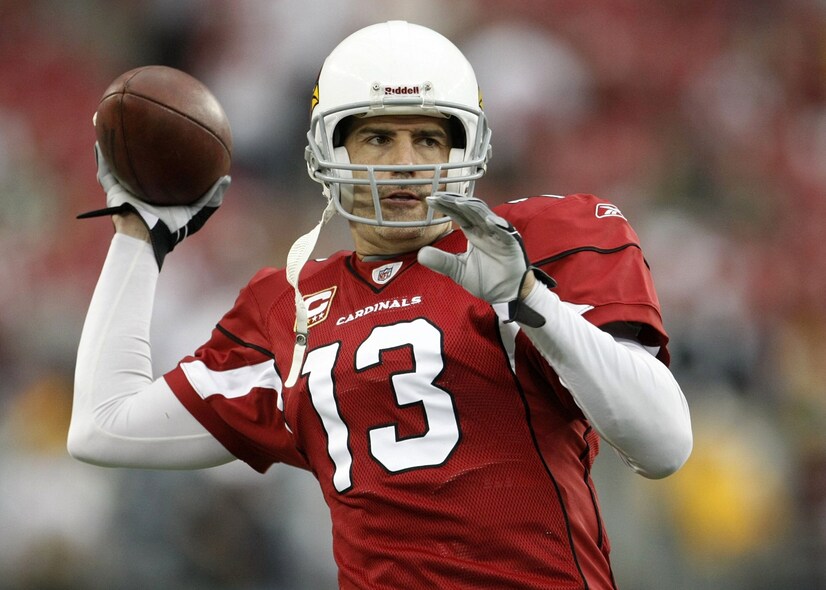 Green Bay Packers v Arizona Cardinals - Wild Card Round
GLENDALE, AZ - JANUARY 10: Quarterback Kurt Warner #13 of the Arizona Cardinals warms up prior to the 2010 NFC wild-card playoff game against the Green Bay Packers at University of Phoenix Stadium on January 10, 2010 in Glendale, Arizona. (Photo by Jeff Gross/Getty Images)
Of course you can, this is America isn't it? Cardinals are favored by 1 and the over/under is 34.5.
Are you insane!? It's a preseason game! Please, please, save your money for something much more useful, like cigarettes and tattoos.
How else are you supposed to make it interesting?
Ok, fine. Take the under. Remember, this is going to be an absolutely putrid football game. Recent years have produced scores like 14-3, 17-13, 17-10 and last year, not a single point was even scored. Just don't come crying to me when you are sweating out a garbage time drive with the score at 20-13 in a PRESEASON GAME. You've been warned.
Technically, the game didn't even happen. It was cancelled due to poor field conditions. That's how much it matters.
You've given me absolutely no reason to watch
Not true, there's still plenty to check in for. Both teams' first round draft picks are worth a look. For the Cardinals, it's inside linebacker Hasson Reddick, who went from walking on at Temple to becoming the 13th overall pick in the draft. For Dallas, it's former Michigan defensive end Taco Charlton, whose name is literally the G.O.A.T. of food.
Speaking of, feel free to leave at halftime to grab some tacos and never talk about what you just witnessed again.
You are using an unsupported version of Internet Explorer. Please upgrade to Internet Explorer 11 or use a different web browser.