Equipment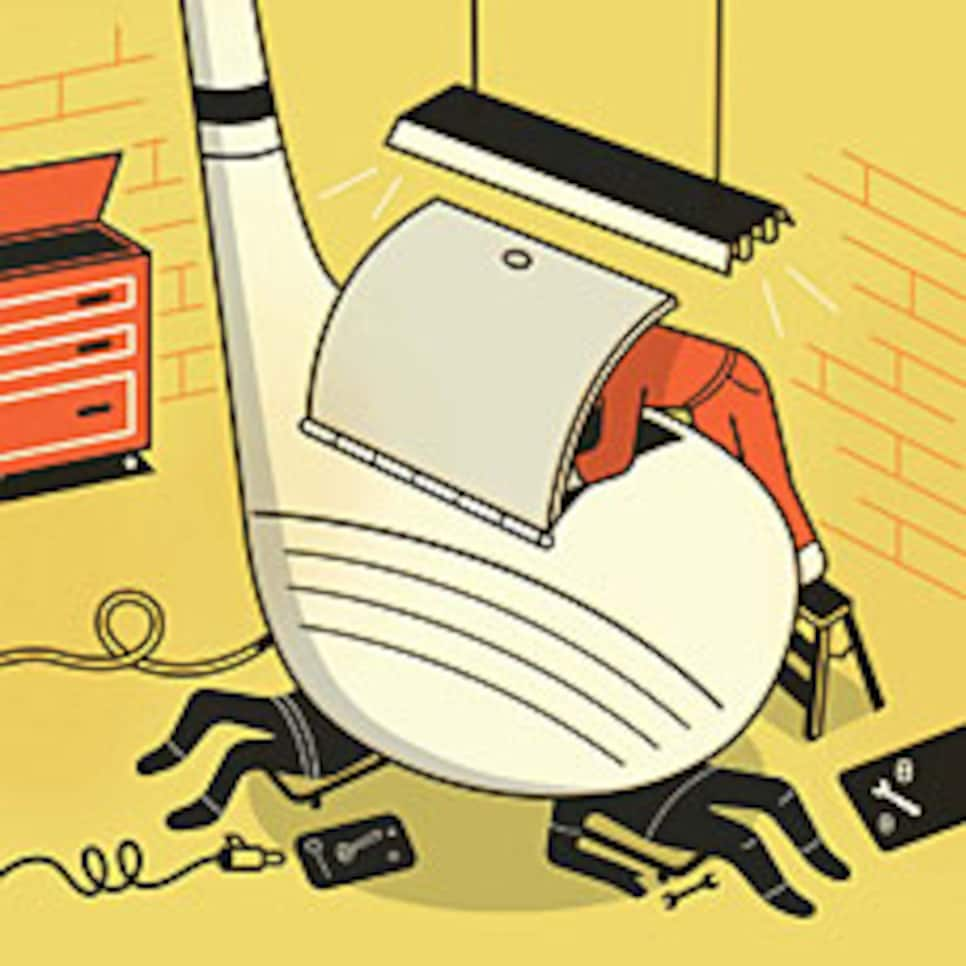 Why take lessons anymore? If you're fighting a slice, take a wrench and close the face. That wrench can negate a hook, too. And it's all legal —as long as you don't do it during a round. Club adjustability, expanded by a rule change in 2007, is increasing in popularity, and proponents believe it's the future of all golf equipment. Opponents call it a nifty fitting tool at best, complicated and inefficient club design at worst.
Since 2008, the market has seen a handful of expressions of this newfound freedom, notably interchangeable shafts in Callaway's I-MIX system, a closed-face option in the Cobra L5V, and more recently the Nike STR8-FIT and TaylorMade R9, drivers with ratchet-style hosels to accommodate a variety of face angles, lofts and lie angles. The new Nickent 4DX Evolver CYG even has 26 settings.Twenty-six!
A 2009 study, "The Secret of the Straight Shot," by Fredrik Tuxen, inventor of the TrackMan launch monitor, suggests adjustable-face technology could become significant. Tuxen found the initial direction of a ball is 85-percent face angle and 15-percent swing path. Therefore, a golfer could produce a straight shot with as much as a 12-degree inside-to-outside swing path, if the face were set 2 degrees closed.
The relaxed ruling wasn't meant to appease manufacturers, says Dick Rugge, the USGA's senior technical director, but "to help average golfers without taking away from the challenge of the game." Better-fitting clubs grant average players a way to improve, and tour pros gain virtually no advantage. Those guys have been enjoying the services of tour trailers for decades. Vijay Singh once played a driver with a face 7 degrees open.
Benoit Vincent, TaylorMade's chief technical officer, says his company is just getting started with the possibilities. Engineers have added adjustability (or "Flight Control Technology") features to drivers, fairway woods and hybrids. "When a meaningful technology emerges," Vincent says, "you recognize it instantly. FCT will be here for the next 20 years. It's the modern version of bending. In the past we had standard, draw and tour preferred driver versions to cover three golfers. Now we cover the same mass properties with one club."
How does adjustable-face technology work? Tom Stites, director of product creation at Nike, explains his. "The last inch of the shaft adaptor is bent 2 degrees. By inserting this end about 360 degrees in the bore hole, it slips into pre-set slots." It's akin to the old technique of shimming, in which a shaft was inserted slightly askew, somewhat like a joystick, to produce different lie and face angles.
"It's the modern version of bending."
What's next? Alan Hocknell, Callaway's vice president of advanced design, says he is investigating methods to separate loft from face angle. With current systems, closing the face adds loft, and opening the face delofts the club.
However, not every company is embracing the technology. Cleveland Golf's Nate Radcliffe, metal-wood development manager, believes adjustability is a fun idea and a great tool for fitting sessions, but he says the weight penalty inherent in housing an adjustable hosel is an inefficient design. If the housing weighs nine grams, he says, that's weight that could've been placed on the perimeter to improve forgiveness on off-center hits. "If you're not sure what you need to complete a job, a Swiss Army knife is an excellent tool," Radcliffe says. "But if you know that you need to cut down a tree, or filet a fish, there is a better alternative." In other words, if you're fighting a slice, then buy a draw driver.
Considering what features are currently adjustable, Hocknell says, "There are more golfers who would benefit from a proper initial fitting than would benefit from the ability to adjust clubs later after their swing changed significantly. Smaller still is the number who would understand the features in enough detail to fit themselves optimally."
Says Randy Henry, co-founder of Henry-Griffitts: "You don't want people improperly fitting the lie angle to hit their clubs straight."
Complicated though they might be, these clubs come with fairly intuitive instructions. And they do work, says Chris Hammond, a clubfitter at Haggin Oaks Golf Complex in Sacramento, Calif. "It's crazy how fast you can fix someone."
For now, any part of any club might become adjustable. Maybe the concept will prove so effective the rules will be adjusted.
How much can opening or closing the face angle by 1 or 2 degrees alter your tee shot? One company says its adjustable driver allows for 75 yards of total left-to-right correction, but that's based on a robot swinging the club. To find out how effective these drivers are in the hands of real people, we picked test subjects off the range at Haggin Oaks Golf Complex in Sacramento, Calif. Clubfitter Chris Hammond recorded each golfer's average shot statistics with the driver in the neutral setting, then each golfer's average with the driver adjusted to Hammond's recommendation.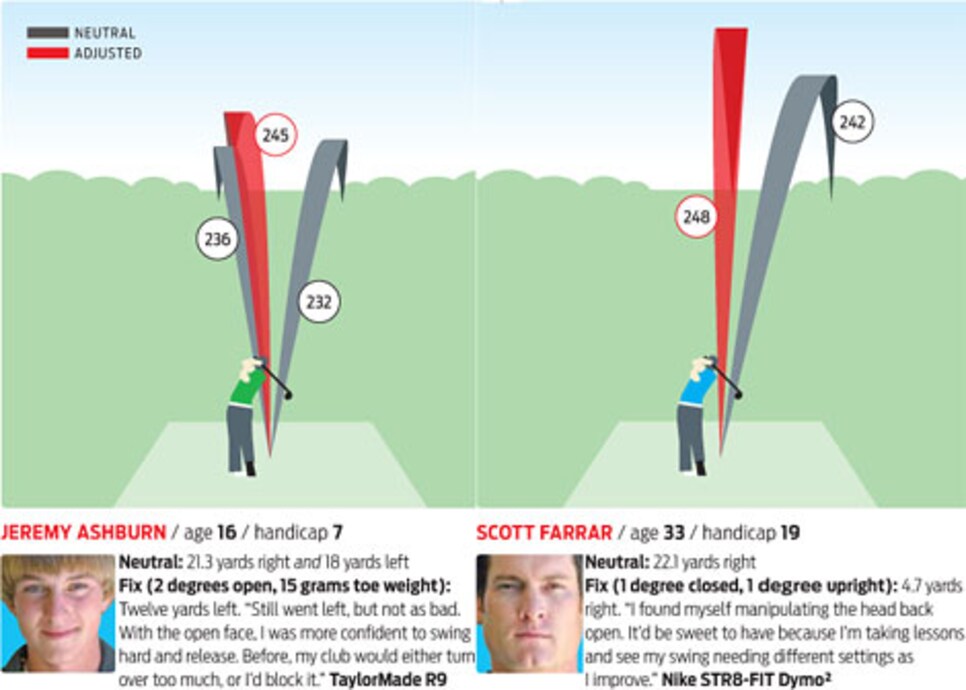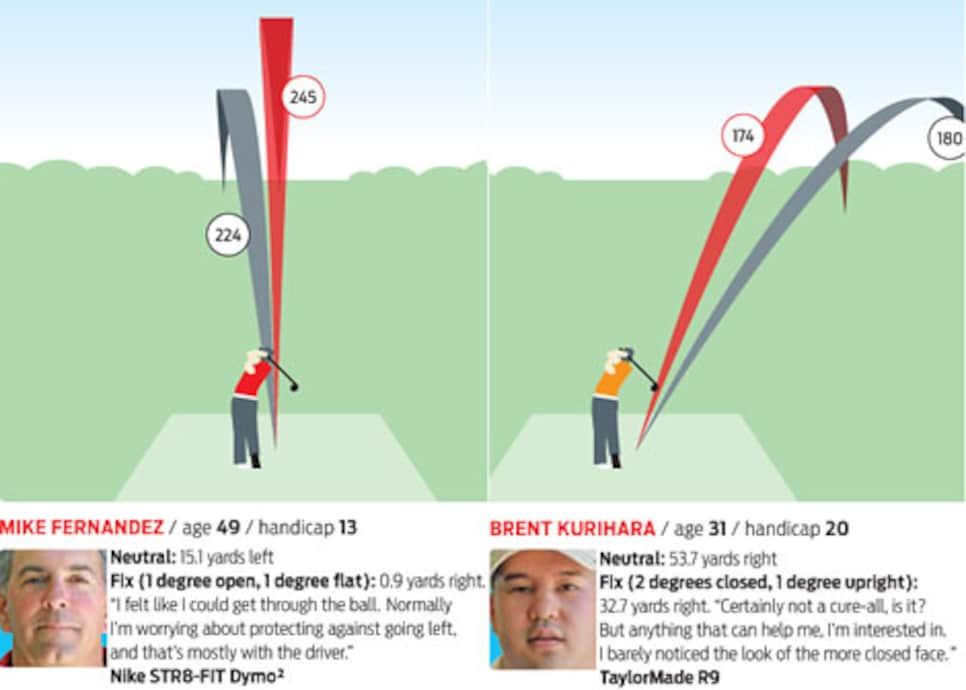 To correct a shot tendency, you can tinker with a driver's adjustable features, then change them back if your swing changes. The CYG hosel of NICKENT's 4DX Evolver ($300, nickentgolf .com) allows for 26 settings that promote left, right or neutral ball flights. The NIKE SQ Dymo STR8-FIT ($400, nikegolf .com) and TAYLORMADE's R9 460 ($300, taylormadegolf.com) have similar hosel mechanisms but only eight settings each. However, there are nonadjustable clubs designed to fix flight. CLEVELAND's Launcher UltraLite ($300, clevelandgolf.com) has a lighter head and a 1-degree closed face in its only loft, 12 degrees. PING's i15 ($350, pinggolf.com) hosel axis is pushed back .04-inches to encourage slight fades for better players.
Q: Are adjustable drivers a good idea?
POINT: The best thing about adjustable drivers is that they change attitude as quickly as they do ball flight. It's immediate gratification. If you have a chronic slicer, just a few wrench adjustments to close his face angle and, boom, he's suddenly hitting it reasonably straight. The happier a student is about where the ball is going, the more freely and more aggressively he'll swing, which makes it easier for me as an instructor to begin implementing positive changes. Plus, in the long run, when the student gets back to needing a neutral setting, he doesn't have to buy another club.
COUNTER POINT: An open clubface is the cause of most golfers' misery. It's what really produces a slice.
Anything that closes the clubface, be it lessons or technology, is going to help. But masking a flaw in the driver swing won't prevent that same flaw from continuing to infect the other clubs in the bag. The hands control the clubface, so a player is always better off adjusting his grip. That said, an adjustable driver is an answer for the guy who refuses to take lessons. I'd always rather fit golfers into clubs that will help them develop their games, but I'm not above the quick, circumstantial fix, either.