catastrophic
New York golf course has grand opening, immediately floods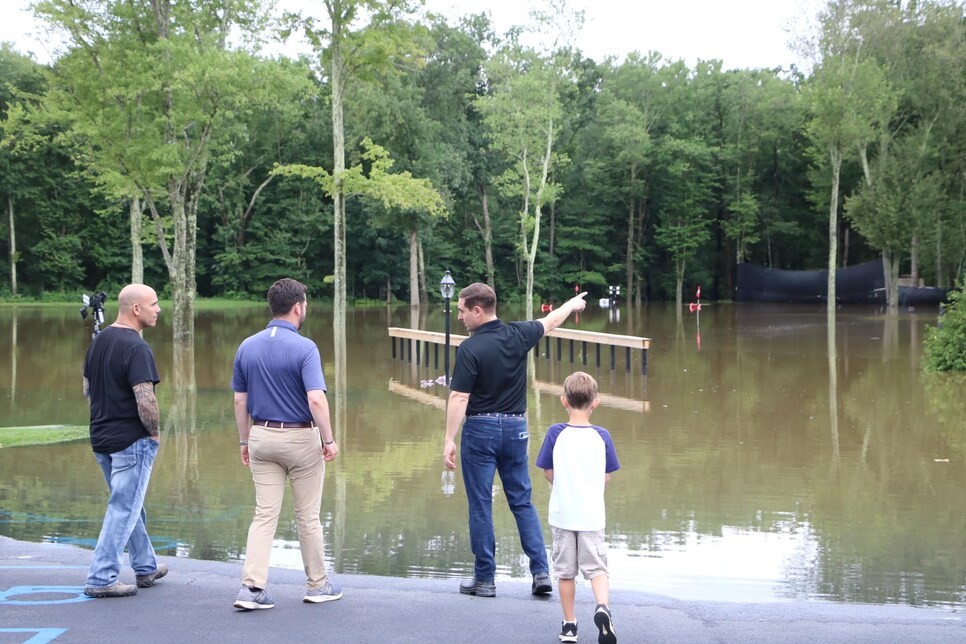 Image from Congressman Mike Lawler's social media
The good news is that there's nowhere to go but up for The Links at Valley Fields.
The brand-new Shrub Oak nine-hole course opened on July 8th with a DJ and ribbon-cutting ceremony and less than 48 hours later was underwater due to Hudson Valley flooding after recent heavy rainfall.
The town-owned course had been under development since 2014 with pushed-back start dates and a change in concessionaires, according to Yorktown News. Unfortunatel the positive vibes of the grand opening didn't last long.
"The golf course was completely flooded with water," Town Supervisor Tom Diana told Golfweek. "Even if we open, still we're still going to have repairs going on, but we'd like to get the public back on our course as soon as possible," added facility partner Chris Munoz.
In terms of actual damage, it fortunately doesn't seem to be too serious. The clubhouse was spared by the flooding, but the pro shop was hit as were golf carts and groundskeeping equipment. Munoz went on to say that those working at the course were "trying to save everything as much as possible."
The "catastrophic" Hudson Valley floods prompted water rescues with more than a half-foot of rain washing out New York roadways. A 30-year-old woman was even killed during a flash flood less than an hour away from the course.
Yorktown and other affected towns in the area will most likely apply for disaster relief, but The Links at Valley Fields has already reopened. It's just $40 for nine holes and is one of the few public nine-hole courses in all of Westchester. In terms of eventual financial costs for the course, Munoz said, "We really don't know at this point."