News
New LPGA Q-School format allows collegiate players to defer LPGA status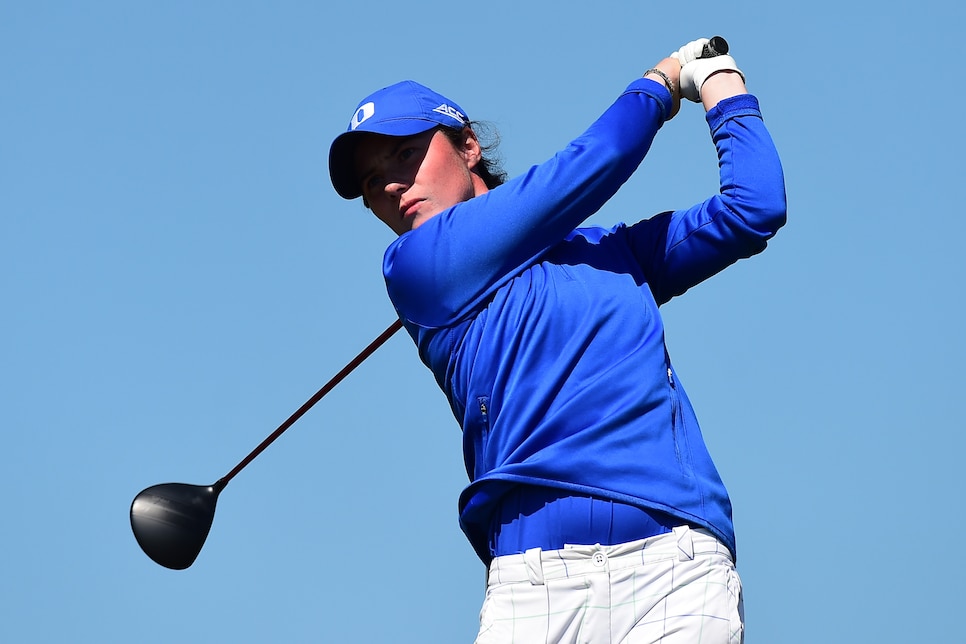 Richard Martin-Roberts/R&A
LPGA Q-School's makeover is now official. Stages 1 and 2 of Q-School will still be played as separate, four-round tournaments, but the final stage as you know it is gone. The 90-hole final stage of Q-School has been replaced by Q-Series. Q-Series is two 72-hole events, and they'll be played back-to-back at Pinehurst Resort in North Carolina. The first event will be played at the No. 6 course from October 24 to 27, with the final four rounds played at No. 7 from October 31 to November 3.
The field will consist of players who finished the LPGA season ranked 101 to 150 and ties on the money list. Players who finished 11 to 30 on the Symetra Tour money list will also be invited to Q-Series. The top five collegiate players in the country are exempt, as are up to 10 players ranked in the top 75 in the Rolex Women's World Golf Rankings. The rest of the field will be made up of players who qualify from stage 2 of Q School.
Let's focus in on those top five collegiate players in the country, and the other college players that make it through Stage 2. In the past, if you were a college golfer and made it to through the final stage of Q-School, you were in a tough spot. You'd either have to turn professional immediately or forfeit your spot on tour and finish your college season. If you turned professional immediately, you'd be leaving your team before the spring season began, and as such, would miss the opportunity to play in the NCAA tournament. If you left Q-School to maintain your amateur status, you'd be left playing Symetra Tour events during the summer—amateur golfers who made it through Stage 2 are able to keep their amateur status and play on the Symetra Tour. After a summer on the Symetra tour, the player would have to try to play LPGA Q-School again in the fall, in hopes of making it to the big tour.
It's a dilemma that was most recently brought to light at the 2017 Q-School, when the then-No. 1 amateur in the world, Leona Maguire, left after two stages of Q-School to go and finish her career at Duke. At the time, Maguire said her team came first. Now with the deferral, other collegiate athletes won't be faced with the difficult decision Maguire dealt with.
By adding the opportunity to defer, the LPGA is allowing these college players to try to qualify for the tour without the tough decision of leaving their college teams or not. Athletes who want to transition out of amateur golf and into professional golf can now do so without missing out on the NCAA tournament or the Solheim Cup. They can play out their spring seasons and then join the LPGA on July 1st.
"I would've loved to have been able to have an LPGA card right now instead of a Symetra card," Maguire told Golf World. "It's a good option to have for seniors so they can finish their degree. It was important to me to get my degree and honor the commitment to my team and to have another chance. It's a good thing that seniors are going to have the opportunity to do that."
Her coach at Duke, Dan Brooks, thinks the deferral is something that is a good thing depending on the age of the player. For seniors, it saves them from having to choose between their individual golf career and their team and education, as Maguire did. But with the change, Q School just got a bit more tempting, especially for those top five collegiate players who have an exemption into Q-Series.
"Encouraging sophomores and juniors to go and try to get their card -- that's unfortunate," Brooks told Golf World. "I'm not in favor of anything that doesn't encourage people to finish their degrees."
While the deferral solves the problem Maguire faced, Brooks points out that the dates of Q-Series present a new problem for collegiate golfers.
"Considering the dates of Stage 2 and Q-Series, much of the college fall season is taken up," said Brooks. "Fall and spring could consist of a different array of players, in the top events especially."
With those five collegiate players getting an invitation to Q-Series, those athletes will be faced with the decision of skipping collegiate events to try and get their cards. This could end up affecting team rankings, Brooks pointed out. There could be a team with more than one player in the top five, or there could be a team that relies heavily on their top player -- were all five of the top five to choose to play Q-Series, their teams' results and thus their ranking would change. In the spring, these teams would be playing catch up. Again, players are put in the position of choosing between their team and their own individual career.
At the completion of Q-Series, a minimum of 45 players and ties will receive LPGA membership, a change that will get more players better status on tour. Specifically, the change moves the players who finish 21-45 up 25 spots on the priority list. The remaining players from Q-Series will get membership on the Symetra Tour.
"What I like most about the Q-Series is that it will be a true test for how players will qualify for the LPGA Tour," commissioner of the LPGA, Mike Whan, said. "The playing status earned by competitors at Q-Series will be a direct reflection of eight rounds of head-to-head competition on a demanding test of golf at Pinehurst Resort."