News
LPGA's rigid Q-school rules cause No. 1 ranked women's amateur to forgo final stage in order to finish college career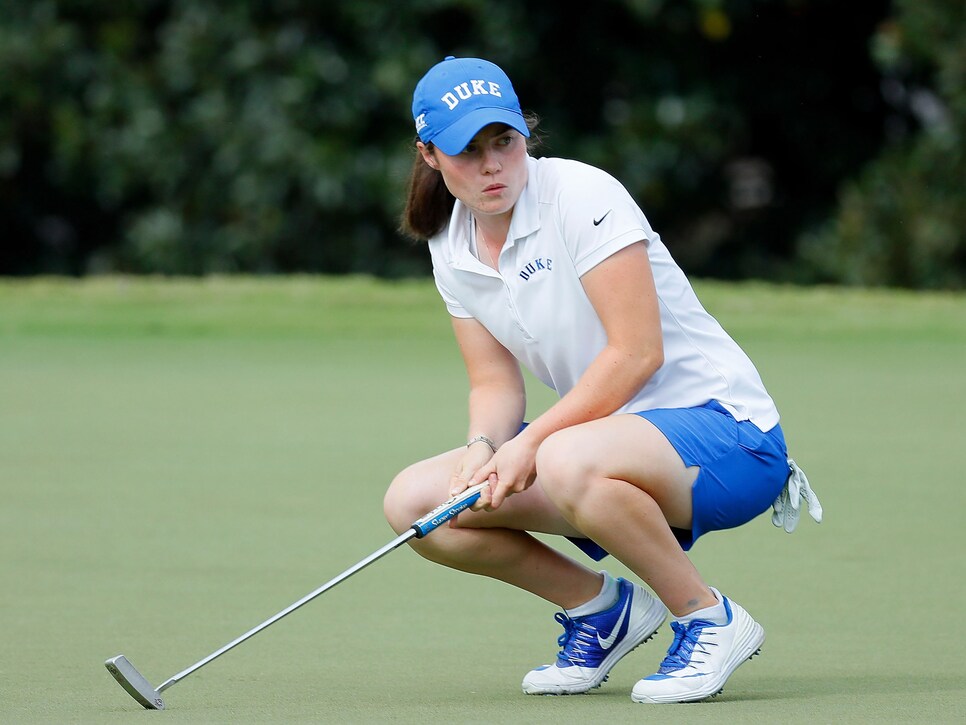 Kevin C. Cox/Getty Images
Leona Maguire wants to play on the LPGA Tour some day. But first things first. The No. 1 ranked amateur in the world is a senior at Duke who is on track to graduate this spring, a priority that supersedes her professional aspirations. So much so that the 22-year-old native of Ireland is turning down a spot in next month's final stage of LPGA Qualifying School
Indeed, Maguire competed in last week's second stage of LPGA Q school, knowing full well that even if she finished high enough to advance to the final stage, she wouldn't play. Sure enough, she finished T-9 at Plantation Golf & Country Club in Venace, Fla., and then, for the second straight year, told LPGA officials she won't be around next month.
So why bother competing at all at second stage? Despite turning down the invite to the final stage, Maguire's performances earned her a playing privilege on the Symetra Tour for 2018, something she'll take advantage of after graduation. Unlike with the LPGA Tour cards that will be earned at the final stage, Symetra Tour membership can be deferred until later in the year, allowing current college players to remain in school through the spring semester and then play in the summer.
"My team always comes first," said Maguire, a two-time national college player of the year who has played in five LPGA majors as an amateur. "I've always wanted to get my Duke degree, and I have a plan of what I'm going to do. Come here this week, get Symetra status and then be ready to go in May after graduation. It makes this week a little bit easier."
If Maguire went to final stage and played well enough to earn a LPGA Tour card, she would have to declare herself a professional on the spot and forgo the remainder of her college season. It's the tricky situation that some of the better college/amateur golfers have faced in recent years, most notably three years ago to UCLA's Alison Lee.
That the LPGA continues to force college players to turn pro immediately after earning membership at Q school remains a sore subject with many within college golf. A handful of other top players—including Sweden's Linnea Strom, a member of Arizona State's defending NCAA squad; USC's Muni Hi and Robynn Ree; Alabama's Cheyenne Knight and Lakareber Abe; Georgia's Jillian Hollis; Oklahoma State's Maddie McCrary; and Arizona's Krystal Quihuis—advanced to the final stage this year and are weighing their options, knowing that if they achieve their dream of earning a card it will mean forfeiting the rest of their college careers. Strom has told LPGA officials she will play in December.
Yet it seems incredibly short-sighted to put some of the game's bright future talents in the horrible spot of having to pick between themselves and their teams. Is there not a compromise position that could be taken, where players could defer their cards?
Until then, golfers like Maguire will be stuck wondering which choice