The Loop
Turns out LPGA Q School was the biggest event in women's college golf so far this season
In offering some final words of encouragement to Alison Lee prior to the start of last week's LPGA Tour Qualifying School, UCLA women's coach Carrie Forsyth proved prophetic.
"I told her, if you're going to go out there and earn a card, go win the whole thing, too," Forsyth recalled.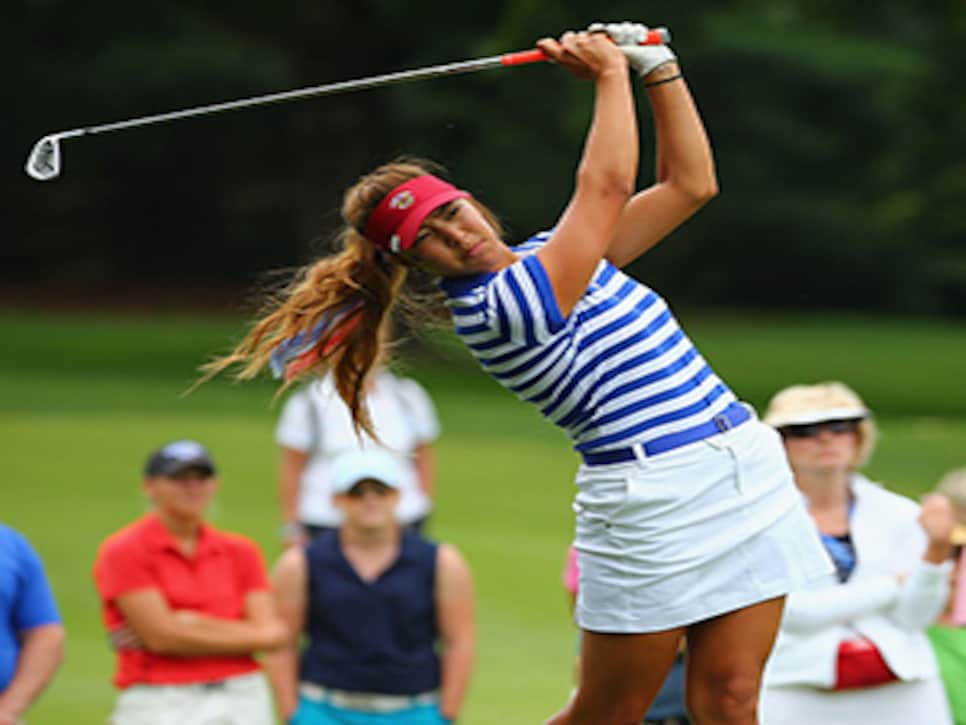 Demonstrating to Forsyth once again just how good a listener she is, Lee, a 19-year-old from Valencia, Calif., went out and shot a 10-under 305 over 90 holes at LPGA International in Daytona Beach, Fla. The score secured her co-medalist honors with Australia's Minjee Lee and playing privileges for the 2015 LPGA season along with all players who finished inside the top 20 at Q school.
The moment was bittersweet for Lee (pictured) and Forsyth. The LPGA requires any amateurs who earn cards at Q school to turn pro immediately if they intend to use them. Thus, Lee, a first-team All-American a year ago who carded a 69.67 average this fall, must now forgo the rest of her college eligibility halfway through her sophomore season.
"I'm going to try and juggle school with golf at the same time," said Lee, who Golfstat had as the No. 2 ranked college player thus far in the 2014-15 season. "I still want to attend school so we'll see how my schedule will work, and we'll see how it all plays out as the year goes on."
"You have mixed emotions," said Forsyth, whose team ranked No. 7 through the fall. "Obviously she is a fantastic member of our program, but this is her dream, to play on the LPGA Tour. It's a big thing. My job isn't to deny that."
Forsyth spoke Sunday night after arriving in Las Vegas for the Women's Golf Coaches Association annual meeting. While how college golf and the LPGA might be able to work together better regarding Q school wasn't on any formal agenda, she suspected the topic might be broached at least informally.
"I don't know what the solution is," Forsyth said, sympathetic to the fact the LPGA has its own business to attend to and can't necessarily adjust its Q school schedule around the college golf calendar. "But this isn't something that's going to go away."
Meanwhile, other college programs are facing the mid-season departure of impact players as well. With SooBin Kim, Golfstat's top-ranked college golfer this fall, finishing T-11, and Jing Yan earning conditional status by finishing 34th, Washington women's coach Mary Lou Mulfur must now figure out a way to replace two starters on a team ranked No. 1 by Golfstat entering the winter break.
Additionally, Oklahoma State junior Julie Yang also earned status with a T-18 finish, and thus will not return to Stillwater.
Some coaches previously raised the idea of the LPGA holding a separate qualifying event exclusively for college players. The cost of running such an event, however, would make it seemingly an unrealistic alternative.
Others wonder whether allowing the players to defer their tour membership until the end of the college season in May is the answer. It would require the LPGA to figure out the logistics of where on the priority list these deferred players would fall compared to Q-school graduates who had been playing the start of the season, no doubt a potential headache for tour officials. At the same time, this seems like a worthwhile problem to face compared to the negative blow back the tour receives for appearing to be the heavy when asking college players to turn pro mid-season to chase their dreams.