Before I give my thumbs-up to the new South Course at Arcadia Bluffs, the latest design by Dana Fry, I must confess a bias. It's not that I've been good friends with Dana for decades, or that he, Mike Hurdzan and I collaborated on the design of Erin Hills in Wisconsin back in the early 2000s. I'm friends with a lot of architects and can still offer honest critiques of their work. No, my bias is that I was originally unenthusiastic about Dana's idea of designing this new resort course in the geometric fashion of Chicago Golf Club.
I certainly understood his motivation. He was faced with the task of creating a companion course (a mile to the south) to one of America's 100 Greatest, the spectacularly dramatic Arcadia Bluffs, whose rumpled fairways tumble down genuine glacial dunes to holes along a bluff above Lake Michigan. Dana was given an inland site for his 18, a rather flat parcel of Michigan pastureland and fruit orchards as drab as my wardrobe. He couldn't compete with the pizazz of Arcadia Bluffs on that site, so he had to come up with something entirely different and distinctive. Which he has done.
But still, I was leery of his plan because I suffer from MacRaynor Fatigue. That's the condition brought about by seeing an excessive number of courses designed in the fashion of C.B. Macdonald and his sidekick Seth Raynor, the architects of Chicago Golf Club. It was an original design concept at one time, 20 years ago, back when the late George Bahto did it when remodeling New York's Hauppauge Country Club into Stonebridge Golf Links, and when Kelly Blake Moran did it at Hawk's Pointe in New Jersey and when Brian Silva did it best of all at Black Creek Club in Chattanooga.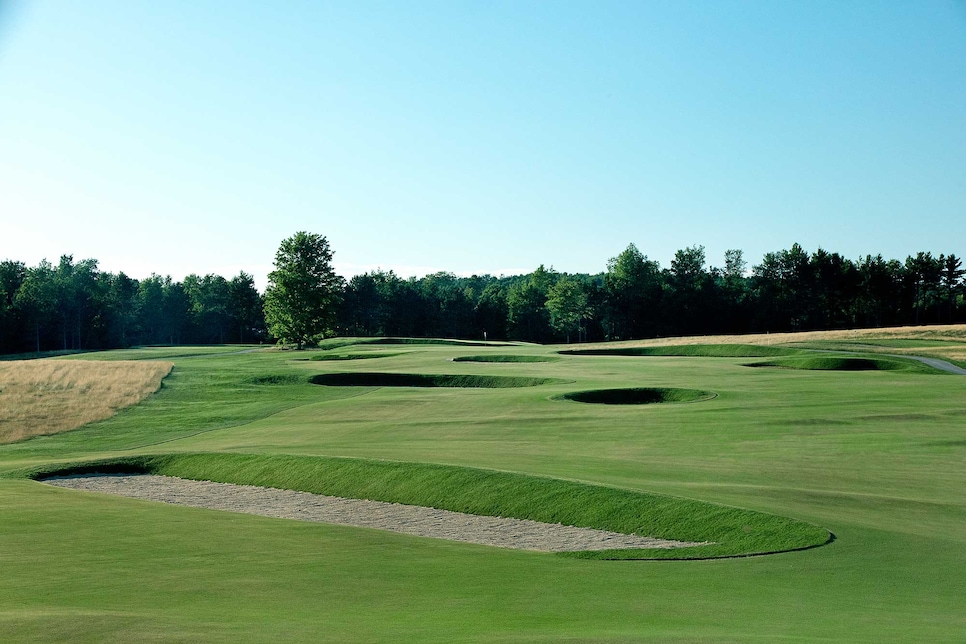 But MacRaynor features now seem to be on the first page of every golf architect's playbook, so there are rectangular greens, trench bunkers and template holes everywhere I look. Most of these appear on remodeling jobs (which are the lifeblood of golf architecture these days) at courses not originally done by Macdonald or Raynor: Stevens Park in Texas, Meadowbrook near Detroit, Keney Park in Hartford, Mount Prospect near Chicago, Watchung Valley in New Jersey, Miromar in Florida. Taken individually, each of these courses are exceptionally well done, visually alluring and strategically intriguing. But collectively, they've overwhelmed me. It's a steady diet of Neopolitan, making me crave Pistachio or Rocky Road.
So I was one reluctant troubadour stepping foot on the completed yet still-not-open South Course at Arcadia Bluffs. But I changed my tune by the second hole. Oh, the first is a fine opener, a slight dogleg-right, its uniformly 60-yard-wide fairway slashed left and right by diagonal bunkers of uniform width and depth, its dogleg green hugged by a double-dogleg bunker along its left and back corner. But the second hole is what hooked me. It's another slight dogleg-right, with another wide fairway slashed by another diagonal bunker. But the green is less like a MacRaynor than a William S. Flynn inspiration. It's shaped like a piece of toast, squared off in the front, rounded at the back edges. The contours of the green brought to mind Oakmont, because there's a prominent Y-shaped swale dug through the heart of the green, moving excess water (and golf balls) off at several points. It dawned on me that Fry wasn't copying Macdonald or Raynor, he was drawing on many classic old styles of golf design. Indeed, I later learned that owner Rich Postma didn't want any replica holes, so while Fry's design does hint at a Redan and a Biarritz, he took such motifs and did his own thing with them.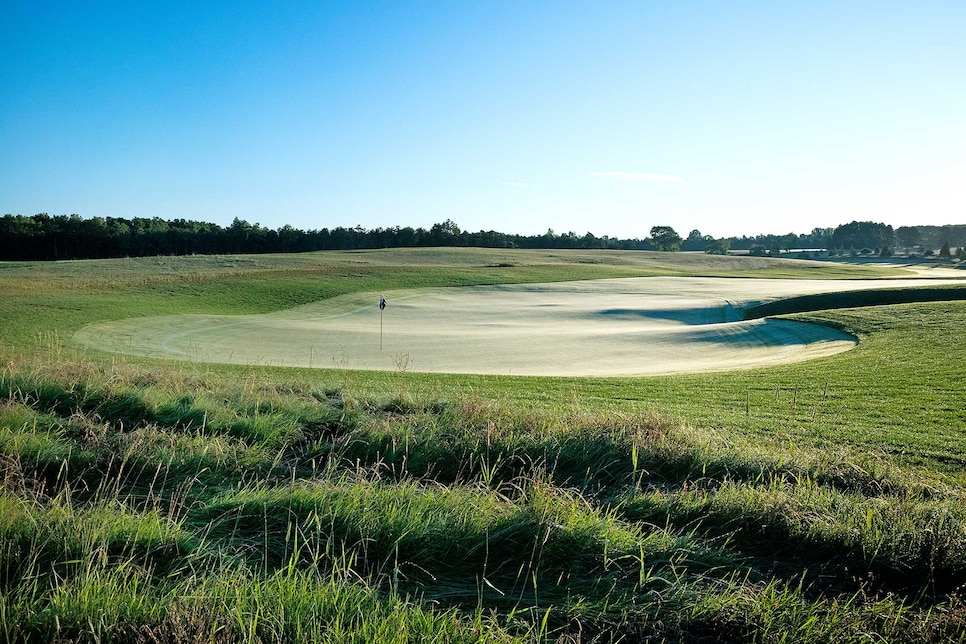 Granted, Arcadia Bluffs South certainly looks like Chicago Golf Club, with its gently rolling fairways that play up and over ridgelines, framed by stretches of tall fescue, and those long, skinny rifle-pit bunkers dug in at all angles of attack and those linear putting surfaces with right-angle corners mown at almost fetish intensity. But this is Chicago Golf Club for the Average Joe. The various diagonal and perpendicular carry bunkers are mostly short distances off the tees and easily carried by all, and nearly all have fairway mown beyond them to reward such faux bravery. (For good players, far more ominous are singular pot bunkers placed somewhere close to the middle of fairways on nearly half the holes, always at the spot where one would want a great tee shot to end up.) For the most part, the bunkers are shallow and the grass faces are laid back, so one can still advance balls toward the target. (The deepest bunker on the course, a surprise one behind the par-5 11th green, is maybe six feet deep.) The greens are generous sizes and approach fairways are mown not just up to their front edges, but also around one side or the other of most greens. (But beware: some of those fingers of fairway lead directly into greenside bunkers.)
It's the putting surfaces that raise the South Course to a level of interest even above the famed Bluffs Course. They look huge but play small. The 40-yard-deep seventh green has false sides left and right flowing into flanking bunkers. The horseshoe-shaped green on the par-3 12th, which, with its squared off front edges looks like a magnet to me, has 15 feet of false front on the right prong, 20 feet of false front on the left prong and a back half that's a banked-turn of unpinnable slope. So 12 is actually a wide, shallow green that could prove difficult to hit and hold. Even trickier is the big 15th green with a tiny pot bunker front and center and a humpback ridge running front to back, everything else drifting off left and right toward sand. That's followed by the large wedge-shaped green on the 246-yard par-3 16th, with a beveled front left edge that kick balls down a 30-yard slope of tightly mown bent grass. All are original concepts that I predict future generations will study and emulate. They're that imaginative.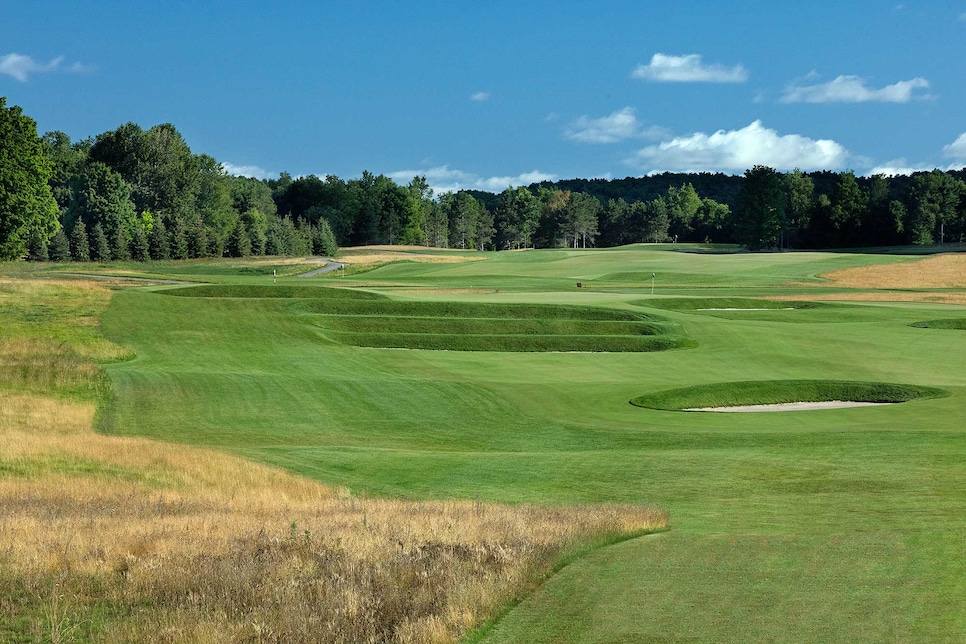 So, too, is Fry's bunkering. For instance, he's got a pair of round Spectacle bunkers some 60 yards short of the par-4 ninth green. Carry either and you can roll onto the putting surface. We've seen that before, at Carnoustie, home of the original pair of Spectacles. But on the uphill 13th, there's another tandem set of bunkers recessed into a hillside across the line of play, rectangular bunkers this time. Granny Glasses instead of Spectacles? Since you can't see the sand in either, I call them Mail Slots. Again, carry either, and you'll bounce down onto a hidden punchbowl green that has a trademark trench bisecting the surface. A Punchbowl Biarritz! What an idea.
On an upslope left of the uphill fairway of the par-4 17th, Fry stacked three even-wider rectangular bunkers in an attempt, I suppose, to pay homage to Oakmont's Church Pews. Given the amphitheatrical setting of this hole, I prefer to call them Stadium Seats. There's a great view of the green from atop them.
There wasn't one hole on Arcadia Bluffs South that failed to impress me. Some were ingenious, like the par-5 sixth, a south-to-north hole where all the bunkers and the green sit on the same axis of northwest to southeast, and the crosswind pushes southwest to northeast. This is a windy golf course, by the way, so windy that I think the hat concession will prosper. Even more windy, I am told, than the Bluffs Course, which sits right on Lake Michigan. I think the flags atop the flagsticks (which are just four feet tall, same as at the Bluffs) should be windsocks.
Once you start playing the South Course, you'll realize that all its right angles and parallel lines are less noticeable at ground level than from aerial views or diagrams in the yardage book. What is important isn't the trigonometry of the various features. It's their positions on each golf hole that make the difference. In carving this course out of a bland barley field, Dana Fry ran the risk of producing golf's equivalent of a game of Checkers. But his brilliant bunker placement and green contours elevate Arcadia Bluffs South to a game of three-dimension Chess.