Star in the making
U.S. Am star Neal Shipley 'hurt' to miss Walker Cup, but more life-changing experiences await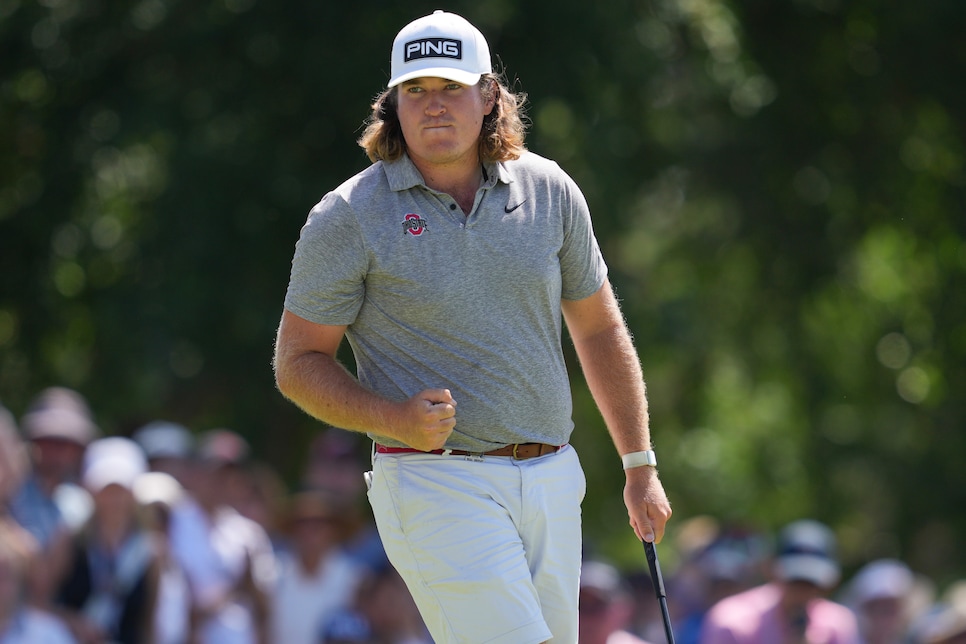 Neal Shipley rose to prominence by reaching the final of the U.S. Amateur at Cherry Hills.
Andrew Wevers
COLUMBUS, Ohio – Neal Shipley sat in the sun in a wooden captain's chair outside the Ohio State University's golf learning center at OSU Golf Club Thursday afternoon, and although the day was perfect—clear skies and temperatures in the high 70s—the new star of the Buckeyes golf team had no plans to play. His legs ached from an intense weight-lifting session, and an important competitive outing awaited him on Friday morning.
That the round in question was at Ohio State's Scarlet Course and not in St. Andrews, Scotland, where the 49th Walker Cup begins Saturday at the Old Course, only slightly rankles the affable grad student. He grudgingly understands why a summer of solid results, punctuated by his runner-up finish in the U.S. Amateur nearly two weeks ago at Cherry Hills in Denver, didn't qualify him for selection to the 10-man U.S. squad.
So instead of preparing to take on Great Britain & Ireland at the home of golf, Shipley, 22, was resting up for the final qualifier for the Buckeyes' opening fall tournament, the Maui Jim Collegiate at Mirabel Country Club in Scottsdale, Ariz., that begins next Friday.
Yes, second place in the U.S. Amateur gets you a presumptive invitation to next year's Masters and an exemption into the 124th U.S. Open at Pinehurst No. 2, but you still have to earn your way to the starting five on what is a loaded Ohio State team. Already one Maui Jim lineup spot is taken, that by Maxwell Moldovan, a second-team Ping All-American. On Monday, OSU coach Jay Moseley sent his players out on Ohio State's Gray Course to prepare them for the birdie-fest that will ensue at Mirabel, hoping to stir a go-low mentality. They didn't disappoint. Shipley impressed with a 62, two shot better than anyone else—except for Moldovan, who fired a bogey-free 11-under 59 on the 5,800-yard layout.
"It shows you how competitive our team is that I can shoot 62 and get smoked by three," Shipley said. "It can be kind of cutthroat sometimes, but at the end of the day it makes you a better player and that's really why I was so excited to come here to play."
There's symmetry to Moldovan and Shipley finishing 1-2 on the Gray Course; they are the first and second alternates, respectively, to the U.S. Walker Cup team, believed to be an historical first that the alternates are college teammates.
"The USGA without question had a challenging task because this crop right now of amateur college golfers is probably the pinnacle of American golf dominance," Moseley said. "You look at the world golf rankings and you look at college All-Americans, and it's just not as global as it often is. It's been a long time since you've had so many guys that can make such a strong case for the Walker Cup, and it reflects well on Max and Neal that both of them were in deep discussions about being on that team."
Moldovan is the known quantity, of course, having qualified for the last two U.S. Opens and making the cut at Los Angeles Country Club. The Uniontown, Ohio, native is No. 23 in the World Amateur Golf Rankings and sixth in the preseason PGA Tour University Ranking.
Shipley, a native of Mount Lebanon, Pa., south of Pittsburgh, is the late bloomer, barely ranking in the top 400 in his class coming out of Pittsburgh Central Catholic High School. He transferred to Ohio State last fall after three years and two quiet seasons at James Madison, where he earned a degree in quantitative finance but was barely on the golf radar at 1,497th in the WAGR.
Quiet is now a luxury for the 6-foot-3 Shipley, whom one USGA official called, "the hit of the week" at the Amateur. His schedule is filled with media requests. Catching up on texts and letters is a losing endeavor.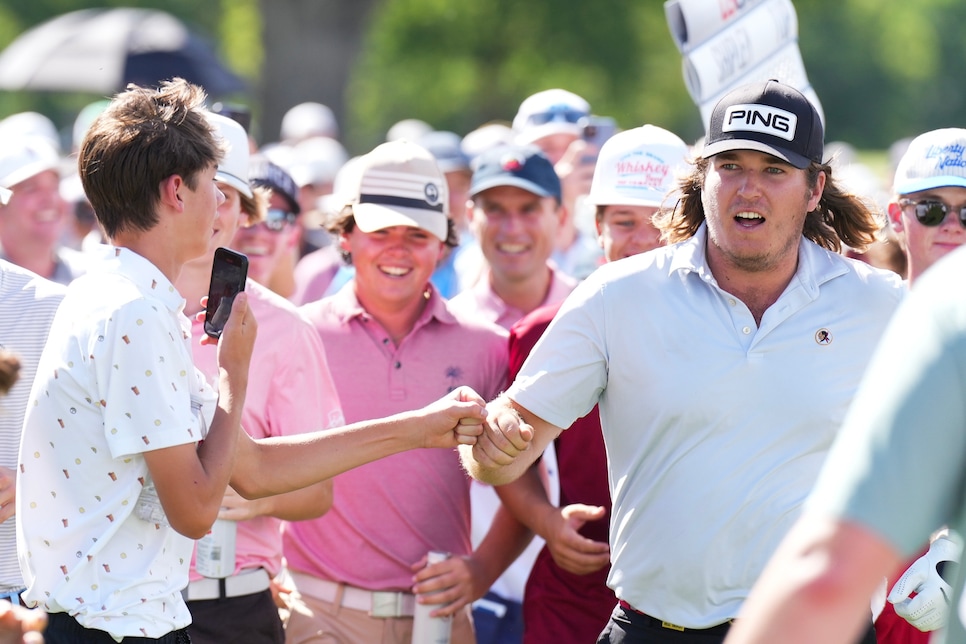 Neal Shipley celebrates his shot into the 17th hole during the semifinals of the U.S. Amateur.
Andrew Wevers
His week at Cherry Hills began with a bit of serendipity. Contestants were invited to participate in what was called the "Persimmon Challenge," in which players attempted to drive the par-4 first green using the same equipment of the era in which Arnold Palmer drove the green to begin his charge to victory in the 1960 U.S. Open. Wouldn't you know it: the western Pennsylvania guy was the only one who pulled it off.
But Shipley rose to social media viral fame with one signature moment during his 2-and-1 semifinal victory over John Marshall Butler.
Shipley closed out the match in style by spinning back a wedge from 93 yards on the par-five 17th hole. When his ball cozied up within a few inches of the cup, Shipley unloaded some emotional baggage that had been percolating throughout the taut affair. After sharing a hyper high-five with his caddie, high school pal Carter Pitcairn, he encountered a gauntlet of fans who wanted to share in his glee. He high-fived dozens, his long brown locks going every which way as he hot-footed his way to the green.
"The other semifinal had finished, so everyone was with us; the crowd was really thick," said Shipley, who was 3 down through 10 but won five of the last seven holes. "As my ball is starting to spin backwards, people just kind of swarmed the fairway. I can't really even see the ball stop until I jump up and get a look at how close it is. And I just kind of went nuts. It was really a crazy scene. I bet I gave 120 high fives—and with some good precision, I will add."
Shipley realizes that's the shot that got him into the final (and into the Masters) and also is the source of his newfound fame. "It's a little weird turning the phone on, and it's like, 'Oh Jesus, there's a reel of me from Golf Channel's Instagram that has 500,000 views.' It's pretty amazing," he said. "I'm just trying to embrace it and be myself."
It's impossible to know if Shipley, now 94th in the WAGR, would have been chosen for the Walker Cup had he not lost to Nick Dunlap in the final, 4 and 3. His runner-up finish was his fourth of the summer to go along with seconds at the Sunnehanna Amateur and Trans-Mississippi Amateur and a T-2 at The Dogwood Invitational. He also finished third at the Pacific Coast Amateur and ended up fourth in the final Elite Amateur Series standings.
Shipley's hot summer actually started with a solid spring campaign in which he earned honorable mention All-American honors and played his way into a bid for the NCAA individual title. Shipley entered the final round at Grayhawk Golf Club tied for second, but a final round 79 left him T-29.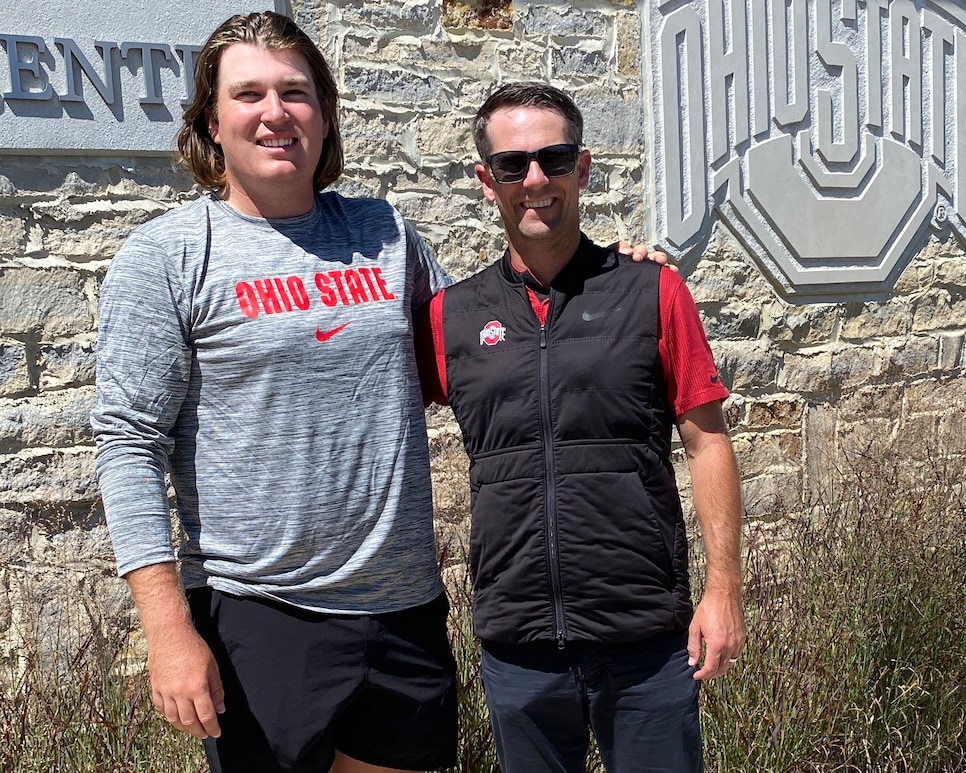 Neal Shipley poses with Ohio State head coach Jay Moseley.
"That gave me a ton of confidence," said Shipley, whose cerebral talents he is starting to use more effectively. "The big thing is that I have become much more consistent with my ball striking and my putting has kind of come along. I'm not one of these guys who goes out shooting 61 or 62, but in a four-round tournament I could toss in a lot of rounds between 66 and 69 or 70. If you keep in that range, you can shoot 12 under throughout a whole week and it doesn't really feel like much.
"And I think my ability to deal with playing under pressure improved a lot. At nationals, that final round where I didn't play very well, maybe I just wasn't really quite tuned in with that type of pressure. … Now I've been in some real pressure situations, and I know how to deal with what's going on in my head and with adrenaline and the nerves. I think more clearly."
"Neal works very hard at finding ways of getter better and better and better," Moseley said.
One wonders if he doesn't feel some sense of camaraderie with Lucas Glover, who thrust himself into the U.S. Ryder Cup conversation with consecutive wins last month but was bypassed for a wild-card selection by captain Zach Johnson. "Actually, when those picks came out the other day," Moseley said, "I had a lot of people ask me about that, which clearly indicates a lot of people think you don't leave a hot hand off those teams."
"I felt like I've had one of the best summers out there," Shipley said. "I think there's only a few guys out there that could by claim a better summer than I had, and I think that as a result give me a lot of confidence, especially going into that tournament and coming into this fall. I know that the USGA has their process. I respect the guys that are on that team, and they're great players, but obviously it hurts. I want to be there, but I'm really rooting for them this weekend and hoping that they win and pull it out. It's one of those things where that's life. You don't always get what you want, but you just got to keep rolling and use it for motivation."
A special season could be in the offing for the Buckeyes, and Shipley is eager to see just how good they can be, notably with the Big Ten Championship, which next year will be a virtual home game at Scioto Country Club. On the individual front, Shipley covets a pro career, and he will likely begin to pursue it after the U.S. Open. How he goes about it depends on a number of factors, including what kind of inroads he can make on the PGA Tour U standings.
Shipley has never been to Augusta National Golf Club. He drove past the gate a few years ago after playing a college event nearby. "I was like, 'Oh, well, I'm here. I might as well just go see the sign outside and drive past the gate.' But you can't see anything else," he said. "Then you go down the road and you turn around in a Dollar General and drive by it again. One of the greatest golf courses in the world was just right there, but I couldn't even see it."
If precedent holds, early next April he'll drive through that gate and down Magnolia Lane, and he will see it all. He will be seen, too. But you can't say he'll have arrived. That already happened.