College Golf
This rare rules mishap thankfully didn't mar the ending of the NCAA Women's Championship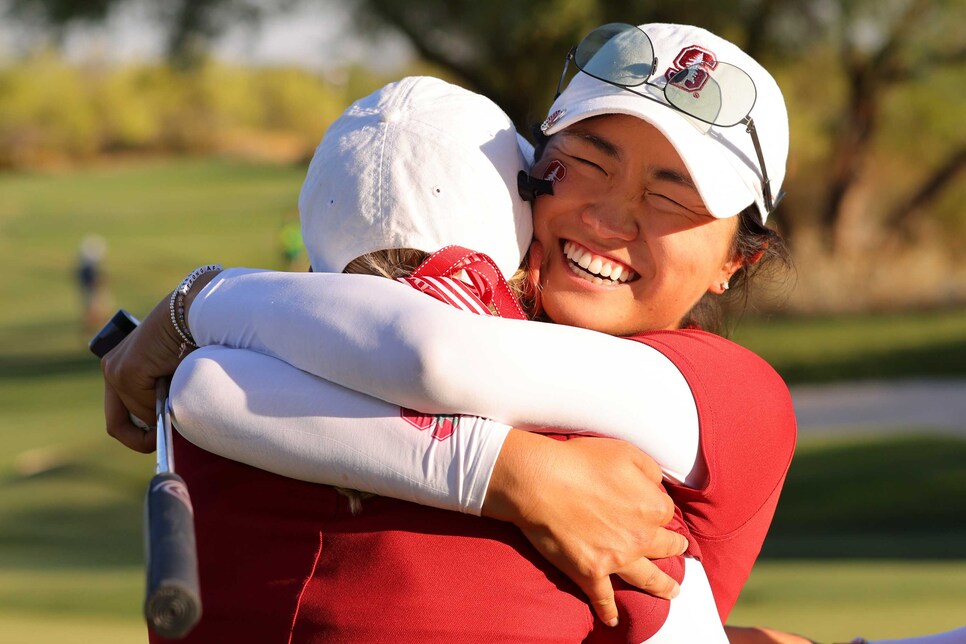 Stanford's Rose Zhang celebrates with teammates after defeating the Oregon Ducks to win the 2022 NCAA Division I Women's team title at the Grayhawk Golf Club.
C. Morgan Engel
It was all tied at 2-2 in the final of the NCAA Women's Championship on Wednesday at Grayhawk Golf Club in Scottsdale between No. 1 Stanford and No. 2 Oregon, but there was an air of inevitability as well. Cardinal freshman Rose Zhang, the No. 1-ranked women's amateur who won the NCAA individual title on Monday and the Annika Award for national college player of the year on Tuesday, held a 2-up lead over Sofie Kibsgaard Nielsen with two holes to play in the fifth and deciding match. A miracle comeback would be needed to change the pending outcome.
Instead of a miracle, the Ducks stumbled upon a penalty stroke after a rare rules violation.
As Nielsen, using a push cart in the Arizona heat, was walking up toward her ball in the rough off the tee on the par-4 hole, she mistakenly ran over Zhang's ball, which was also in the rough. Under the Rules of Golf, Nielsen had to add a one-stroke penalty to her score for violation Rule 9.5b, which states: "If the opponent lifts or deliberately touches the player's ball at rest or causes it to move, the opponent gets one penalty stroke."
The rules official informed Nielsen and Zhang of the penalty after both hit their second shots, Zhang on the green but 40 feet from the hole Nielsen short left of the green facing a tricky pitch.
Nielsen, now hitting her fourth shot, left the ball 14 feet short of the hole and failed to make what was officially her bogey putt. When Zhang two-putted for par, she had clinched the match, 3 and 1, and earned the winning point for the Cardinal.
"I just reminded Rose that nobody wants a tournament to end that way, but it didn't," Stanford head coach Anne Walker said afterward. "At the end of the day, Sofie made 5, Rose made 4, and I want that to be for both Sofie and Rose to be the focus because no one wants a title to end that way."
Interestingly, the penalty is only applicable in match play. The penalty was put into place during the most recent update of the Rules of Golf in 2019.