The Loop
NCAA quarterfinals have plenty of excitement
__OOLTEWAH, TENN.—__Say this about match play at the NCAA Championship: It hasn't been lacking on the drama front.
Even detractors of the new format couldn't have helped but be captivated by some of the showdowns during Friday's quarterfinals at The Honors Course.
Take Washington versus Oregon, a battle of Pac-10 rivals each ranked in the top five in the final Golf World/Nike Golf coaches' poll. With the two schools splitting their first four matches, the overall contest came down to the two golfers who shared conference player of the year honors, Husky senior Nick Taylor and Duck sophomore Eugene Wong.
Needless to say, they played up to their reputations. When Taylor made a 5 on the par-4 10th hole to go 1 down to Wong, it turned out to be the only bogey of the day for either golfer.
As they played the closing stretch of holes, Wong clinging to the 1-up lead, the two traded clutch shots. On the par-5 17th Taylor hit his  3-wood second shot from 245 yards on to the green 30 feet above the hole. Wong, in the left rough about 240 yards from green, followed it up by lacing a hybrid to 45 feet. Two-putt birdies from each meant they had halved their seventh straight hole and collected their eighth and ninth birdies of the day.
"I've never been more nervous on a golf course in my life," Oregon's Jack Duckminier noted to teammate Andrew Vijarro and they headed to the next hole, "and I'm not even playing,"
After both players hit the fairway off the tee on the par-4 18th, Taylor put his ball on the green 18 feet from the hole while Wong caught the left side of the green, leaving him a tricky right to left breaker from 35 feet. With the largest crowd of the day around the green, Wong lagged the ball up to two feet. Taylor, needing to hole his putt to extend the match, just missed to the right. Wong then made his par to secure the victory.
"It was just a dogfight," said Oregon coach Casey Martin, in his fourth year overseeing the program. "No one was up by more than one all day. It was just classic golf back and forth. That was PGA level golf being played out there.
"I'm glad Wong had the putter in the end," Martin continued. "He has had an amazing year and if anyone has to put it on the line you want Eugene doing it."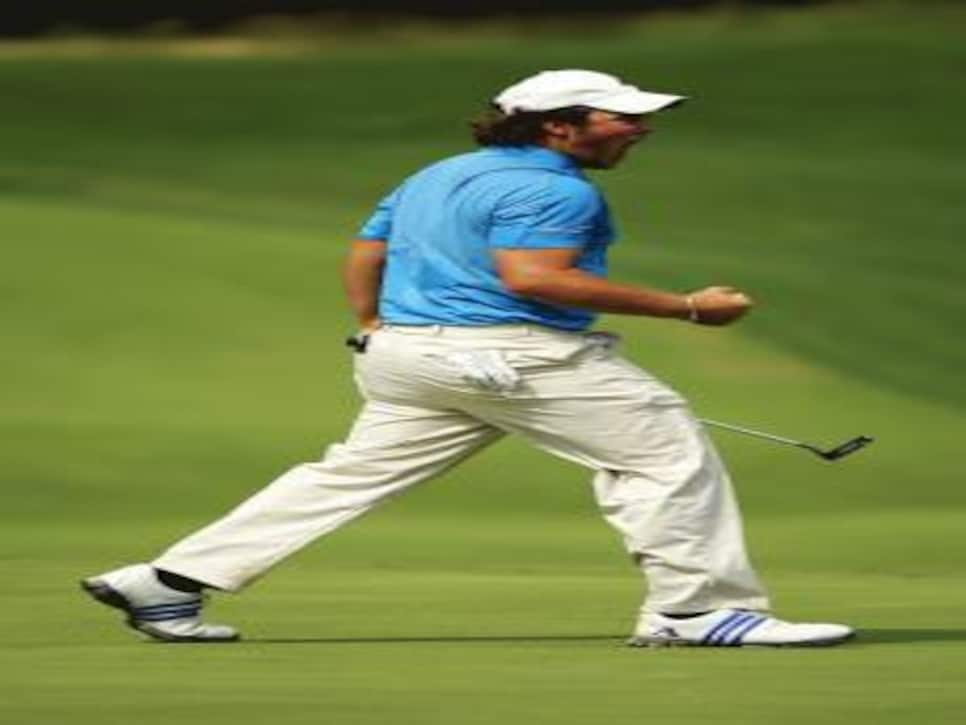 Later in the afternoon, in-state foes Augusta State and Georgia Tech had similar theatrics play out on the 18th green. Georgia Tech stood 2-1 in the overall match, but Augusta State had leads in the final two matches. Jaguar sophomore Patrick Reed had a 1-up lead on Yellow Jacket senior Chesson Hadley with both looking at birdie putts on the home hole. Hadley putted first, from 35 feet, his ball rolling over a ridge and impressively into the center of the cup. As the ball disappeared, the recent ACC champion let out an emotional roar
As the crowd settled down behind the green, Reed, a semifinalist at the 2008 U.S. Amateur, composed himself. He then proceeded to drain his 15-foot birdie, letting out a roar of his own.
"That fired me up a little bit," Reed (right, photo by J.D. Cuban) said of watching Hadley's putt fall in. "I knew I could be even louder when I made mine."
With the two schools now squared at 2-2, Augusta State's Henrik Norlander and Georgia Tech's J.T. Griffin proceeded to come down the 18th hole, Norlander holding a 1-up lead but having lost three of the previous five holes. As with the previous match, both players found the green in regulation. Norlander's 16-foot birdie try came up short, leaving the door open for Griffin. But when his birdie try from 14 feet to extend the match missed left, it gave the Jaguars the overall victory.
"I didn't know how I felt about this format," said Augusta State coach Josh Gregory, "but that's the most fun, most nervous, most exciting, most paranoid I've even been on the golf course."
With their respective wins, Oregon and Augusta State won't find things any easier during Saturday's semifinal matches. The Ducks will take on top-seed Oklahoma State, the Cowboys having defeated Stanford in their quarterfinal tilt, 4-1.
"[Match play] makes for an exciting tournament, and a lot of exciting finishes," said Oklahoma State's Mike McGraw, whose team avenged its quarterfinal loss to Georgia at last year's championship. "You get a chance to win every time you tee it up on a hole. You got a lot of opportunities for victory, and pressure putts. A lot of things that can call up your character as a player."
Meanwhile, the Jaguars face second-seed Florida State, which started slow against Texas Tech but pulled away with a 4-1 victory.
Oklahoma State vs. Oregon__
9 a.m.—Sean Einhaus vs. Jack Duckminier
9:09—Trent Whitekiller vs. Isaiah Telles
9:18—Kevin Tway vs. Andrew Vijarro
9:27—Peter Uihlein vs. Daniel Miernicki
9:36—Morgan Hoffmann vs. Eugene Wong
Florida State vs. Augusta State__
9:45—Michael Hebert vs. Carter Newman
9:54—Wesley Graham vs. Taylor Floyd
10:03—Seath Lauer vs. Mitch Krywulycz
10:12—Brooks Koepka vs. Patrick Reed
10:21—Drew Kittleson vs. Henrik Norlander
While the NCAA Championship ended a year ago with the memorable shot on the 18th hole by Texas A&M's Bronson Burgoon, his match with Arkansas' Andrew Landry was only the third of the entire championship that actually reached this 18th green. In this year's quarterfinal round alone, 10 matches reached the 18th.