If there's a fountainhead of American golf design, it is National Golf Links of America. Courses had been built in the United States for nearly two decades prior to its opening in 1911, but none of them achieved the high standards National architect Charles Blair Macdonald envisioned possible for the youthful golf country, not even those he'd built.
Up to that point, American golf courses lacked their own identity. Most were poorly constructed with awkward architecture that harshly penalized all but the most perfect of shots and failed to integrate with the rich diversity of landscapes the country offered. Macdonald intended to correct that by building an ideal course that would not just take inspiration from the great courses of the U.K. and Europe but rival them.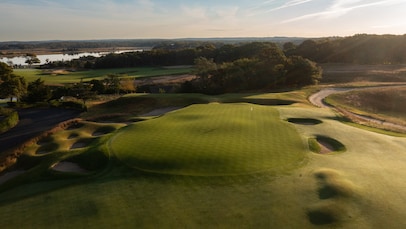 This is where golf architect Seth Raynor got his start. A civil engineer by training, he surveyed holes for architect C.B. Macdonald, who scientifically designed National Golf Links as a fusion of his favorite features from grand old British golf holes. National Golf Links is a true links containing a marvelous collection of holes. As the 2013 Walker Cup reminded us, Macdonald's versions are actually superior in strategy to the originals, which is why National's design is still studied by golf architects today, its holes now replicated elsewhere. Hard to fathom that National Golf Links of America was not ranked in the 100 Greatest from 1969 until 1985.
View Course
His National Golf Links, once complete on the east end of Long Island, was instantly recognized as groundbreaking, an immense and audacious course unlike anything else that previously existed in the states. Prospective designers traveled to study it, taking its lessons home with them, particularly how the architecture, like the links, provided options in allowing players to navigate different routes from tee to hole, avoiding its pernicious hazards in their own ways. Like St. Andrews, a source of inspiration, National runs out and back, its holes coupled side-by-side, beginning and ending at a stately clubhouse near a great body of water. It is also like St. Andrews in that it's not replicable: The dimensions of its features and the giant, asymmetrical ground movements are too unique to transport. Though Macdonald, and later Seth Raynor, who helped him construct it, would go on to build dozens of courses using these holes as models, none of them possess the size or ingenuity of NGLA.
For all its importance and influence, National Golf Links of America has never occupied the stage the way peer courses like Augusta National, Pebble Beach, Merion or Oakmont have. The club eschews the spotlight and has hosted only a small number of tournaments that would attract outside attention, the latest being the 2013 Walker Cup. As such, very few golfers have seen the course, and certainly not in much depth and detail. Until now.
In the below video, world renowned golf architect Gil Hanse takes a closer look at National Golf Links of America:
Every Hole At National Golf Links
Using riveting flyover footage, Gil Hanse goes hole-by-hole of perhaps the most influential course in American golf architecture,