AT&T Pebble Beach
A four-putt from 13 feet looks as bad as it sounds—and costs this tour pro LOTS of cash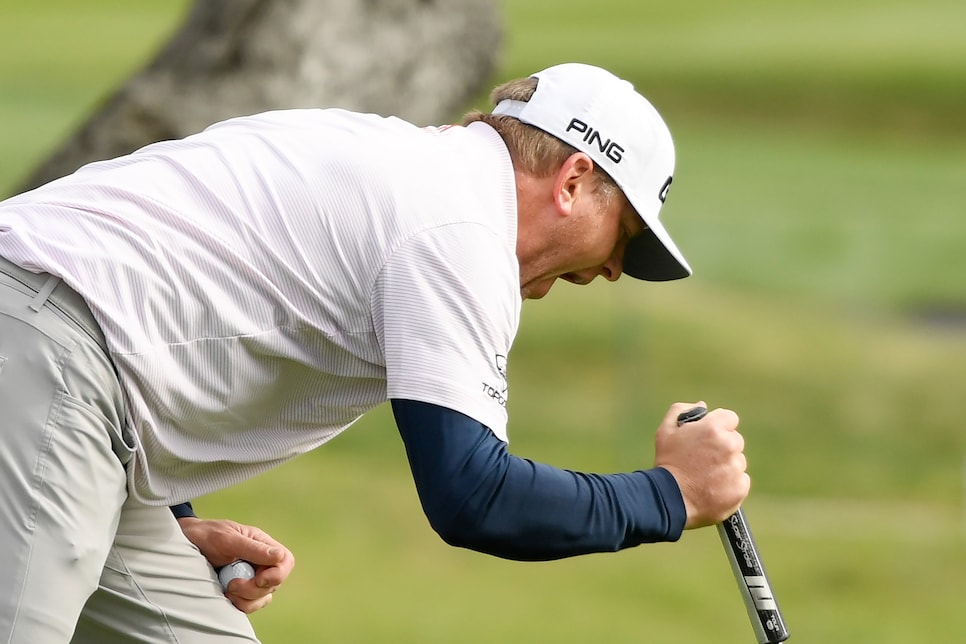 Nate Lashley reacts to his triple bogey on the 16th green during the final round of the 2021 AT&T Pebble Beach Pro-Am.
Harry How
Nate Lashley was a surprise contender on Sunday at the AT&T Pebble Beach Pro-Am. Sure he started the day only two strokes back of Jordan Spieth in a tie for second place with four other players. But the 38-year-old journeyman with the lone PGA Tour win (2019 Rocket Mortgage) wasn't the guy most figured would walk off the victor on the Monterey Peninsula. Not at least when the leader board also had Jordan Spieth, Daniel Berger and Patrick Cantley listed near the top.
Lashley, however, didn't let the fact that others were looking past him keep him from being aggressive during the final round. And sure enough, with birdies on the five of his first 11 holes, he would push himself to the lead and force the rest of the field to take notice.
But all that momentum came crashing down for Lashley on the par-4 16th hole. After a perfect tee shot, he had 152 yards to the green. Whether adrenaline got to him is unclear, but Lashley's approach flew long over the green, leaving him a delicate third shot.
To Lashley's credit, left himself a reasonable putt, Shotlink measuring it 12 feet, 9 inches. But Lashley couldn't save the par, rolling the ball 3 feet, 9 inches past the hole.
And then, well, let's just say all hell broke loose. Warning: Viewer discretion advised.
The triple-bogey 7 was followed by a par on the 17th and a birdie on the 18th for a three-under 69, but the damage had been done. And costly damage at that.
Lashley finished at 14 under and in a tie for fifth, which earned him $301,275. Had he three-putted the 16th, he would have finished at 15 under and in a three-way tie for third, worth $413,400. Had he two-putted for bogey, he would have finished at 16 under and in a two-way tie for second, worth $694,200. And had he some how saved par, his 17-under showing would have been good for solo second, worth $850,200.
Watch that video again now and that anger on Lashley's face as he walks off the 16th green takes on new meaning.