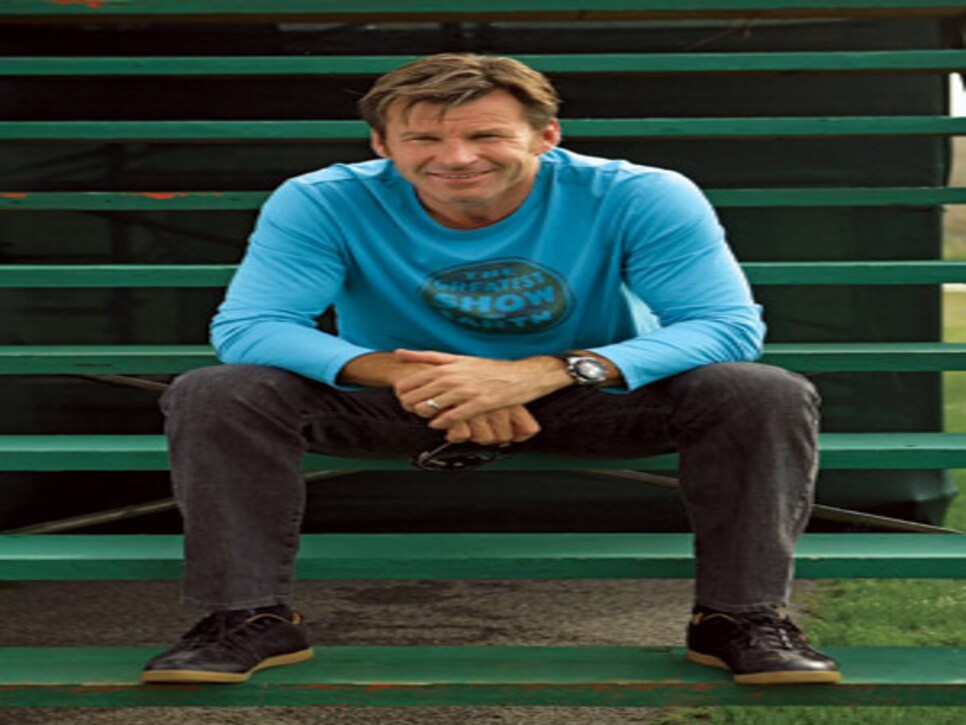 Nick Faldo, photographed April 12, 2006, at Harbour Town Golf Links, Hilton Head Island.
When I flew into the country a while back, the customs officer, who obviously was a golfer, recognized me. I hadn't filled in the window listing my occupation, and he wrote "Sports analyst." I said, "Why not just write 'Golfer'? What about the six majors?" He said quietly, "We both know what you do best these days." Couldn't argue with him there—though I wanted to.
ESPN called on behalf of Michael Jordan last year and said, "We'd really like to have you at Michael's tournament in the Bahamas." I said, "I'd love to. I'd swim there to play with Michael." The executive paused and said, "Not as a player, Nick. We need an announcer." I'm telling you, those majors feel like they happened a million years ago.
There are some secrets you'll never get out of me. The biggest is the strategy we Europeans use in foursomes during the Ryder Cup. It's one area of the Ryder Cup we've dominated, and this strategy really is the reason we've won four of the last five Ryder Cups. Tony Jacklin invented it, and it's beautiful in its simplicity and devastating in terms of its effectiveness in the alternate-shot format. If the Americans got wind of it, there would go the Ryder Cup. It's subtle, but very visible when you look at it head-on. An observant person can see it.
On the other hand, when I told Greg Norman, "Don't let the bastards get you down" on the last green at the 1996 Masters, that was a secret I knew had a statute of limitations. When it comes to history, you eventually want to set the record straight. So into my book it went, and nobody was the worse for wear.
As a boy, I was a hothead. Threw clubs up trees and carried on when things weren't going right. Then, in 1977, I missed a shot during a tournament and buried a club in the ground. Gerald Micklem, the former chairman of the RA Championship Committee, saw me do it and walked over. I expected a real tongue-lashing, but he said, "I used to do that, and it never did me any good." Then he walked away. That was very powerful. I was embarrassed by what I did and really humbled by the way Mr. Micklem handled it. I got mad after that, but no more losing my temper.
I had only one sporting hero growing up: Bjorn Borg. He never argued with the umpires or got into it with other players. Strong. Quiet. Absolutely prepared for anything. Tough mentally. Played the fifth set the same as the first set. No ebb and flow emotionally. Four or five years ago, it occurred to me that I had subconsciously modeled myself after him.
Finally, after years of idolizing Borg, I met him. He played an exhibition against John McEnroe at Buckingham Palace, and I was introduced. I said, "Do you know you've been my hero for the last 25 years? It is a great privilege." His reaction? He just nodded, like he'd just won a point in the first set.
Golf on TV in Great Britain is characterized by showing lots of shots of the countryside or a nearby loch. It's much more pastoral, suited for the people at home drinking tea and eating scones. It can be too slow; in Barcelona once they showed three players walking onto a green, and all three players three-putted. The camera didn't leave the green once. With due respect to that production style, I'm partial to the bang-bang style we have here in America.
It helps to be different, and in my case I do it without trying: I have a British accent. Americans love a British accent, and golf audiences really love it. I play on that, obviously. I'm not above saying, "Of course, old chap, I do say, jolly good," and so on.
Note to the TV networks: This boy has it all. I can be serious and analytical. Or philosophical, or dramatic. I'm quick and always good for a laugh. And I play nice with the others. I want to work, and you know where to reach me. But please phone on Thursday—I'm busy on weekends.
__Listen to your heart and your gut.__That small voice inside you. How often have you left the house knowing you've forgotten something, and it turns out you have? Intuition is very powerful, and certainly it's true in golf. The young person tends to fight intuition, whereas people my age learn to go with it.
Can't figure women out, eh? You must accept that on virtually every issue you are not right—she is. That is the key to peace and happiness. I'm always mindful of something a friend once told me: "When I'm out walking in the woods, all alone, I'm still wrong."
I appreciate that my apparent personality transformation is hard to grasp. Certainly in my better playing days I kept my head down and the blinkers on, never showing my cards. Get out of my way! But I had to do it that way. I tried to be funny and entertaining a couple of times, but a few bogeys later, enough of that. The Hogan in me won out over the Peter Jacobsen in me.
When I was a boy, we had a little gang that played every day. I lived in a small house, two rooms up and two down, and across the street were some woods. It was our explorer area, and five of us lived in those woods. All day long we'd be over there, making up fantasy games, wars and so on, lots of quests with elaborate plots. When we got older we left the woods and took to riding bicycles, and we wore out the streets of that town. I would disappear and not come back until the food was on the table. There is a lot to be said for that sort of rough-and-tumble upbringing, but sad to say, that time has come and gone. Can you imagine turning your children loose for 10 hours without checking in on them?
Favorite movie? That's a tough one, but the Austin Powers movies come to mind. A bit part in one would go a long way to making me an even happier man. Just one line. You know the producer?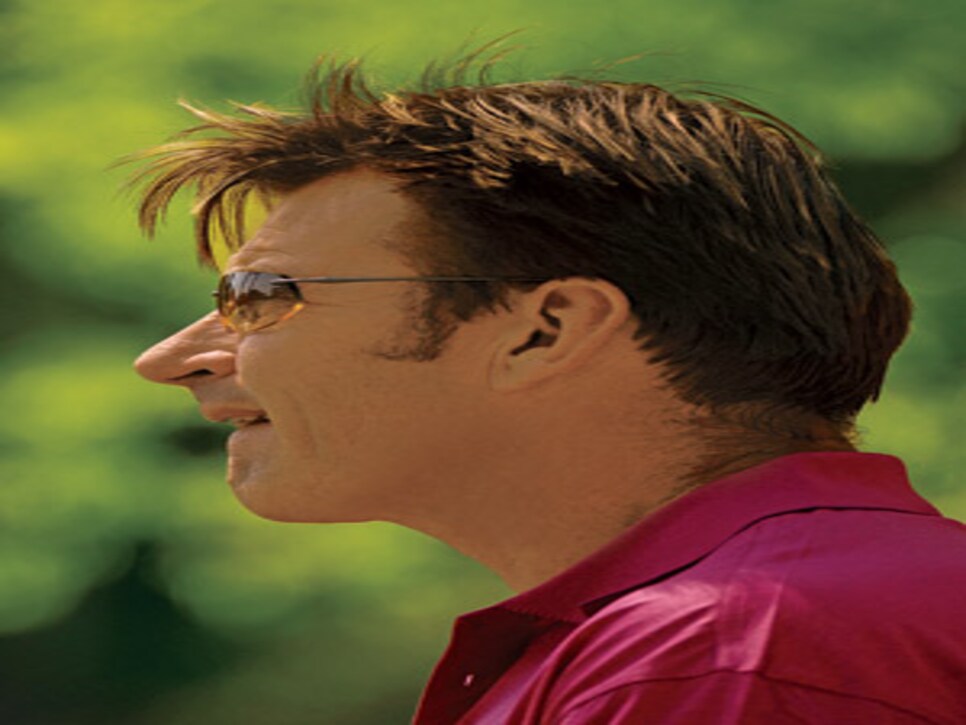 and I couldn't get a word out of him about it.
When I decided to totally rework my swing in 1985, I would begin hitting balls early in the morning, and I'd hit five of those very large baskets of balls—the kind they use to fill the little baskets—until, by about 3 o'clock in the afternoon, I couldn't close my hands anymore. Five of those baskets amounts to 1,500 balls, and my hands would just turn into claws. I would go off and have a swim, and then, when the sun was going down and it would cool off, I would go back and hit some more.
The reworking took two years. I've kept much of that experience to myself. It was dark, intense and sometimes negative, wondering when the changes were going to take—and if they would take. It is amazing really, with the stress I put my body through, that I didn't ruin my back, tear a rotator cuff, develop tendinitis, or any number of things. Using new muscles in my hips and other places, I would get so sore I felt crippled. Later I was bothered by tendinitis, as early as when I won the British Open in 1990. The worst area: The "snuffbox" on my left hand, that little pocket at the base of the thumb and forefinger. At the '90 Open, my snuffbox was so sore I hit all my iron shots in practice using a tee. Everyone thought it was some new kind of practice technique, when in fact I couldn't take a divot.
By late 1986 I had begun losing sponsors and endorsements. I'd gone from being nearly the best player in the world to not being able to hit my hat. I wasn't invited to play in the 1987 Masters, but that week I was in a satellite event. I'd been working on a little thing in my downswing, and, just like that, it clicked. I shot four 67s, finished second. I won in Spain in May, won the British Open at Muirfield in July, and at the end of the season, I knew I was on my way.
It's all about the "bottle," the British term meaning the ability to be in a situation and feel comfortable, be in control and have the mental toughness to get the job done. Great champions have the bottle almost all the time. Some have the bottle at isolated moments, others find it only once in a career, and others never find it.
The best player I saw at a given moment was Seve Ballesteros at Lytham in 1988. His charisma and confidence were so high, and the way he played was transcendent. I remember thinking that no man could have beaten him; there was a force that wouldn't allow it.
My goal was to be the No. 1 player in the world, and I did that. All was good and well, I was happy, and I remained motivated for quite some time. But something happens with that motivation. You work hard, and you aim for those goals anyway, but it lingers in you that you're not paying the true price necessary to give those goals their best chance of coming off.
Fanny Sunesson was and is one of the great caddies of all time. I was the world's No. 1 with her, and with the crowds and everything closing in on you, you need a strong personality at your side. You'd be surprised at how often caddies choke and can't give the player the correct yardages, and otherwise start stumbling and fumbling around. There was none of that with Fanny. She had the yardages spot on, and she handled the galleries with great authority. "Stand back!" she'd shout. "Quiet please!" I always smiled at how readily people obeyed her. Her physical stamina was amazing; I had a small fruit store in my bag that weighed more than 30 pounds, and the nature of the course was irrelevant; she never got tired.
When I was 20 I moved to a little English village, to a place next door to a pub they said was at least 600 years old. The pub truly was haunted. Many a time, nobody would be behind the bar, and bottles would fly off the shelves. Not fall, but fly across the room. It happened so often that the employees were used to it and only got mad that they had to sweep up the glass. The last house I had in England had a ghost cat. I never saw it, but the housekeeper said she saw a gray shadow go slinking across the floor near two of our pet cats, and when they saw the shadow, they would run from the room as though a bomb had gone off.
Then there are the aliens they have hidden in Roswell. When I saw President Clinton, I asked him about it, and I couldn't get a word out of him about it. Imagine that.
My big motivation now is to play the Champions Tour next year. Like everybody else, I had no great designs on playing it, but last year I decided to go for it and give it my best. You're only 50 once.
The alternate-shot secret, I'm keeping to myself. But I will say this about the four-ball: You need a good partner. There's no way around that, and I've had several. I started out with Peter Oosterhuis—he was my wing man, nailing down solid pars while I fired the big guns. Then Langer, Woosie, Monty and finally, Lee Westwood. By the time I got to Monty, I was the wing man. You want the young guy to be relaxed and playing as loosely as possible, while the more experienced player is charged with being the glue. That's a bit of strategy I reveal at the European team's peril: Formulate every team knowing one guy is the wing man and the other is the main gunner.
Isn't it odd how you can see someone in a room, and you like them even before you're introduced? Once in a while I'm just drawn to a person. My best friends in the world, I liked them immensely before I met them.
Early in my professional career, I had a best friend who also was a golfer. One night the phone rang, and it was him. He started reviewing his round with me, and on the second hole I put the phone down and made a sandwich, taking my time. When I picked up the phone, he was on the 14th hole and didn't know I'd ever left. That made an impression on me. Ever since, I've never had a best friend inside golf. I just don't want to talk about golf in the evenings. Furthermore, I'm competing against them, it's a business, and I don't want to give anything away. I have three or four close friends, a couple of whom I've known for 25 years or more. People I tell my secrets to, and I'd be there for them in a minute if they needed it.
Sometimes I'll launch into a story about something that happened to me during a championship, and a short way into it the listener's eyes begin to glaze over. The story might be one I've never told before, and I think it's quite interesting, but then it hits me: That was 25 years ago. I need some new material.