The Loop
Mr. Australia and Miss Idaho, Tiger's Bahamas invite, Rickie (barely) survives a TV cameo, and the best boss in golf
Welcome to another edition of The Grind, where we're suddenly wondering about Tiger Woods' eventual retirement in the wake of Kobe Bryant's goodbye poem to the NBA. Will Woods also break the news on The Players' Tribune, or will he use his own website? Will he make the announcement at 5:30 p.m. on a Friday? Will he even let us know when he's retiring?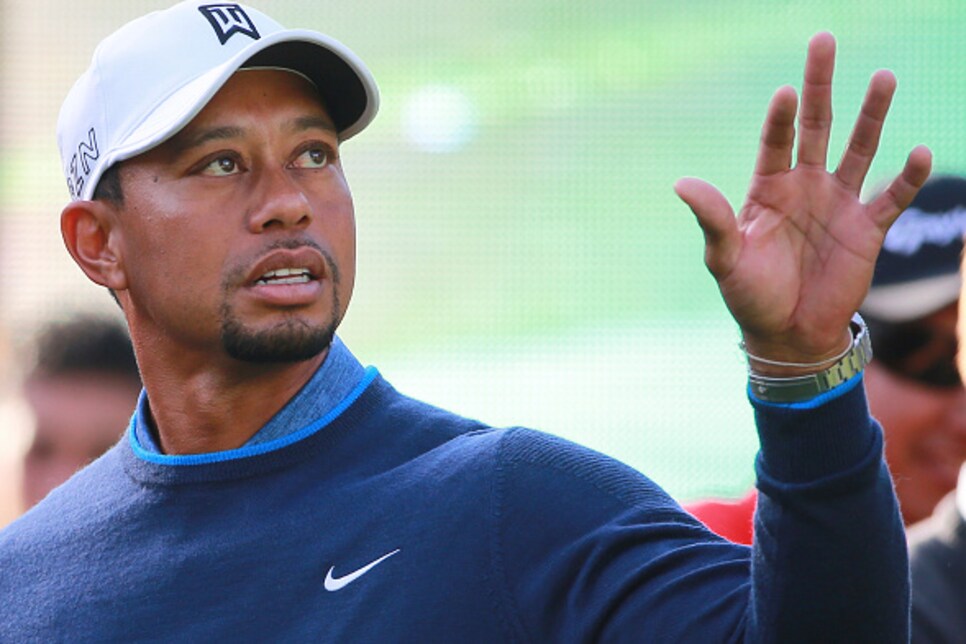 Watching Woods battle with the yips, shockingly high scores (85!) and a Derrick Rose-esque list of injuries in 2015 was comparable to seeing Kobe shoot 4-for-20 on a nightly basis, and both have that hero/villain rep going for them. But thankfully, we don't have to worry about Woods walking away yet. Nope, the 400th-ranked player in the world has already announced he's sticking around next year to . . . be a Ryder Cup assistant captain. Wait a minute. . . Nah, that couldn't have been the big announcement. . . Right? Hmm. In any matter, here's what else has us thinking this week.
Matt Jones: It's one thing to win a tournament you hold dear. It's another to do it by overcoming adversity and two of the best players in the world. Jones suffered an early double bogey and triple bogey, yet the Aussie was able to rally to top Jordan Spieth and Adam Scott by a shot to claim his first Australian Open. And yes, it gives us the opportunity to again mention that Matt Jones is married to Melissa Weber Jones, a former Miss Idaho: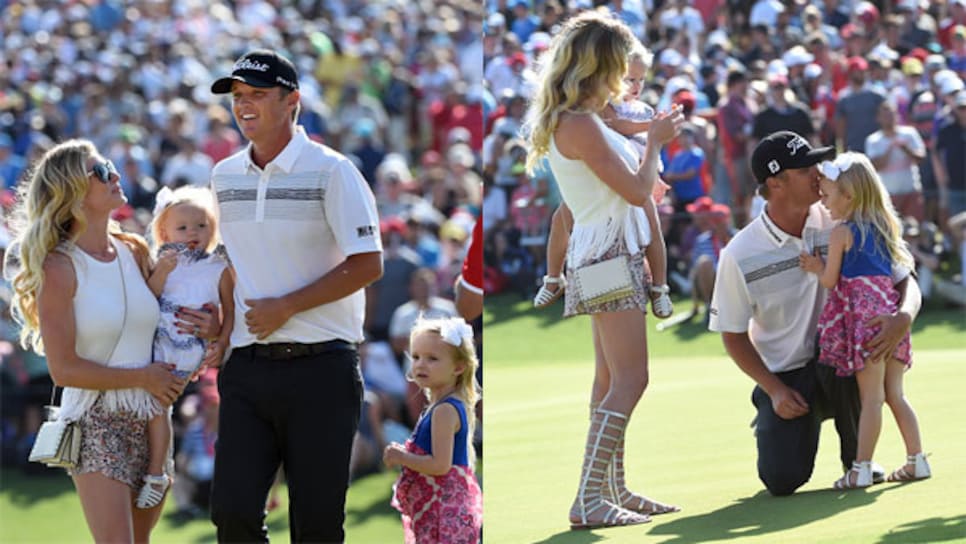 If those aren't "I might be on TV sandals," we don't know what are.
Golf Canada: The Great White North's governing body of golf said it won't enforce the USGA's silly new rule that states rounds played as a single don't count for handicap purposes. "GO Canada!"
Zach Johnson as a boss: Instead of celebrating Thanksgiving with his new claret jug, Johnson let his caddie, Damon Green, use the prized possession as a gravy boat: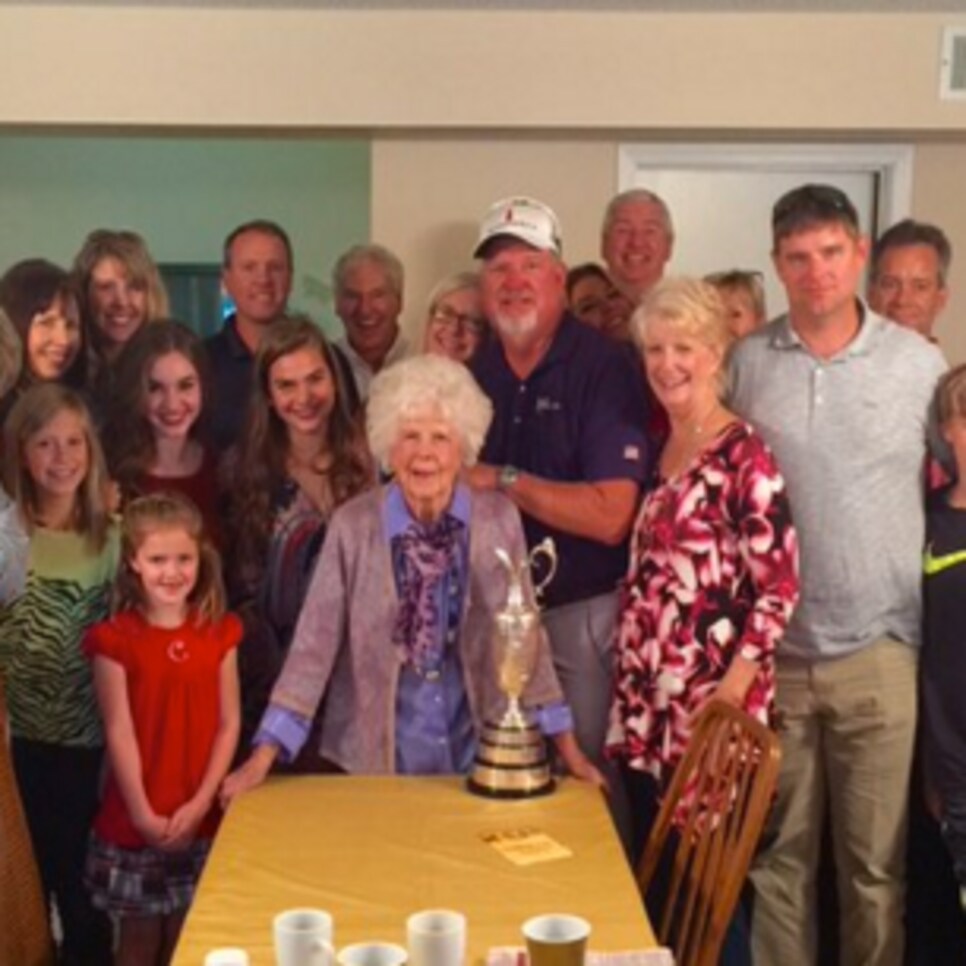 OK, so we're pretty sure Green just showed it off to his clan, but still, what a nice gesture. In comparison, my boss spent most of his Monday cleaning up a bag of nuts he spilled on his office floor: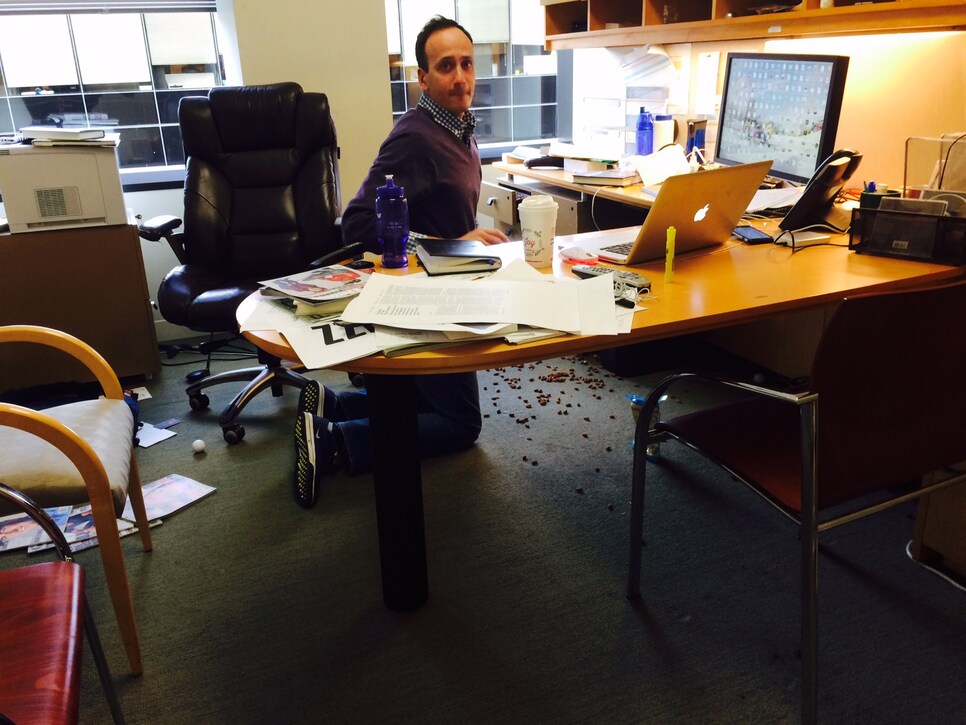 Charl Schwartzel: Perhaps it's a bit harsh to knock someone who won by four shots over the weekend, but we saw it as a reminder that the South African has so much more to give. The victory gave him 10 career European Tour titles and of course, he still has that 2011 Masters win in which he birdied the final four holes on Sunday to shoot 66. But why does it feel like he hasn't done enough since that magical day in Augusta?
Jordan Spieth's reaction: Another tough sell, but how can you give this reaction when you pull off a fantastic shot?!
Obviously, Spieth had a great week overall Down Under. He nearly defended his Aussie Open title and he got to check off two bucket list courses, Kingston Heath and Royal Melbourne, using a pullcart no less!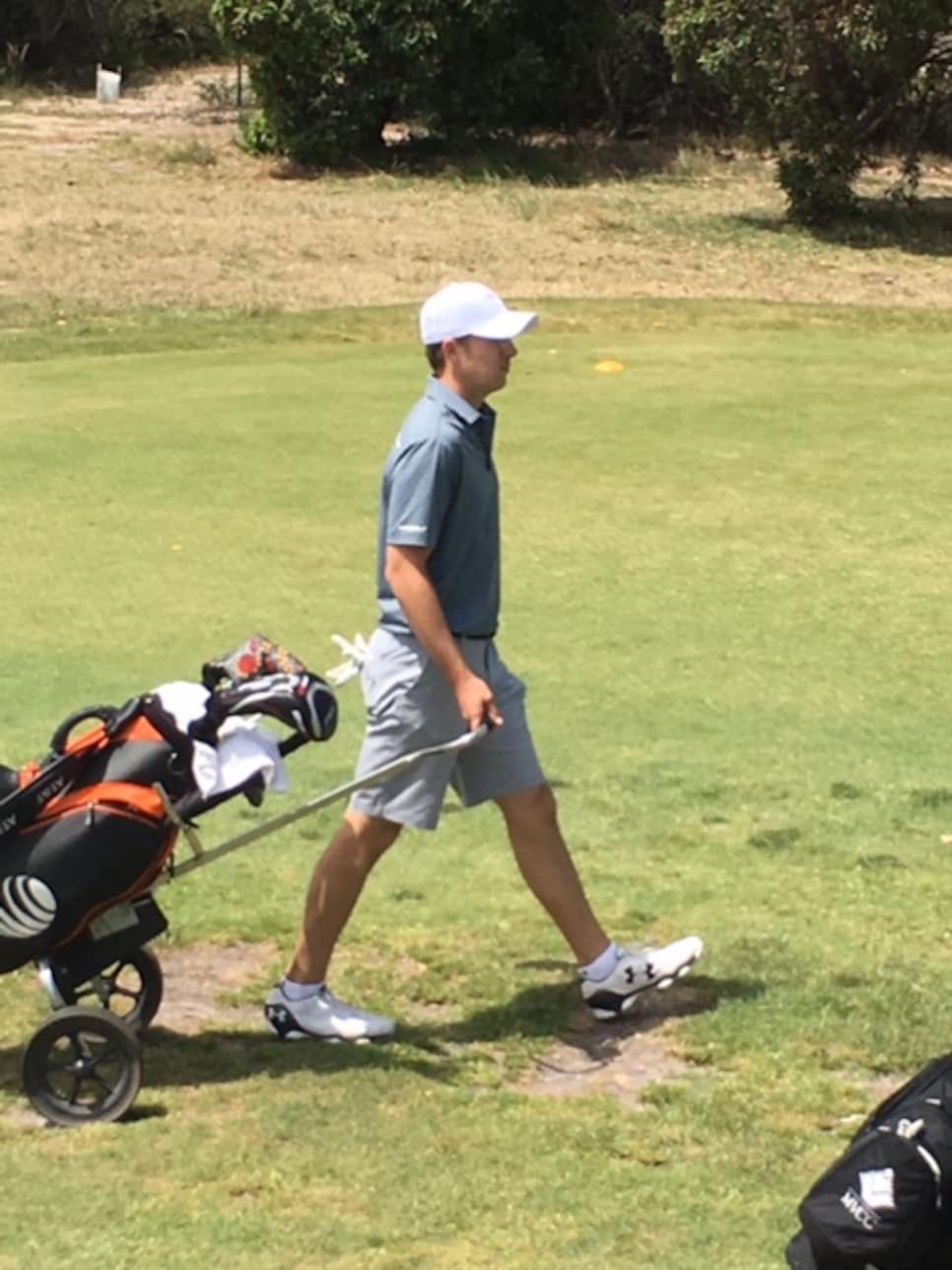 Golf turkeys: There's a lot to be thankful for in golf, but there's also a lot to shake our heads at. And in case you missed it over the holiday, we unveiled our annual list of golf's biggest turkeys last week, aka our annual list of Donald Trump and 14 other names. Check it out.
The "Potty Putter": Good lord is this bad.
Although for $7.95, you could do worse for a gag gift -- especially if you also have a goofy boss.
The PGA Tour is officially off, but its stars aren't taking a break. A solid crew of 18 will tee it up in the Hero World Challenge, aka Tiger Woods' event in which the winner gets a huge Tiger trophy.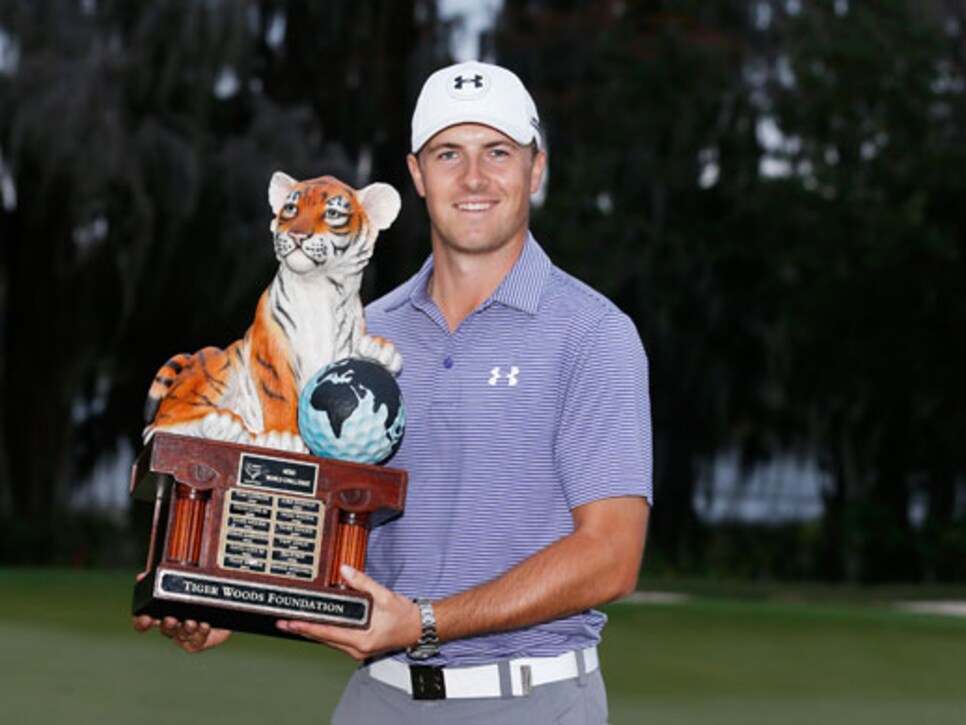 Random tournament fact: This year's Hero World Challenge is being held in the Bahamas, the event's third location in three years. Hopefully, that trophy made the trip.
RANDOM PROP BETS OF THE WEEK
-- Tiger Woods has been practicing on the Potty Putter: 1 MILLION-to-1 odds
-- Tiger Woods will be busy making Ryder Cup assistant captain preparations from the Bahamas: 10-to-1 odds
-- Donald Trump will be on our list of biggest turkeys again next year: LOCK
The Donald family (not to be confused with THE Donald's family) takes on Chicago's O'Hare Airport: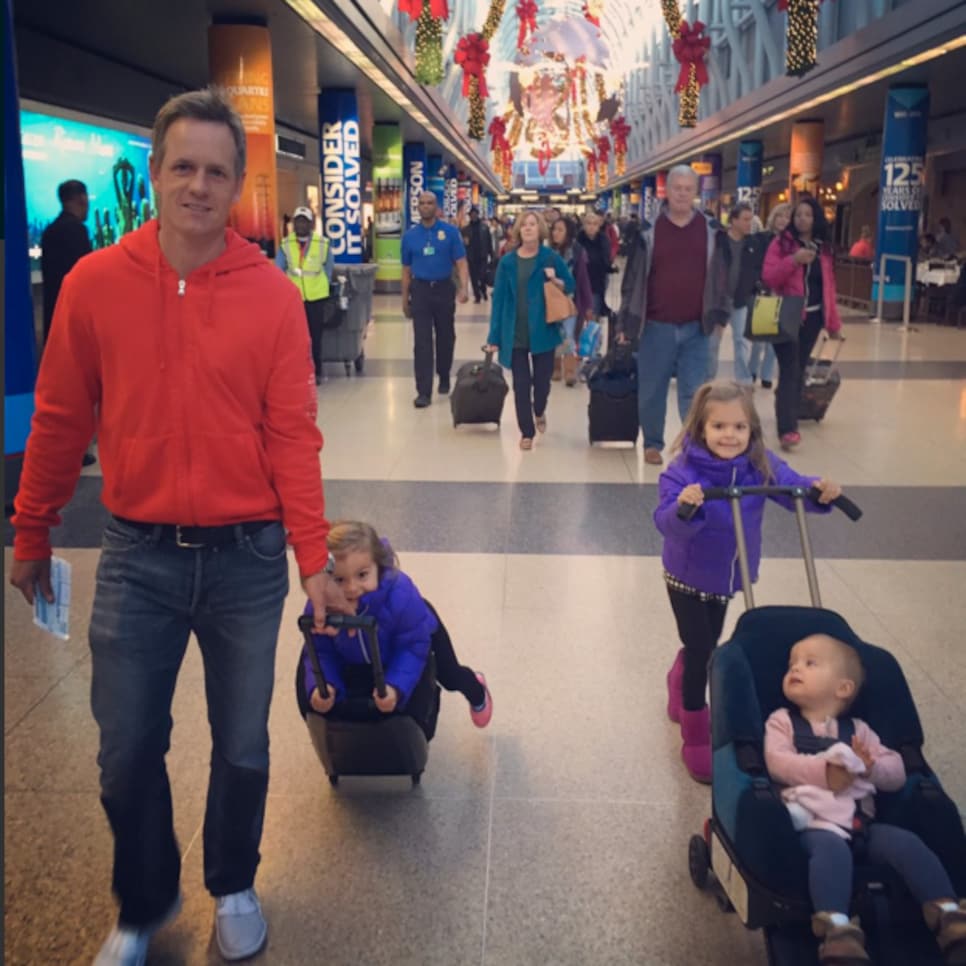 If you think that's adorable, we're just getting started.
VIRAL VIDEO OF THE WEEK (OF PROS WITH KIDS)
Jordan Spieth did a clinic with a bunch of kids dressed like Jordan Spieth.
ARCHIVE VIRAL VIDEO (OF THE WEEK OF PROS WITH KIDS)
Apparently, Matt Jones met his idol, Greg Norman, as a six-year-old phenom.
THIS WEEK IN NATALIE GULBIS MICHELLE WIE MAKING US FEEL BAD WITH HER TRAINING
OK, that doesn't look that hard. . .
THIS WEEK IN PAIGE SPIRANAC BEING PAIGE SPIRANAC
Here's Paige playing the iconic seventh hole at Pebble Beach:
And here she is dressing for "freezing" conditions:
As a fellow delicate flower, I feel your pain, Paige.
THIS WEEK IN DUSTIN JOHNSON-PAULINA GRETZKY BRITTANY LINCICOME-DEWALD GOUWS PUBLIC DISPLAYS OF AFFECTION
Apparently, Brittany Lincicome loves to play ping pong. Hey, Britanny, I've got next!
Oh, um, scratch that. . . Have fun, you two. . .
THIS WEEK IN TOUR PROS BEING TOUR PROS
Rickie Fowler was the celebrity game picker on ESPN College Gameday before his Oklahoma State Cowboys got trounced by Oklahoma. Little did we know how dangerous of a job this could be when you're sitting next to a shotgun-wielding Lee Corso.
On this Thanksgiving, we're thankful to still have Rickie Fowler.
"Goliath," a 15-foot gator at the Myakka Pines Golf Club in Englewood, Fla.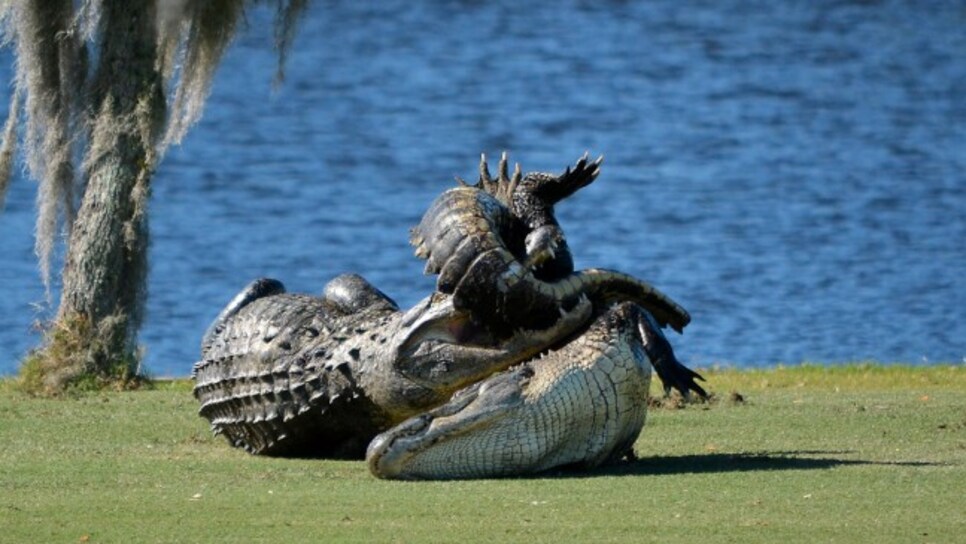 It didn't end well for the other guy. . . . Jordan Spieth told reporters he's "leaning towards a Texas-like barbecue" for next year's Masters Champions Dinner. As if that wasn't the lock of the year. . . . A year ago, Johnny Manziel was the Golf Digest cover boy. Now, he's the third-string QB of the lowly Cleveland Browns. Does anyone know any golf drills involving clipboards? . . . In case you missed it, check out our podcast with Peter Malnati. The recent first-time PGA Tour winner discusses rooting for the Royals, having his wife as a standby caddie, and offered me a putting tip. . . . And finally, my wife and I hosted Thanksgiving for the first time. It was fun, but it involved a lot of work. Just check out the detail she went to for some of the appetizers: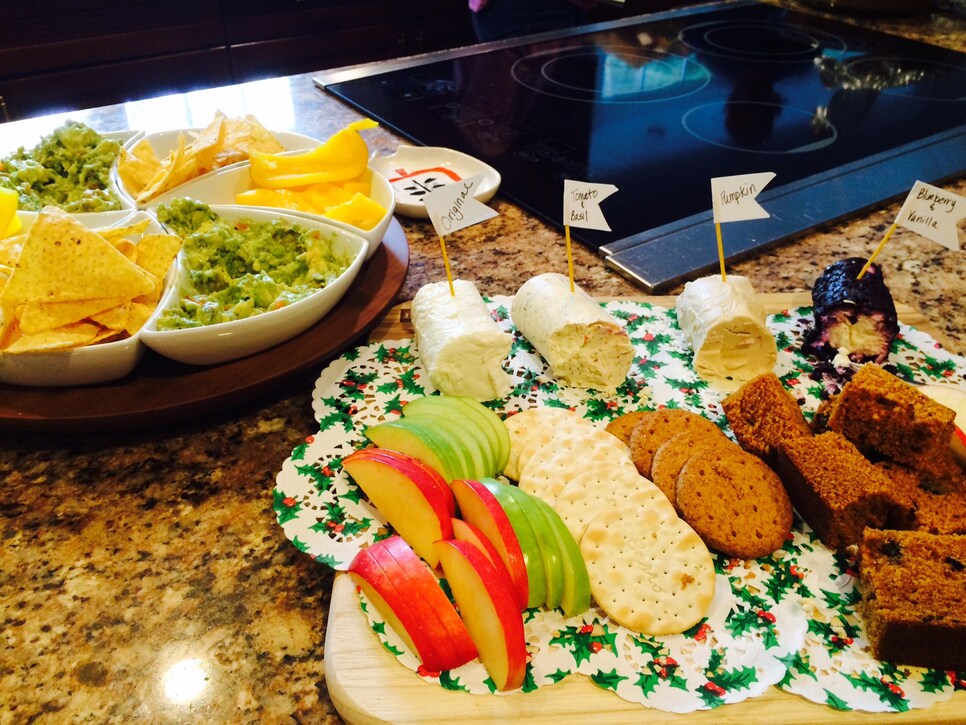 Like I said, it was fun, but it involved a lot of work.
RANDOM QUESTIONS TO PONDER
Are Rickie Fowler's ears still ringing?
Can someone else host Christmas?