News
Morikawa vs. JT, Bryson's charge and a Tiger sighting: Our favorite storylines for the 2020 FedEx Cup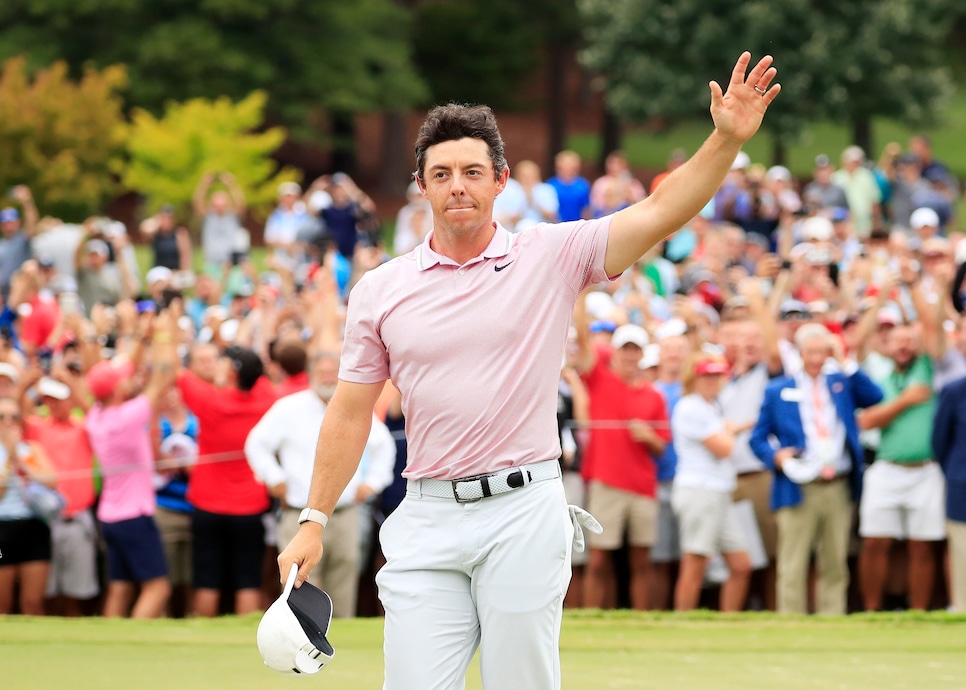 If it seems like the PGA Tour's postseason has snuck up on the calendar, you're not alone. With the Masters and U.S. Open pushed to the fall and the Open Championship canceled—to say nothing of the tour's pause from March to June—the cadence of the golf schedule was off in 2020. But after a successful restart from the pandemic sabbatical, the playoffs have arrived, starting this week at The Northern Trust at TPC Boston and culminating on Labor Day at the Tour Championship in East Lake. Here are seven of the most interesting storylines we're keeping our eyes on during the 2020 FedEx Cup.
It's essentially a four-player showdown. Justin Thomas enters as the favorite, with Collin Morikawa trailing just behind and Bryson DeChambeau and Webb Simpson a distant third and fourth. There's no doubt Thomas has been the tour's consistently best player this season: Nine top 10s in 15 starts (highlighted by three wins, a runner-up and third-place finish), first in FedEx Cup points, second in strokes gained. The only real knock would be all three wins—the CJ Cup, Sentry Tournament of Champions and WGC-FedEx St. Jude—were limited-field events (to be fair, that only really applies to the 34-player TOC). Conversely, one could argue by winning the season's only major, as well as defeating Thomas in a playoff at the Workday, Morikawa has the conch heading into the postseason. A FedEx Cup/Tour Championship win (remember, they are one in the same now) would seal POY for either two.
The road for DeChambeau and Simpson is more cluttered. Both would need to win the Tour Championship along with either The Northern Trust or BMW. Here is the line for each in that scenario:
Simpson: Four wins, one 2nd, two 3rds, 9 top 10s in 15 starts
DeChambeau: Three wins, one 2nd, one 3rd, 11 top 10s in 17 starts
Neither would be a slam-dunk POY in these theoreticals, but it would at least merit a conversation. Brendon Todd could also insert himself into said discussion; however, inspiring as his story is, his feast-or-famine record (two wins, one additional top 10 versus seven missed cuts and ranking 65th in strokes gained) would likely mean he needs to run the table. A win at The Northern Trust or BMW Championship could bring Rory McIlroy into the mix; even then, his mediocre performance since the restart, including a T-33 at the PGA Championship, makes it a tough sell. Of course, everyone thought Brooks Koepka locked up Player of the Year last, including Rory; don't not write this horse off yet.
No, the tour's postseason is not perfect. It's also no longer this ancillary competition that we're not quite sure what to do with. Part of that goes to the tour's willingness to recalibrate its structure. Part of it is what any tradition needs: time. And part of it is its roll call. Whatever your qualms with the postseason, it's hard to argue the merits that have rewarded Tiger Woods, Vijay Singh, McIlroy, Thomas, and Jordan Spieth.
But the FedEx Cup has yet to have a player successfully defend his title. Entering the week at eighth in the standings, McIlroy is in good position to go back to back. (Nine of the 13 winners were ranked in the top 10 FedEx Cup standings heading into the playoffs.) He would also be the first three-time FedEx Cup champ. McIlroy has not been the same golfer in the past 10 weeks, finishing inside the top 30 just once in five restart appearances. He also hasn't looked that far off from turning the corner. Only a fool would rule out McIlroy from making a push over the next three weeks.
The Year of Bryson continues
Those of you that have been in hibernation A) might want to go back to your cave, and please, take us with you B) need to know DeChambeau has overshadowed the entire sport with his transformation from man into mountain.
DeChambeau leads the tour in scoring and strokes gained, and boasts five finishes of T-8 or better in the tour's restart. While one of those appearances is a win, it was a T-4 at a tough PGA Championship setup that validated his bulk-up approach plays no matter the venue. The next two weeks should further that success, as they feature tracks where DeChambeau has won in TPC Boston (the 2018 Dell Technologies Championship) and Olympia Fields (2015 U.S. Amateur).
The man is a spectacle in every sense of the word; on occasion, that rubs some the wrong way, but it doesn't make the theater any less entertaining. This is the tour's biggest stage, especially this year with the cancellation of the Players. A chance for DeChambeau to prove he's truly one of the tour's main attractions.
What the tour has attempted this summer—traveling around the country with a caravan of 350-plus players, caddies and other personnel—is nothing short of a high-wire act. It was not always graceful, and in a week covering the Travelers Championship and Rocket Mortgage Classic, the rope was shaking something fierce. Yet after 11 weeks, the tour has registered just eight positive COVID-19 player tests. If that doesn't strike you as miraculous, clearly you're not keeping up with the daily COVID trainwreck in Major League Baseball.
However, although it's been relatively quiet since the trials in Cromwell and Detroit, Branden Grace's forced WD at the Barracuda Championship earlier this month—where the South African was T-2 after 36 holes—was a reminder of the threat and fallout that remains. There are still 16 tour events in 2020, perhaps none more critical, at least from the tour's perspective, than the next three. There are more enticing narratives that will play out in the next month, but none are more imperative than the tour getting its players from Boston to Chicago to Atlanta safely.
Can Tiger get right on the greens?
A T-40 and T-37 in the restart may not instill conviction in Woods' game. A deeper dive into his scorecards show he hasn't been that bad. Woods finished fifth in strokes gained/approach at Memorial and 25th at the PGA, and despite turning 45 this winter, he's getting plenty of distance off the tee (he ranked ninth in driving at Harding Park). However, the flat stick continues to be the bane of his existence, finishing 49th out of 79 at the PGA in putting and 56th out of 74 at Memorial. This isn't a new development: Woods lost a whopping eight shots on the greens at Riviera in February.
Woods is switching back to the Scotty Cameron Newport 2 GSS putter, the weapon used to win 14 of his 15 major championships. Playing at friendly confines at the Northern Trust—Woods has five top 10s, including a win, in 10 appearances at TPC Boston—should help with the reassimilation. He would need a Billy Horschel-like run to be in contention come East Lake, but a shot at win No. 83 isn't out of question this week. And yes, that has to be the first time anyone has ever told Tiger Woods to channel his inner Horschel.
Scottie Scheffler came out firing in the fall, posting five top 20s to start the 2019-'20 campaign to become the Rookie of the Year favorite. Viktor Hovland usurped him after a win in Puerto Rico and five straight top-25 finishes in the restart, including a third-place finish at the Workday Open. Scheffler answered, and answered with vigor, thanks to a T-4 at the PGA Championship.
The lines for both are absurd for first-year players. Hovland ranks 10th in approach, 22nd in scoring and 25th in strokes gained, entering Boston 28th in the FedEx Cup standings; Scheffler is ninth in strokes gained/off-the-tee, 19th in scoring, 23rd in strokes gained, coming in at 24th in FEC standings. Hovland's win likely gives him the edge, but with each on the East Lake bubble, if one makes it over the other to Atlanta, there's your ROY.
By storyline conceit bylaw—season previews, major rundowns—we are required to mention Jordan Spieth and his pursuit of revival. We are not selling our beach house on Spieth Island yet ... but we're seeing plenty of neighbors put their properties up for sale.
In one sense, Spieth isn't floundering; he's made the cut in 14 of 16 events, and was in contention at Colonial heading into the final round. In that same breath, he's 175th in strokes gained/off-the-tee, 116th in approach and 106th in SG/putting, with the weekends proving particularly troublesome (174th in Saturding scoring, 159th on Sunday). Most believe Spieth's resurgence remains a matter of when, not if, and Spieth has continued to preach patience, insisting he's seeing positives and it's all part of the process. But 100th in the FedEx Cup standings, the Texan will need a strong week at TPC Boston for the process to make it to Chicago.