Courses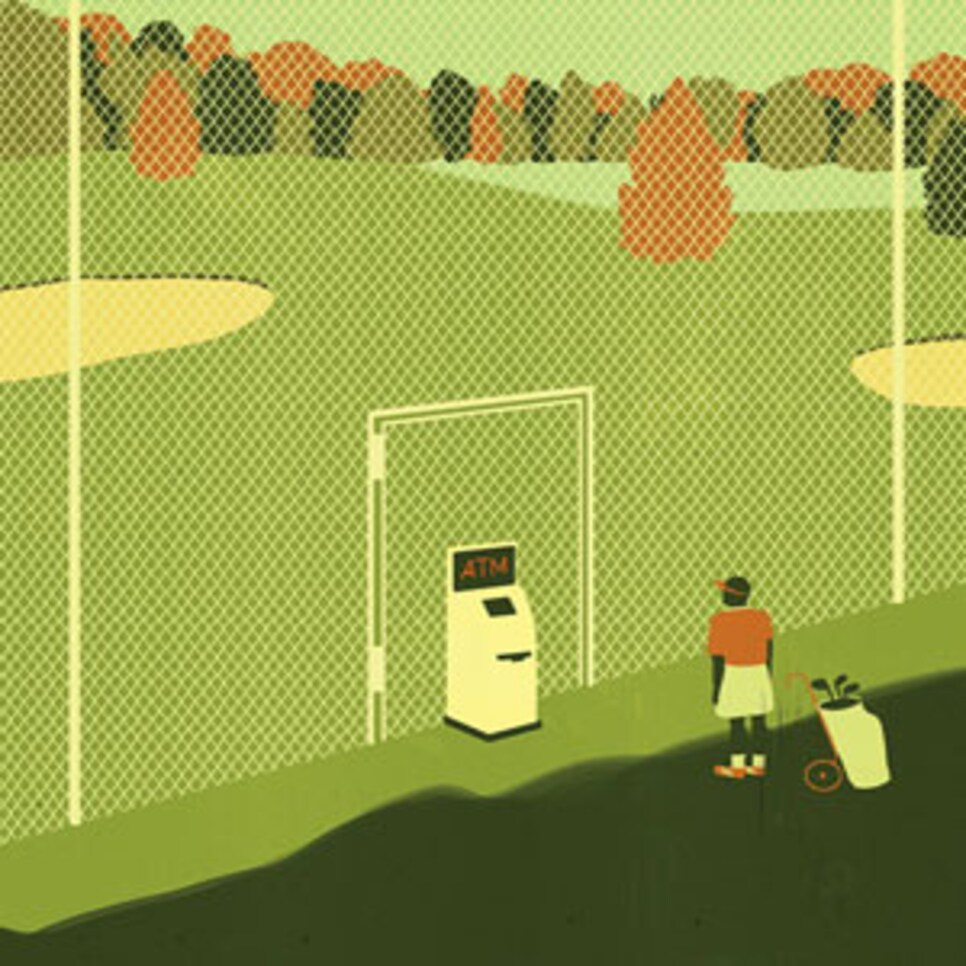 Despite an increase in rounds played last year, golf-course owners are hardly rolling in dough these days. One measure of their oversupply: The average number of rounds per 18-hole course is down by 20 percent from its high in the 1980s, according to the National Golf Foundation.
climbed by $11, to $204, over the past two years. Eleven of them list fees of $350 and up.
Obviously these courses have something special. Their excellence (and, yeah, the media attention they get) gives them far more pricing power than the average course. But still, I wondered: In this economy, how's it going for them? Can their tee sheets really be full?
in Las Vegas. Its $500 green fee is "a tremendous amount of money," acknowledges general manager Mark Brenneman. "There are clubs you could join for that much."
But then, Shadow Creek is an unusual place, where ordinary supply-and-demand rules don't apply. The lush course was built as an amenity for high-rollers, and originally those "invited casino guests" were the only ones who could play it.
For the last 15 years or so, Shadow Creek has allowed limited public play. Only two foursomes of $500-paying MGM hotel guests get out on the course each day, and just Monday through Thursday. The rest of the time it's invitees only. Says Brenneman: "We're really not looking for more rounds."
gets $495, unchanged since 2007. One exception is mid-December and part of January, when members of certain local groups sometimes get special discounts.
"The tee sheet is full," says David Stivers, an executive vice president. That, and the fact that repeat business is strong, makes him confident the price is right. "Yes, it's a lot of money, but at the same time we hear from our customers that it's worth it: the location, the service, the history, and the chance to walk in the footsteps of champions."
Unlike at Shadow Creek and Pebble, most paying customers on Pinehurst No. 2
don't pay the $420 peak-season rack rate. "That's not how we want to fill up the course," says Tom Pashley, the resort's executive vice president. Pinehurst would prefer guests stay in its lodging and eat in its restaurants—so it creates package pricing to encourage that. In the summer you can get two nights at The Manor Inn, two breakfasts, and two rounds of golf, one of them on No. 2, for $723. Or visit midweek during the peak fall or spring seasons and you get a $300 gift card.
Pinehurst weighs a number of factors when setting prices, including economic conditions and other resorts' fees. "In challenging years we try to add value," Pashley says. "In 2009, we offered unlimited golf. We were able to maintain our rates but added something to make them more attractive."
"If a round of golf is $1 or $400, it doesn't matter. What matters is the total price of your trip," says Dan Harner, director of golf at French Lick. A night at the Indiana resort's West Baden Springs Hotel and two days of unlimited golf—one at the Dye and the other at its Donald Ross course (also on 100 Greatest Public
"We give every group a unique gift," Harner adds. "A bottle of special bourbon, four cigars and four shot glasses. We want you to sit up on our porch and enjoy it after your round."
"Oh, it is," Harner says.
"See, we're in the entertainment business ... "
The 10 least-expensive green fees on 100 Greatest Public:
6 Black Mesa G.C., N.M., $87
T-7 The G.C. at Redlands Mesa, Colo., The Quarry at Giants Ridge, Minn., $89
T-9 Circling Raven G.C., Idaho, Spring Creek G.C., Va., $95.