The Loop
MLB pitcher Archie Bradley tells the story of how he—literally—sh*t his pants on his way to the mound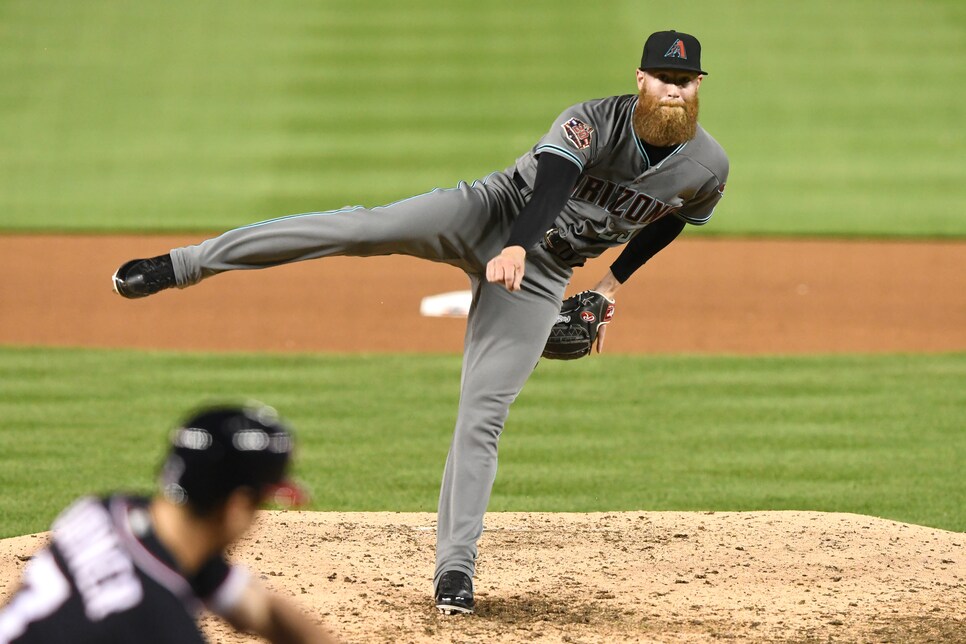 (Photo by Mitchell Layton/Getty Images)
We've heard of athletes relieving themselves as they compete—long-distance runners and wrestlers are notorious for such behavior. But how about an actual relief pitcher taking relief—in his jersey? That's the uniquely disturbing but hilarious story relayed by Arizona Diamondbacks reliever Archie Bradley.
Bradley was asked by the Yahoo Sports MLB podcast about his most awkward moment on the mound in his career. Thankfully for us, Bradley was honest in retelling a story that is sure to stick with Bradley for quite awhile.
"I was warming up to go in a game, and I knew I had the next hitter," Archie Bradley told Yahoo. "I knew he was on deck. And the at-bat was kinda taking a little bit, and as a bullpen guy in these big situations, I call them nervous pees. I don't have to pee a lot, but I know I have to pee before I go in the game. I can't believe I'm telling you this.
"It's a 2-2 count, and I'm like, 'Man, I have to pee. I have to go pee.' So I run in our bathroom real quick, I'm ready to go. And I'm trying to pee and I actually shit my pants. Like right before I'm about to go in the game, I pooped my pants. I'm like, 'Oh my gosh.' Like, I know I'm a pitch away from going in the game, so I'm scrambling to clean myself up. I get it cleaned up the best I can, button my pants up, and our bullpen coach Mike Fetters says, 'Hey, you're in the game.' So I'm jogging into the game to pitch with poop in my pants, essentially."
It's been quite a month for National League relief pitchers. Milwaukee Brewers pitcher Adrian Houser upchucked on the mound earlier this month. And now, Bradley's story of a different bodily fluid enters the fore. Good thing there wasn't any mound visits with Bradley and his Arizona teammates or coaches. They would've gotten a whiff of what had transpired . . .
"I actually told my teammates, I stepped out of the bathroom, I was like, 'Hey, am I OK? I just shit myself,'" Bradley said. "And they didn't believe me until they unfortunately saw the mess in the bathroom, because I didn't have time, I was like, 'I gotta go in the game.'"
A hilarious story indeed. Bradley is one of Arizona's best relievers this year—owning a 2.13 ERA and a 2-1 record in 35 games. The Diamondbacks didn't know just how good of a reliever he was, until he actually relieved himself in his pants. Impressive stuff here. We have a feeling he'll stay away from the chili at the pre-game spread for the remainder of the season.