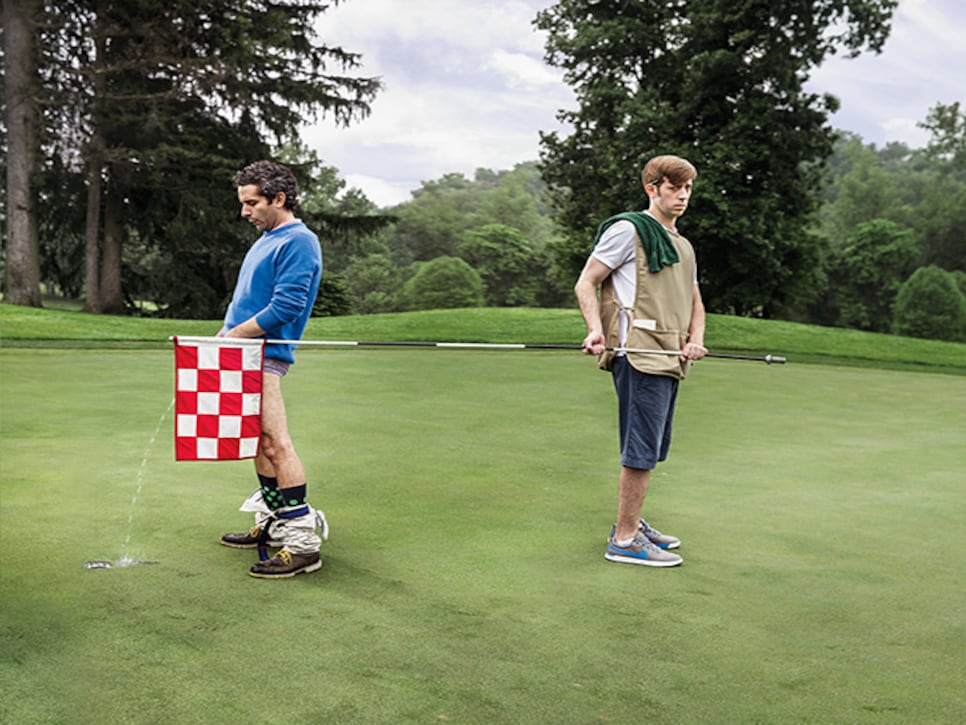 The English soccer star Wayne Rooney was photographed urinating on the golf course at the Sun City resort in South Africa during the 2010 World Cup, the same summer that a homeowner called police to Muirfield Village in Dublin, Ohio, to report a man in Pittsburgh Steelers quarterback Ben Roethlisberger's foursome relieving himself on that prestigious track. But neither golfer was convicted by a jury of his pee-ers, because who among us has not had to take urgent relief on the golf course?
Almost every man on the tour has put the P in PGA at some point, and some of them are even willing to admit it. "I guarantee you, everyone has a story," says the touring pro Kevin Na. "We've all gone out and found a tree or a bush at some point."
Or as his fellow pro Joe Ogilvie puts it: "We all have to pee."
With that in mind, Golf Digest embarked on this piece of investigative urinalism to find out how golfers cope with nature's call. Not everyone wanted to talk. "I've heard the stories," says Steve Stricker. "I really don't want to repeat them." But most concede that finding a place to micturate discreetly is an ever-present concern on tour. For stars -- pursued by television cameras and galleries, locked in competition for four hours at a time, constantly rehydrating beneath a merciless sun -- it can be a conundrum. No sport places a greater premium on personal comportment while simultaneously taxing the bladder in public.
Ask Ernie Els, and he instantly recalls a royal wee at Royal Melbourne, the oldest golf club in continuous operation in Australia, and the kind of place not often associated with public urination. And yet the bladder is a great leveler. "I had an emergency one year at the Heineken Classic, and they have those [sponsor] signs around the tees," Els says. "There was no place to go, but it was in an area where the fans couldn't get anywhere close to the tee. So I just walked behind those signs and went. Just had my hands on my hips, and there I went. I wouldn't have done that if it hadn't been kind of an urgent deal."
Most professionals and many amateurs agree that urinating on the golf course should be reserved for near-emergencies, that going alfresco in the fescue should never be the easy option. Unless, that is, public urination is part of your personal code. Golf's original Zen master, Ty Webb, urged Danny Noonan to "be the ball" before relieving himself on the fringe of a Bushwood green in "Caddyshack." And he was evidently not alone in his philosophy.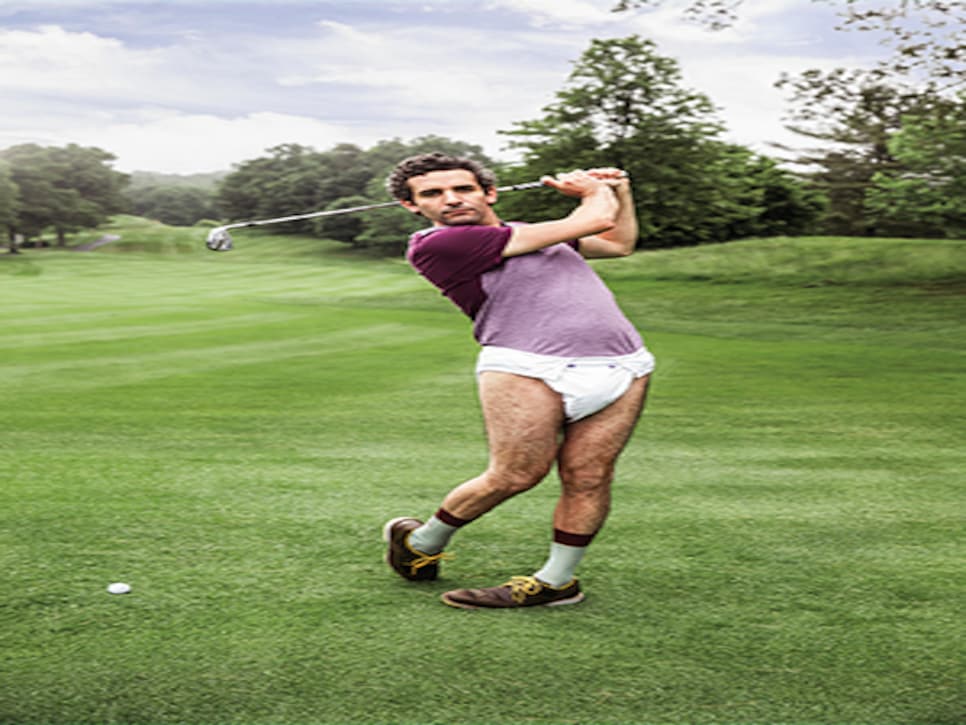 "I once knew a player back in the day who would pee just about anywhere," says caddie Joe Damiano. "He didn't care where. He sometimes peed against the outside of a Port-a-John instead of stepping inside and going in there. That was him being one with nature, or something like that."
Nature itself is often the problem. Golf's physical landscape is unforgiving, with its burbling fountains and babbling brooks and aerated water hazards. For the home viewer, there are the frequent Flomax commercials, featuring a kayaking trip on a running river. To pros, a light drizzle can be a lavatorial trigger.
"We were at the 2010 Ryder Cup at Celtic Manor, and it was rainy and cold," says Ted Scott, caddie for Bubba Watson, recalling that weekend when the U.S. team's raingear was not the only thing to spring a leak. "This was like the second day, and we're playing with Jeff Overton. We get to the second tee, and I have got to go. I have no idea what to do because there are no Port-a-Johns around. I ask Bubba, and he says to go ask an official if it's OK to run into the bushes. I mean, we don't know, we're in a different country. So all the players tee off, and there is this giant gallery to our right, and I have no choice, so I just go to the edge of the bushes and go. The fans are probably 10 yards away, but this is an emergency. Most people kept walking, but there were a few people who called out. I didn't care."
THE UROCLUB VERSUS THE GOGIRL
For those who do care -- and for those afflicted with stage fright around galleries -- the alternative methods of relief can be even less appealing. Take the UroClub. It's not the host of the next Ryder Cup, but rather a hollow plastic 7-iron with a suspiciously thick grip that conceals a receptacle allowing the user -- presumably insane with urgency -- to urinate into his replica golf club while looking like he's lining up a shot. A golf towel that clips onto a waistband provides a terry-cloth fig leaf for the full-bladdered male.
The Edison of this device is a board-certified urologist named Dr. Floyd Seskin, though it is hard not to think of him, under the circumstances, as Dr. Lloyd Foreskin. He calls it "the only club in your bag guaranteed to keep you out of the woods." When Seskin pitched the UroClub on the television show "Shark Tank" -- a kind of "American Idol" for entrepreneurs -- he promised golfers that it held 18 ounces of urine. "As a urologist," he assured skeptical investors, "I can tell you [that] is more than the average person urinates at a given time." He felt duty-bound to add, somewhat unnecessarily: "It is not a functional club."
For women, there's the GoGirl, a FUD -- female urinary device -- that lets the user go while standing up. Women, obviously, have a more difficult task than men in this regard, but the biggest problem for either gender remains finding a spot out of eyeshot of galleries or condo-association presidents. And even when you locate such a spot, you might find yourself reluctantly befouling a sacred international landmark.
Ben Curtis won the 2003 British Open but achieved a lesser-known distinction at the 2005 Open, at St. Andrews. "On the 13th hole both me and Freddie Jacobson had already gone more than a hole [in desperation], and we couldn't find a place to go," he says. "They had no bathrooms out there, and we were looking at each other and trying to figure out what we were going to do. We were pretty desperate, so we both sort of headed toward the shrubs off to one side, and there we were, the two of us right next to each other. Fortunately, we were down in a little swale, so all the gallery could see was two guys from the shoulders up. Felt bad, being on the Old Course."
Like Forrest Gump at the White House telling President Kennedy, "I gotta pee," the urge to go is often in inverse relation to the solemnity of the venue.
A REFUGE AT AUGUSTA NATIONAL
Augusta National has its tradition unlike any other. "One of the best places that you could ever go in an emergency was behind the 13th tee," Damiano says. "But that was before they moved the tee back. Now there's no room and no cover."
They moved the tee back in 2002, but Tiger-proofing is not the same as bladder-proofing. So many golfers at Augusta went No. 1 on No. 13 that the club felt obliged to do more. "It was a perfect place to go, no spectators around to see you," says Mark Long, the veteran PGA and Champions tour caddie, with a wistful tone in his voice. "The way officials solved the issue, or thought they did, was to put a sign back there that says, This Area Under Video Surveillance."
Video surveillance isn't always a deterrent. When Rooney, the aforementioned star striker for Manchester United, was caught on camera urinating at Sun City -- a still photograph of which will live forever on the Internet -- a resort official sniffily told the London Mirror: "It is certainly not behavior we would endorse in any way whatsoever." And yet, let him without sin cast the first kidney stone.
The human bladder was not built to withstand 18 holes of a championship golf course. "My record for holding it is 15 holes," Damiano says. "Sometimes that's all you've got."
Many clubs have a permanent restroom or two strategically placed on the course, like the one adjacent to the 15th tee box at Highland Woods Golf & Country Club in Bonita Springs, Fla. When my high-handicapper father made his one and only hole-in-one there -- a small but joyous miracle -- my brother Tom was in the restroom, mid-stream, listening through the vent at the whoops and hollers. Punished for seeking privacy, he vowed never again to use an on-course restroom.
And so he, like the rest of us, remains locked in this golfer's dilemma: No one wants to see a guest's member at a member-guest. On the other hand, it's exceedingly difficult to drain your putts when all you can think about is draining your putz.
When Golf Digest asked readers how they cope, their varied Facebook replies all shared a certain ingenuity. "I'm a Minnesota Vikings fan," wrote one, "so I make sure that I carry a Green Bay Packers towel, just in case."
"I kneel by the cart," posted another. "Never uphill, though." A third reader, who will not soon be mistaken for Gentleman Gene Sarazen, wrote: "Our golf course has a lot of blackberry bushes. The women have learned NEVER to eat the berries that are waist-high."
Indeed, the courteous golfer endeavors to relieve himself in a spot where no one is likely to hit a ball -- to go, in the parlance of "Star Trek," where no man has gone before. That is to say: Go pee O.B. It's the least you can do.
"One of the worst things I ever saw was this year at Riviera," says the touring pro Bill Haas. "I was finishing up on 18, and I looked back down the fairway, and there was a guy -- I won't say who, but if I told you his name you would not be surprised -- who just went right there at the edge of the rough. You know, the fans are on one side of the fairway, and it was getting dark, but still, that was pretty bad. I thought that was extremely rude. I mean, get out of sight. Plus, I wouldn't want to be playing behind him and have my ball end up in that spot, you know?"
Spectators at tournaments may always turn for relief to that humblest of golf-club servants, the Port-a-John. An eyesore as well as a nose sore, it has as many names as the devil himself: Port-a-Potty, Port-O-Let, Johnny-on-the-Spot. And like the devil, it often promises succor while delivering damnation.
In The Bogey Man, his 1967 book about the PGA Tour, George Plimpton recalled a friend who used a Port-O-Let outside the fairway ropes at a major tournament. When the man entered the plastic john, Plimpton wrote, the area surrounding it was nearly empty. But when he opened the door moments later -- and its rusty hinges "made a shrill squeal" -- he found that Arnold Palmer his own self was standing over a ball 10 yards away, and "an enormous fan of people had materialized that stretched away toward the distant green." Mortified, the man stepped back into the john and shut the door.
"Well," Plimpton quoted his friend, "after a second or two, there was this knock on the door of the Port-O-Let, and it was Palmer. 'Listen,' he said. 'Come on out; there's no hurry.' Well, I thought about that great mob of people out there, all looking and maybe getting ready to laugh and all if I stepped out of the Port-O-Let. So I said through the door, 'No. You go right ahead, Mr. Palmer. I'm in no hurry either.' " Moments later, the man heard footsteps and a knock at the Port-O-Let door: "It was Palmer. 'Listen,' he said. He sounded very apologetic through the door. 'I find it's hard to concentrate on my shot thinking about you shut up in that box. I'd appreciate it if you would come out.' "
The man promptly did just that. And it's a good thing, for prolonged captivity in a golf course Port-O-Let can leave a person with nothing to pass but the time. At the 2009 U.S. Open, tournament officials at Bethpage Black helpfully provided reading material. "The portable toilet outside the media center has signs with tips on putting and hitting drives, irons and sand shots," Dan Jenkins tweeted from that tournament. "Nothing on the grip."
Whether you overlap or interlock, the swing thoughts are much the same, on the tee box or in the woods: Feet spread, slight bend of the knees, relax. Going out of doors, as God intended, remains the most practical and dignified way of seeking relief on a golf course. It is certainly the least terrifying. Ask any pro who ever played in the annual tour stop in Honolulu.
"There used to be a Port-O-Let just for players next to the range at Waialae, and when a player went in there, guys would start firing 3-irons at it to see what they could make happen," says Mark Long. "If you've ever been in one of those things and a golf ball smacks it, it'll rock your world."