Equipment
Mizuno JPX923 irons: What you need to know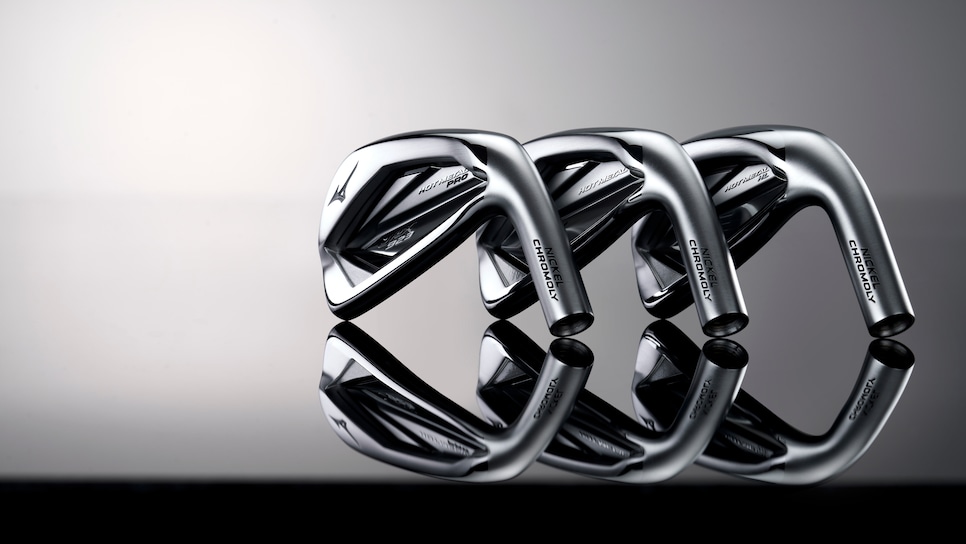 WHAT YOU NEED TO KNOW: Mizuno's JPX923 collection represents the company's broadest iron launch ever. It includes five new models that run the gamut from tour-level one-piece forgings to new uses and forms of its high-strength chromoly steel that has highlighted its game-improvement "Hot Metal" distance irons. But Mizuno's also built in a super-game-improvement model—the JPX923 HL—that extolls the benefits of slightly weaker lofts for slower swinging players.
PRICE: JPX923 Tour (one-piece forged carbon steel, shallow cavity back; $187.50 per club); JPX923 Forged (one-piece forged, thin-faced chromoly steel; $187.50 per club); JPX923 Hot Metal (cast chromoly steel; $137.50 per club); JPX923 Hot Metal Pro (compact, thinner topline cast chromoly steel; $137.50 per club); JPX923 Hot Metal HL (wider soled, cast chromoly steel; $137.50 per club). JPX923 Hot Metal, Hot Metal Pro, HL available Sept. 23. JPX923 Tour, Forged available February 2023.
THE DEEP DIVE: While there has long been a perception that Mizuno makes irons only for shotmakers and elite players who use forged irons, it simply isn't true. Indeed, the company's hottest iron in terms of sales for the last four years has been a cast game-improvement iron.
Mizuno's latest JPX923 family of irons perhaps takes the boldest step in expanding that perception. The line stretches from the tour-played and so-named JPX923 Tour, a compact one-piece carbon-steel forging with just the hint of a cavity back and supreme focus on ball control, to the JPX923 Hot Metal HL, a new entry in the family in the super-game-improvement category, with a wider sole, higher lofts and an emphasis on easier launch.
So what is the JPX923 family? The short answer is it's five distinctly different performing irons targeting five different player types. There are different metals being used, different sounds being sought, different flights being achieved, different emphases being placed on distance versus control. And yet there's an overriding symmetry to the line, even beyond the obvious aesthetic. David Llewellyn, Mizuno's director of research and development calls it "an ethos," but as a scientist he's not going to settle for that. He just as quickly points to the structure of the frame of the irons, a notch in the perimeter that's more distinct than in past versions to distribute more mass high and low in the toe. "It adds rigidity and stabilizes the frame," he said. "It appears like it's coming to a point there but what it's really doing is making those two areas bigger and strengthening those corners of the head for better performance and better feel."
Called the "V-Chassis," that structure is made possible by saved weight from new steels or thinner toplines or even more precise manufacturing at the company's Chuo forging house in Hiroshima, Japan. It unifies the entire lineup behind Mizuno's long-standing attention to modal analysis, its understanding of how to control the vibrations of a clubhead to produce a particular desired sound and feel. For the JPX923 lineup, those differences are both subtle and significant. Here are the five models:
JPX923 TOUR: This compact players cavity is forged from the company's 1025E Pure Select carbon steel using the company's "grain flow" technique that concentrates the steel's grain structure in the hitting area. A copper layer underneath the satin chrome finish, first introduced in the company's MP-20 irons, further enhances feel. Based on tour input, the shorter irons are more compact than in the JPX921 Tour. The thinner topline and rounded trailing edge enhance the look at address and aim to improve the efficiency exiting the turf.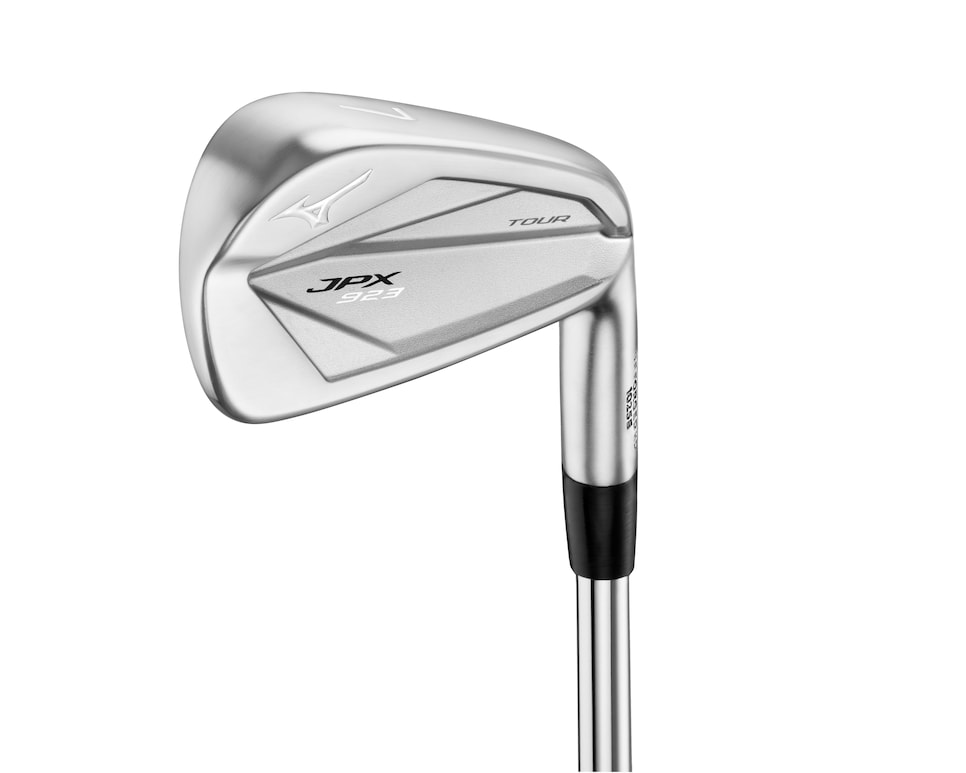 JPX923 FORGED: The other head in the JPX923 line that's forged, the JPX923 Forged, is the next iteration of the mid-sized cavity back that brings the thin-faced added power of Chromoly steel to a one-piece forging. On the 4- through 7-iron, the use of Chromoly 4120 steel allows the face to get just 2.2 millimeters thick, the thinnest in a forging in company history and down from 2.6 millimeters on the JPX921 Forged from two years ago.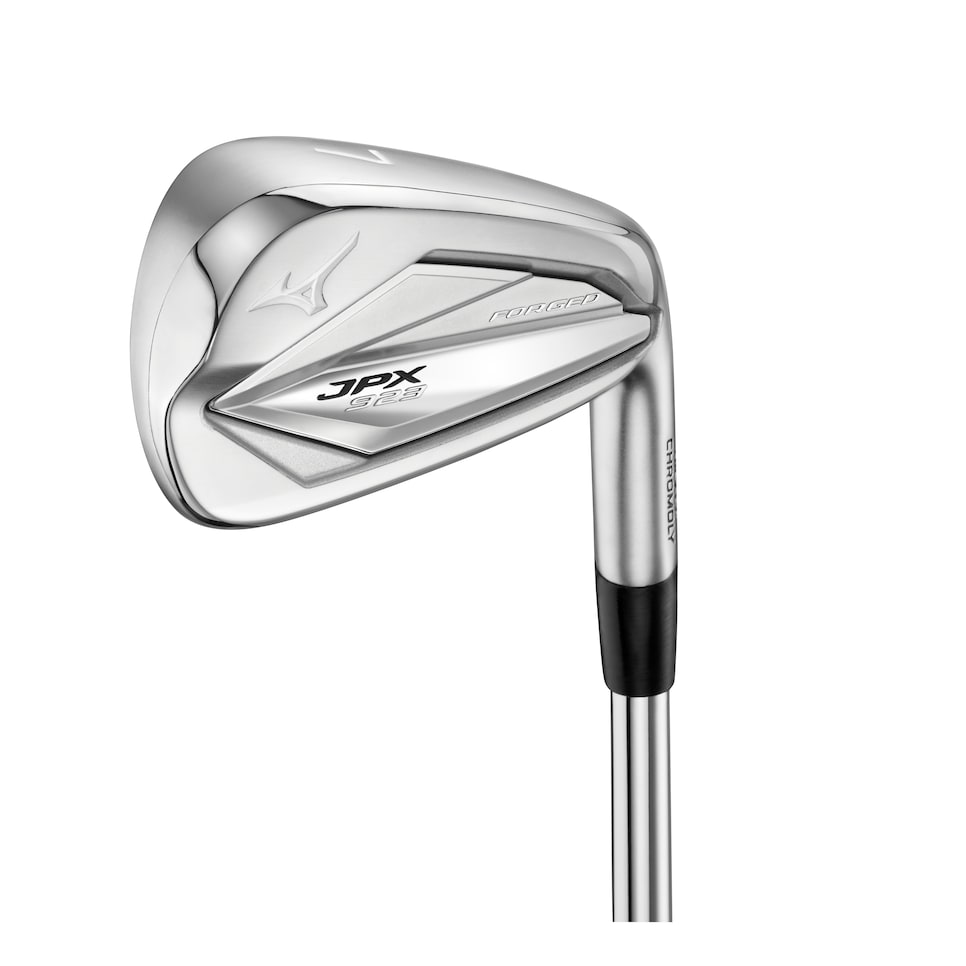 The thicker sections in the high and low toe in that V-Chassis frame are the keys to the sound and feel, Llewellyn said. "We are really working on fine tuning the head shape and what performance gains we could get," he said. "By reinforcing the cavity frame, it helps get us closer to that thump sound you like on a traditional one-piece forging." But that thump gets a little extra distance potential on the 4- through 6-iron, which feature a wider back-milled "micro-slot" deep within the sole cavity. The extra-thin face also yields a deeper center of gravity for easier launch. The micro-slot is slightly narrower on the 7-iron.
Built with more playability, the short irons in the JPX923 Forged are billet forged from the same 1025E Pure Select carbon steel. "You always want to talk about the distance technologies, but to me, the 8- through gap wedge is a very compelling reason to buy this set," Llewellyn said. "It's still a fairly deep cavity back design."
JPX923 HOT METAL: Despite Mizuno's heritage in forged irons for better players, perhaps the most intriguing part of the collection are the three cast irons bearing the "Hot Metal" moniker. The "hot metal" in question has been Chromoly 4140M, a special lightweight high-strength steel alloy that's had a history in roll cages on experimental cars and the landing gear of jet fighter planes. But the new JPX923 Hot Metal irons, which include the standard game-improvement version, the more compact players distance JPX923 Hot Metal Pro and a new super-game-improvement JPX923 Hot Metal HL, signal a new era in materials for the company's most successful iron, a shift to Nickel Chromoly 4335.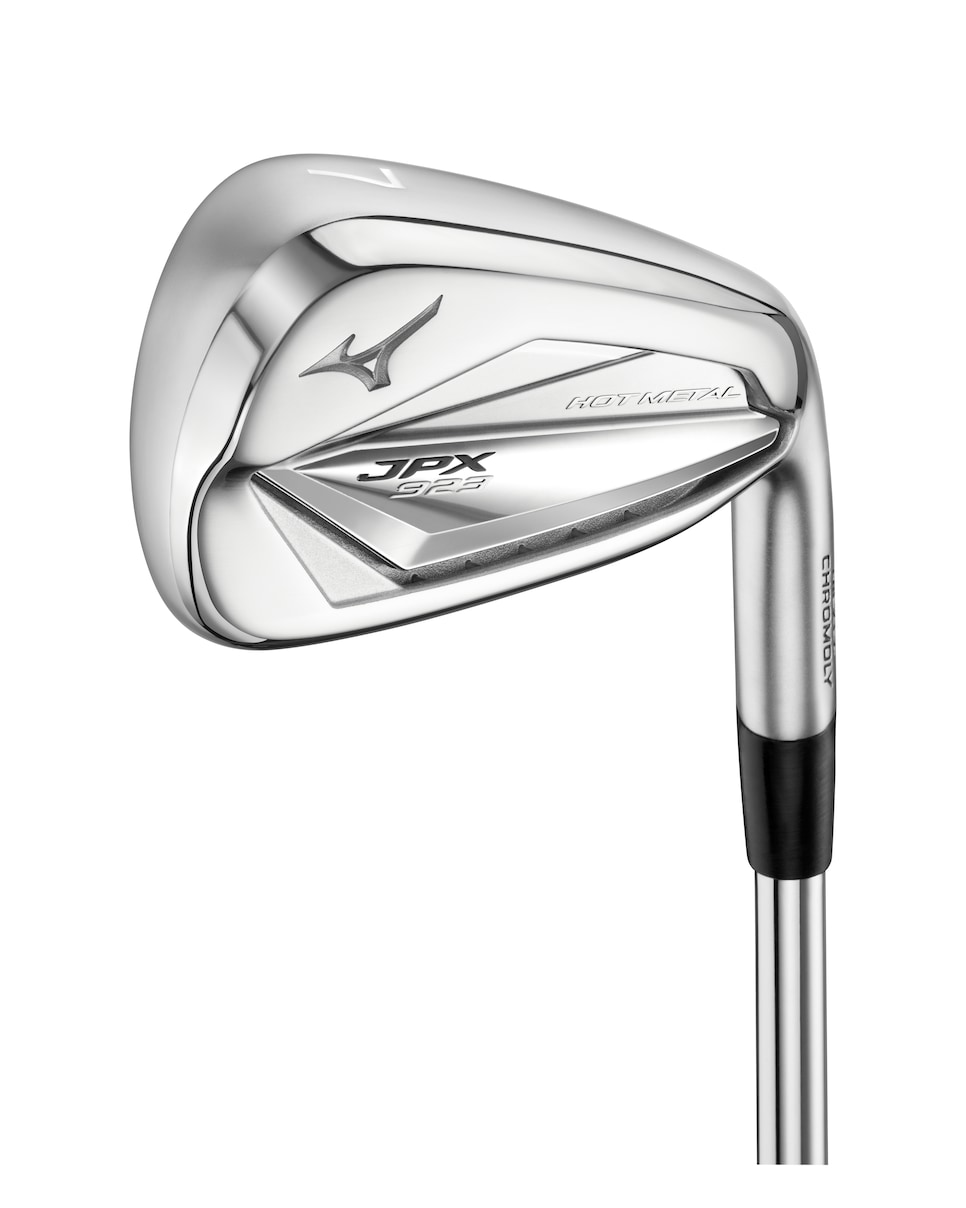 "Going into this design cycle we had pretty much maxed out what we could do with the Chromoly 4140M," Llewellyn said. "We were bumping up against some strength limitations so we really needed to find a new material. Nickel Chromoly is really a pretty amazing material. Nickel moves it into a slightly different class. It's an extremely strong material that's used in other industries for critical parts that can't fail."
The new alloy allows the thinnest face ever on a Mizuno iron at 1.75 millimeters, or basically the thickness of a quarter. Llewellyn said the one-piece design creates ballspeeds that might be reserved for a special face insert, and he believes it might do it more consistently across the face because there are no weld beads to join the parts.
"This is really a seamless cupface geometry," he said. "We're getting pretty close to a metalwood in terms of everything being so completely thinned out so that mass can be concentrated low and back."
That lower CG means the JPX923 Hot Metal iron can get especially aggressive with lofts. Example: The 7-iron loft is 29 degrees, which is right in line with industry trends, or basically the same loft as a Mizuno game-improvement 6-iron from a decade ago.
"One of the big advantages of the seamless clubface is that it is well-suited for a deep center of gravity," Llewellyn said. "We think six millimeters back from the face on a 7-iron is pretty far back."
The JPX923 Hot Metal Pro shares the same metal and the same lofts as its big brother, but it does so with a more compact shape and a thinner topline to fit the eye of a better player who's still seeking distance at least as much as workability. Both faces feature a multiple-thickness design to maximize the high flexibility area for more distance.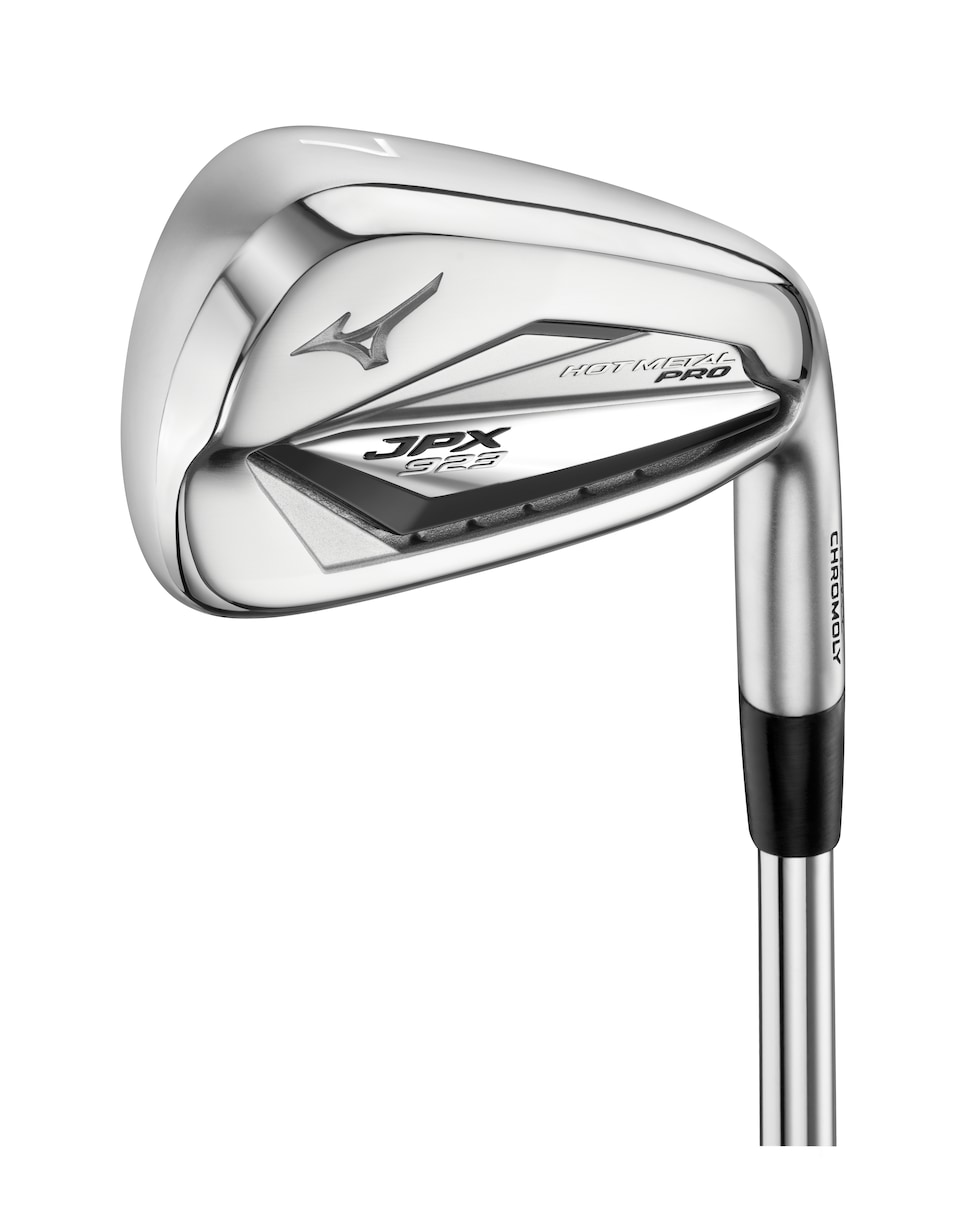 Still, for all the forgiveness and distance the standard JPX923 Hot Metal provides, it might not be ideal for all players. Llewellyn's team researched more than 500,000 swings captured through the company's Swing DNA and ShaftOptimizer fitting tool and found that as lofts continue to push lower and lower, average swings have increasing difficulty in launching even 5-irons successfully. The estimate is close to half of all golfers might be flying a 7-iron farther than a modern, low-lofted 5-iron.
The solution is found in the JPX923 Hot Metal HL, the first super-game-improvement iron in the Mizuno's lineup in the Hot Metal era. Rather than discovering a new alloy or some other means of further lowering the center of gravity, Llewellyn's team chose a more practical and effective solution. It weakened the lofts by 2-3 degrees compared to the standard JPX923 to provide higher launch.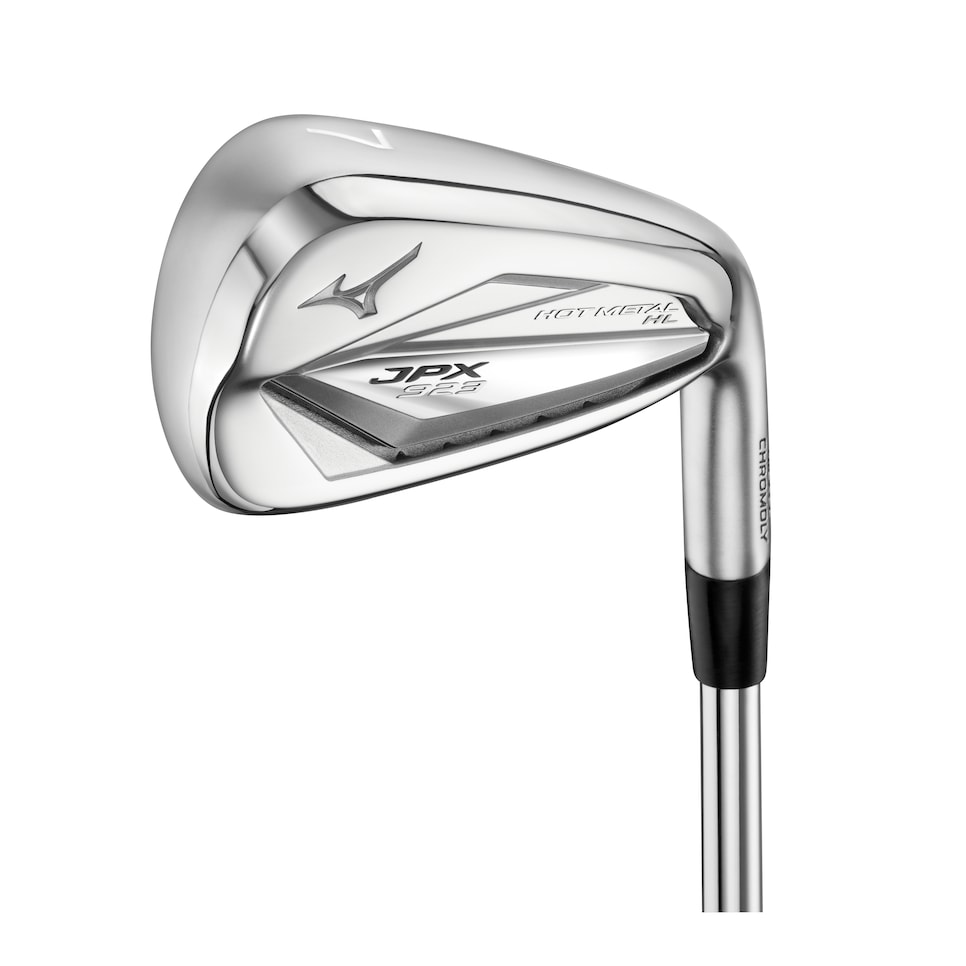 "When we looked at our research we found about 70 percent of players needed launch assistance," Llewellyn said. "These are the conversations we have all the time, to do something about it and that's where the High Launch came from." But it is, after all a Mizuno iron. "One of our design goals was to not make it look like a super-game-improvement iron," he said.
The idea of launch assistance goes one step further with the JPX Fli-Hi hybrid option. Designed to work with the same shafts as a player's irons, the hybrids stretch from a 20- to a 29-degree model, or a 4-iron through 7-iron replacement.
The lighter crown and a wave structure on the sole lower the center of gravity for an improved launch angle compared to the iron loft being replaced.
Also enhancing the JPX923 Hot Metal and Hot Metal Pro irons are newly designed set matching wedges. They are constructed of a softer X30 steel with the same kind of milled grooves as the company's specialty T22 wedges.