Miracles On The Course: Six Holes-In-One In One Outing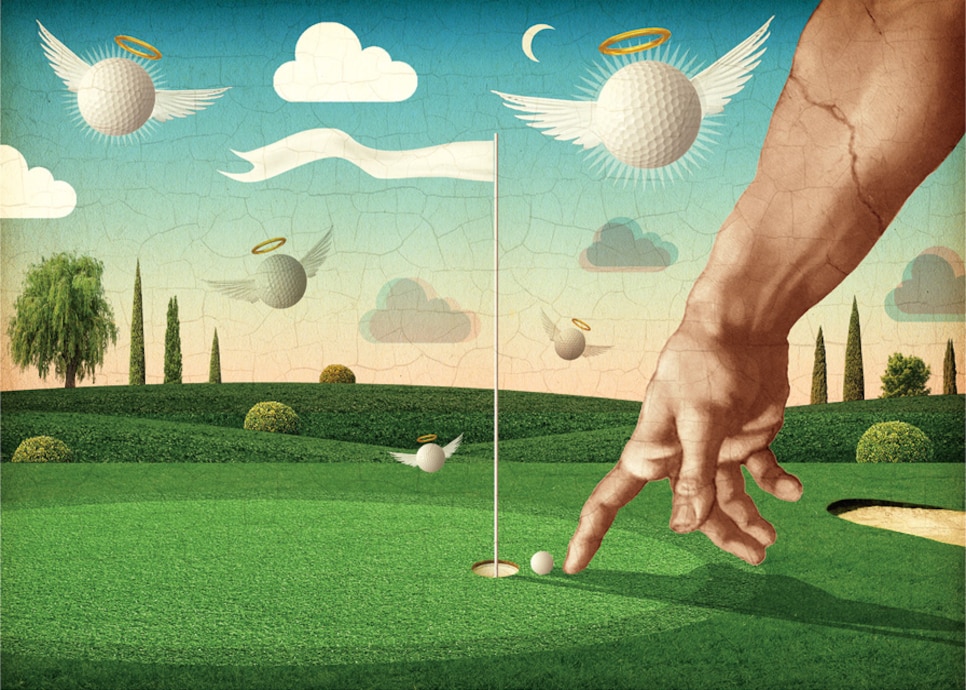 The 2013 men's closing-day tournament at Kiawah Island's Cassique Course began on a somber note. Beloved staff member Tom Churchill had succumbed to cancer the night before at 69. This announcement was made, followed by a moment of silence, and then the field of 71 golfers loaded in carts and drove to their respective tee boxes for the shotgun start. "Churchie" loved this event, the annual pairing of members with employees, and this would be the first one played without him in 14 years.
HAVE A GOLF MIRACLE? SEND US YOUR STORY
What counts as a "golf miracle"? Six players from an outing of 71 making holes-in-one in a single afternoon? A dead golfer coming back to life on the course? A fortunate bounce off a temporary obstruction that launched a pro career? The line between coincidence and possible divine intervention is hard to draw, so we're asking for help from our readers. If you have a golf story that most people can't believe, email us the details at miracles@golfdigest.com. We'll handle the fact-checking.
Ken Knechtel, a retired insurance agent from Connecticut, started on the 118-yard fifth hole with an elevated tee and a green that slopes gently back-to-front. The cup was cut front-middle-left, behind the bunker. Whenever Churchie went on vacation, he liked to grab a member or three and go post up at a casino with a golf course. Knechtel was sorry he'd never taken him up on the offer.
A 5-handicapper, Knechtel had never made a hole-in-one, and he hasn't made one since. But his first swing of that November morning flew surely with a tiny draw, took two hops forward and entered the cup "at about 4 o'clock," he says. "Most people assume it was a really easy pin. It's accessible, sure, but it wasn't like there was a big slope or funnel situation going on."
Three holes later, Knechtel's group heard shouting behind them. Had there been another ace? What they'd find out at lunch would blow their minds.
As groups filed in and handed the pro their scorecards—a span of about 10 minutes—the grillroom went from jubilant to quiet. An almost eerie lull. There had been one, two, three, four, five ... six holes-in-one. Five at the fifth and another on the 148-yard 16th hole. Every mouth hung open.
The odds of a hole-in-one for an amateur are 12,500-to-1. Golf Digest technical advisor and stats-whiz Dean Knuth, architect of the United States Golf Association Slope system, refuses to offer odds on what happened at Cassique. The closest analogue is the four aces on the same hole in the second round of the 1989 U.S. Open at Oak Hill Country Club, though the odds for pros are more like 3,700-to-1. John P. Everhart, founder of the National Hole-In-One Association, said at that time four aces wouldn't happen again for 190 years.
"You just can't explain it," says Dale Mercer, then the head professional of the Cassique course at Kiawah Island and one of the ace-makers. "Churchie must've been looking down messing with the remote." The other men to make aces were Garrett Hill, Alan Gillespie, Matt Cleveland and Larry Patrick. Also, for the record, there was no tab split six ways because drinks were part of the tournament.
"As the news kept coming in, even the nonbelievers became convinced Tom had something to do with it," Knechtel says. "You had to be there and know how much our membership loved him."
After a couple of cocktails, Knechtel went home and told his wife and kids. Driving out a couple hours later, Mercer couldn't remember ever seeing a more splendid sunset.