ANA Inspiration
Mike Whan's exit interviews have begun, notes 'the future of this game is so female'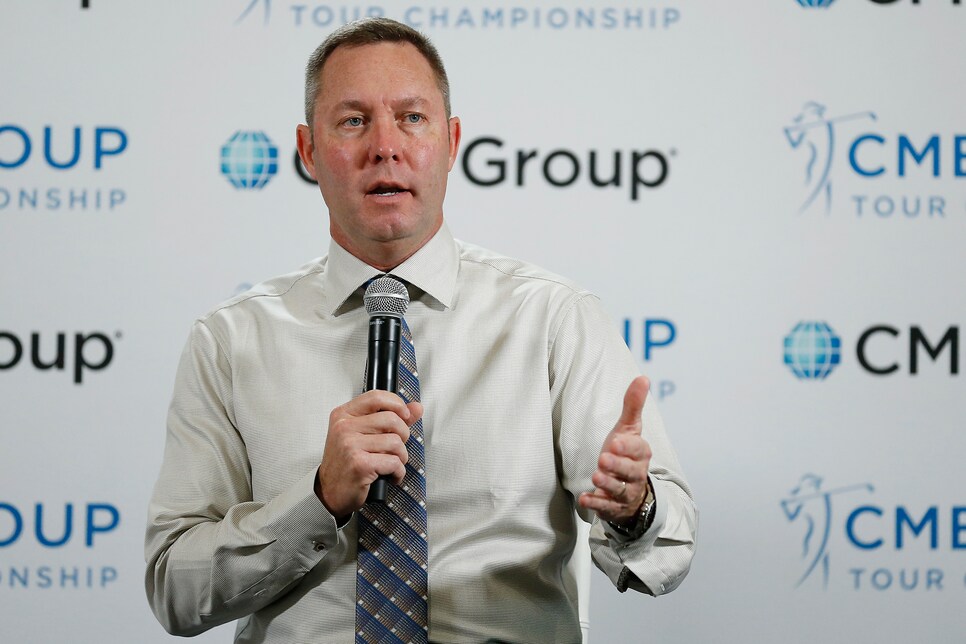 RANCHO MIRAGE, Calif. — It is not a victory lap, precisely, though a strong argument could be made that Mike Whan's tenure as LPGA Commissioner warrants one. But he is here in this desert community to oversee the ANA Inspiration for the last time, and the exit interviews have begun.
A man who can speak more words per minute than anyone this side of an auctioneer spent 25 minutes with the media on Wednesday, answering questions about his 11-year tenure generally and the growth of the female game on the professional and grass-roots level.
"I think the coolest thing about this," he said, noting he had just run into Shirley Spork, one of the LPGA's founders, "the thing that Shirley and the rest would be most proud of is what we've done for the future. The future of this game is so female, not just here in America, but all around the world. Events like this are what matter to young girls.
"I don't think, if you said 12 years ago to anybody, the future of the game, junior golf, was going to look almost 40 percent female, back when we were in that 13-, 14-, 15-percent range. This is important. We're leaving this game pretty female. I'm leaving this game a lot more female than when I got here, thanks to a lot of people that made me look good.
"I don't think these women will have daughters that will have the experience my mom had trying to join the game in the '70s, '80s and '90s. They should be proud of that, and we should be proud of that."
Paying homage to the founders of the LPGA, including the formation of a new tournament, the Founders Cup, will be part of his legacy when he leaves this job to become the CEO of the USGA this summer. And it began, even before he had been introduced as the commissioner in late 2009, with words of advice from another founder, Louise Suggs, delivered over a drink in a hotel bar during the LPGA Tour Championship.
"She said, 'Kid, keep it simple.' Then she went on to talk about an hour," Whan said. "Nothing she said was simple. She talked about all the aspects of the LPGA. At the end, I said to her, 'Louise, when you say keep it simple, what do you mean?' "
Suggs gestured to a group of players and said, "Mike, it's just this simple. Give them a better place to play."
"I knew what she meant. It wasn't courses and purses and TV, but all of them. She said give them a better place to be. Care about the future. It caught me off guard. As a brand new commissioner in 2009, I'm like, What do you mean? She said, 'We have a tour today because we cared about the founders.' Make them care about the future.'
"She said, 'Get the boys involved.' What do you mean get the boys involved? 'You know, the boys. The guys that run all the boys' stuff.' What are you talking about?"
Suggs was talking about the PGA Tour, the PGA of America, the USGA, the R&A. "She called them the boys," Whan said. "'Get the boys involved. They'll help.'
"If you think about it, KPMG, PGA, U.S. Women's Open, LPGA, USGA, Girls Golf, the European Tour, I really think the boys, as she called them, are involved."
Suggs also told him to be "a good and honest man," that his family comes first, but to look at the LPGA players as his extended family.
"Juli Inkster said something to me very similar, which is we can handle honesty. We just can't handle lack of honesty out here," Whan said.
"The next thing for the next commissioner, keep it simple. Give them a place to play. Make the future involved for them. Keep the boys involved. And when you're talking about your family, be pretty honest. At the time she said it, I didn't think any of it was powerful, but I was smart enough to write it down. I think that's a good way for me to exit."