Cologuard Classic
Miguel Angel Jimenez's second ace of the tournament cinches second victory of the season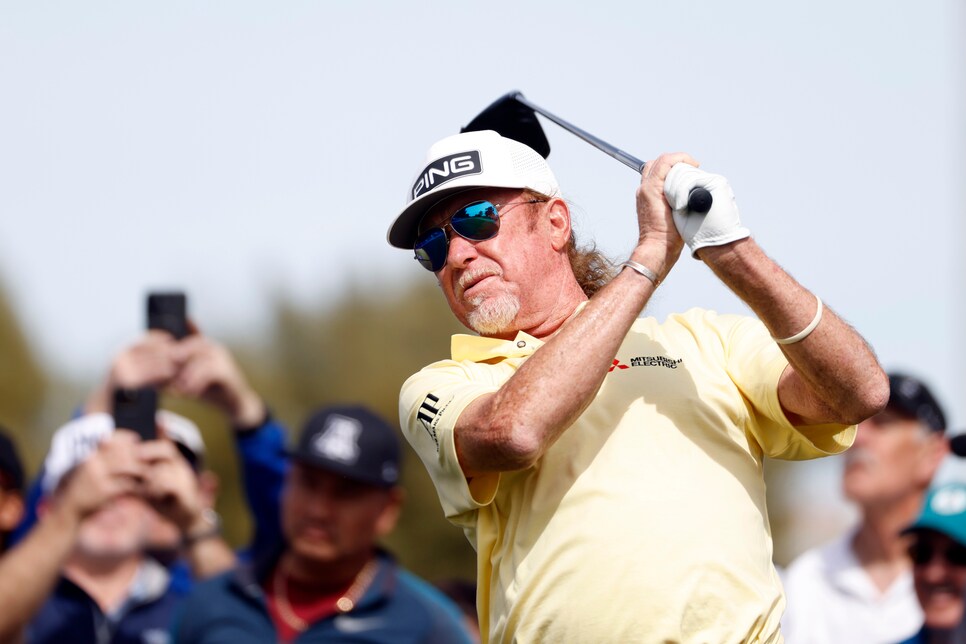 This PGA Tour Champions season, though early, is shaping up as one for the ageless, led by a pair of graybeards who seem to have matured better than the fine red wines they enjoy.
On this Sunday, it was Miguel Angel Jimenez's turn. Again. Jimenez, 58, won the Cologuard Classic at Omni Tucson National on Sunday and sealed the victory in style, with his second hole-in-one in three days.
It was Jimenez' second victory in this the third PGA Tour Champions event of the year. The one week he failed to win, Bernhard Langer, 64, did. Langer, who closed with a seven-under 65, tied with Woody Austin for second, four strokes back of Jimenez.
Jimenez's ace came on the 14th hole with a 6-iron, leaving the popular Spaniard with a five-shot lead and a four-hole victory lap, cigar smoke trailing him most of the way, en route to his 12th senior tour win.
"I got about 178 yards to the hole," he said of the ace. "A little bit breezy to the right. I hit a beautiful tee shot there."
Jimenez was a wire-to-wire winner, closing with a seven-under-par 65 and a 54-hole total of 18-under par 198.
On Friday, Jimenez used the same 6-iron to ace the 196-yard seventh hole. The holes-in-one were the 12th and 13th of his competitive career, 10 of them coming on the European Tour and one on the renowned 17th hole at the TPC Sawgrass in the Players Championship.
Langer, meanwhile, continues to defy his age. He played a bogey-free round that on another day might have been good enough for senior win No. 44.
"It was great," he said. "Played pretty good. Sixty-five on Sunday, seven under, is always special. Almost shot my age. Just Jimenez was too good this week. He's had a nice lead going into today and he's on fire again. He's a great player and we were basically battling it out for second between Woody Austin and myself."