News
Miguel Angel Jimenez makes up for late stumble with playoff birdie to defend title in Mississippi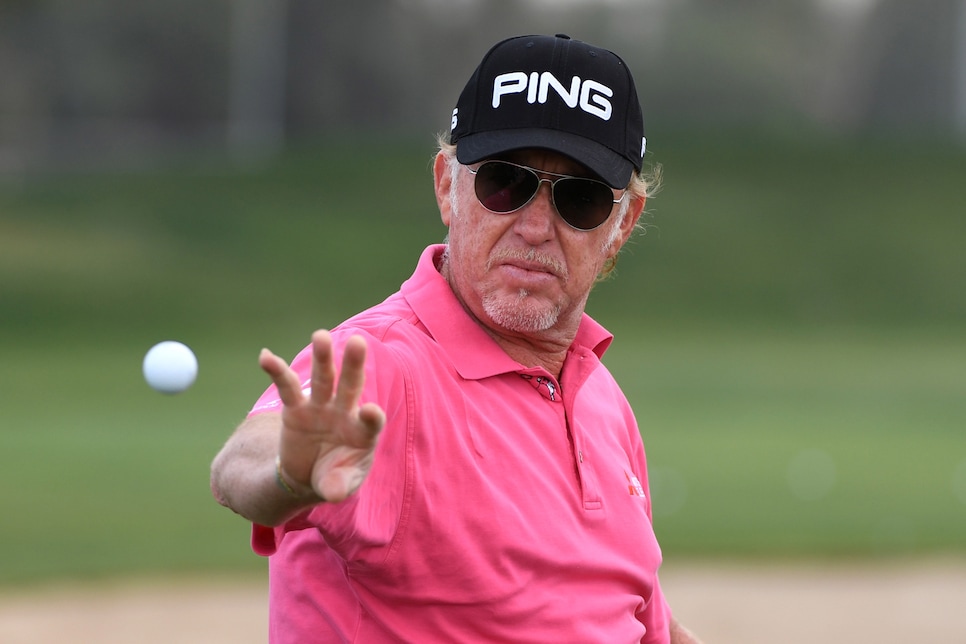 Announcers like to talk about momentum at the end of a golf tournament. Maybe Miguel Angel Jimenez wasn't listening to the feed in Spanish.
Jimenez shook off a bad double bogey on the last hole—which dropped him into a tie with Gene Sauers—to birdie the first playoff hole and defend his title at the PGA Tour Champions' Mississippi Gulf Resort Classic in Biloxi.
Jimenez not only flipped the lousy momentum back his way, but also denied Sauers a chance to cash in on the course-record 63 he shot at Fallen Oak Saturday. Sauers would finish with a one-under 71, while Jimenez took his fourth senior victory with a two-under 70—and a cold-blooded playoff hole that featured a perfect tee shot and an approach to 18 feet.
Sauers missed the green with his approach and had to blast out of the bunker. He never got a chance to putt. Jimenez trickled his birdie putt right in the heart.
It at least a little redemption for the Spaniard, who bogeyed the last hole at the U.S. Senior Open a year ago to give Sauers his first major.
New senior Steve Stricker shot 65 on Sunday to record his second top-three in as many starts. He tied for third with Bernhard Langer, who closed with a 67. That round extended Langer's streak of sub-par rounds on the senior circuit to 35, a PGA Tour Champions record that now dates back to the final round of the U.S. Senior Open at Scioto Country Club last August.