News
Miguel Angel Jimenez is ready to celebrate as only he knows how after claiming his first senior major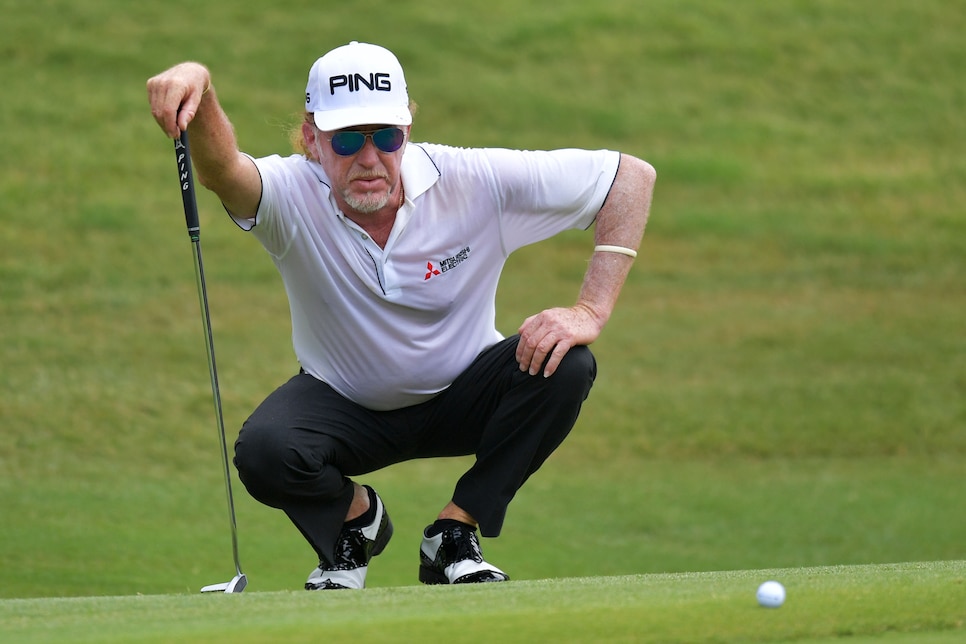 Drew Hallowell/Getty Images
It's no secret Miguel Angel Jimenez's reputation precedes him. The Spaniard is known worldwide for fancying fine wines and expensive cigars, for his long hair and that unorthodox warm-up he does before each round. Oh, and for playing some good golf, too, as his 21 wins on the European Tour and four PGA Tour Champions titles attest.
That said, in his transition to senior golf, finishing strong when the stakes are highest had been something the 54-year-old has struggled to show. At least until Sunday at the Regions Tradition, when Jimenez nearly frittered away another 54-hole lead in a PGA Tour Champions major, only to wrestle it back on the back nine and walk off happily soaked in champagne.
With a closing two-under 70 at Greystone Golf & Country Club in Birmingham, Ala., including birdies on two of his final three holes, Jimenez beat Steve Stricker, Joe Durant and Gene Sauers by three strokes, finishing with a 19-under 269, a tournament record in relation to par.
This was the third time Jimenez held or shared the 54-hole lead in a senior major championship. But in his two previous tries, he failed to come through with a victory (T-3 at the 2016 Senior Open Championship and T-2 at the 2016 U.S. Senior Open). In all, Jimenez had posted six top-five finishes in the biggest senior events but had no brass rings to show for it.
"Yeah, it's time, it's time," Jimenez said. "I've been playing well all of the years I've been here on the Champions."
This time around, he took a three-stroke lead into Sunday after rounds of 64-69-66, matching the tournament's 54-hole record (set by Gil Morgan in 1997) with a 17-under 199. While itching to finally break through, Jimenez wasn't going to let the circumstances change his usual evening routine.
"I think I'm going to do exactly the same thing I did [Friday] night," he said on Saturday night. "I'm going to have a margarita as an aperitif, and then I'm going to have a nice bottle of Rioja [wine] and smoke a big fat cigar."
However, Jimenez saw his lead disappear after a bogey on the 10th hole, his second of the round, left him just even par on the day. While a birdie on the par-5 13th gave him the lead alone again, a bogey on the par-5 15th hole left him in a three-way tie for the lead with Stricker and Durant.
To his credit, Jimenez settled down. On the 16th hole, he stood over a 25-foot birdie putt while Stricker eyed a 15-footer. Jimenez saw his drop while, Stricker failed to convert. Advantage the most interesting man in golf.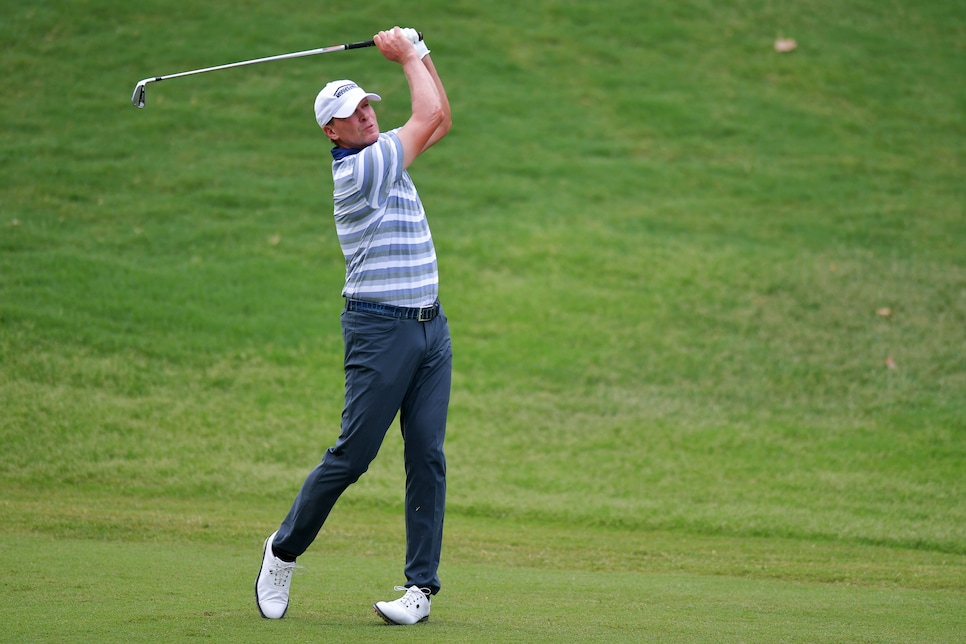 Drew Hallowell/Getty Images
When Stricker bunkered his tee shot on the par-3 17th, leading to a bogey, Jimenez had a two-stroke advantage after his two-putt par heading to the par-5 18th. And when Jimenez hit the green in two on the home hole, his two-putt for birdie was academic.
"I started a little excited, but I got myself back into the game," Jimenez said afterward, having become the first Spaniard to win a PGA Tour Champions major.
While Stricker was disappointed with the runner-up finish following a closing 70—he has still yet to shoot a round over par on the PGA Tour Champions—he proudly has emerged as a dominant force on the PGA Tour Champions … when he chooses to play. In his four previous senior starts in 2018, Stricker had two wins, and he has now posted top-five finishes in nine of his 11 career starts on the 50-and-older circuit. However, he continues to play regularly on the PGA Tour, limiting the 51-year-old's appearances with his contemporaries.
Stricker, though, is in the field again next week at the Senior PGA Championship, the second of five majors on the PGA Tour Champions, and earlier this week he filed his entry to play in this summer's U.S. Senior Open.
Bernhard Langer was trying to become the first player to win the Tradition three straight years, but finished in 11th place, six strokes back.
So how might Jimenez celebrate?
"Yeah, we're going to have a big party," said Jimenez, one he promised would involve plenty of champagne.
The rest? Well, he'll leave that to the imagination.