News
Michelle Wie drops 35-foot birdie putt on final hole to clinch first win since 2014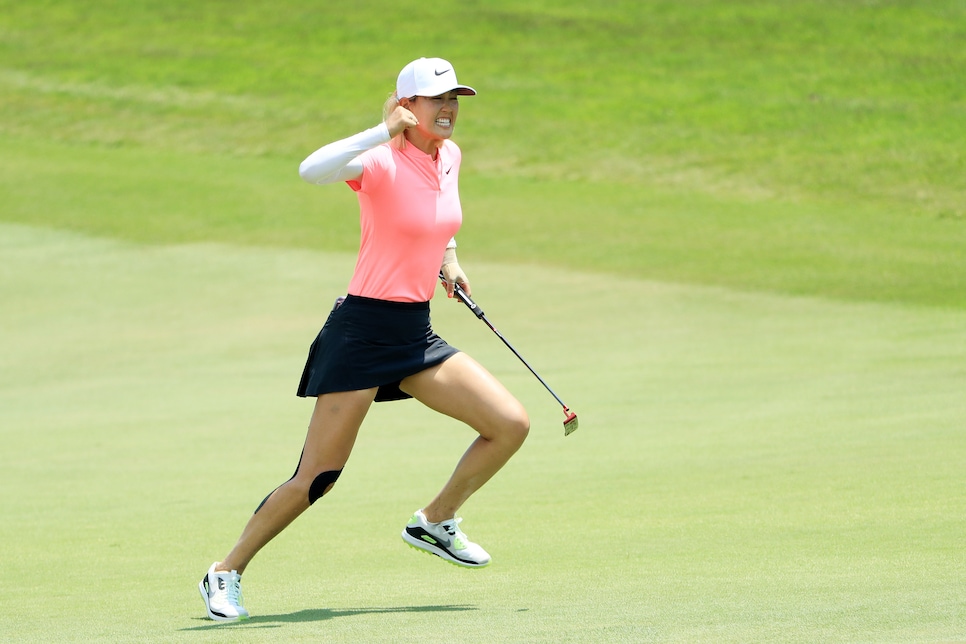 It was only fitting that a long, dramatic putt would finally put an end to Michelle Wie's long, frustrating victory drought.
Wie hadn't claimed an LPGA title since her 2014 U.S. Women's Open triumph at Pinehurst, despite several top-five finishes in the ensuing three-plus years. But that changed on Sunday at the HSBC Women's World Championship. The leader board was packed at Sentosa Golf Club in Singapore, with major champions Danielle Kang and Brooke Henderson, up-and-comer Nelly Korda and LPGA Tour winner Jenny Shin all looking like they could pull away at any moment and take the win.
Starting the day five strokes off of Korda's lead, Wie played flawlessly, making six birdies over her first 17 holes. When Shin, playing one group ahead of Wie, finished with a bogey on the 18th, Wie needed one more birdie on the home hole to be the leader in the clubhouse and put pressure on Korda and Kang, who were playing in the group behind her.
Wie's approach shot on 18 came up a little short, leaving her with a 35-foot putt from the fringe for birdie. And then came the theatrics, the ball tracking for the cup all the way. Wie's reaction when it fell in on the low side, well see for yourself.
"There is no better feeling than when you sink that winning putt," said Wie, who finished the day with a bogey-free 65 and the tournament with a 17-under 271. "It's a high, for sure. You go out there, and it's this feeling that gets you going. It's this feeling that makes you practice. It's that winning putt that makes you practice for hours and hours and hours, and even the hard times, it gets you going back. You know that good feeling is on the other side."
Of course, Wie had to wait things out, but when Korda and Kang missed birdie putts on the 18th afterward—Korda from eight feet, Kang from 20—Wie had recorded her fifth career LPGA win 16 years after playing her first LPGA event and nine years after joining the LPGA Tour.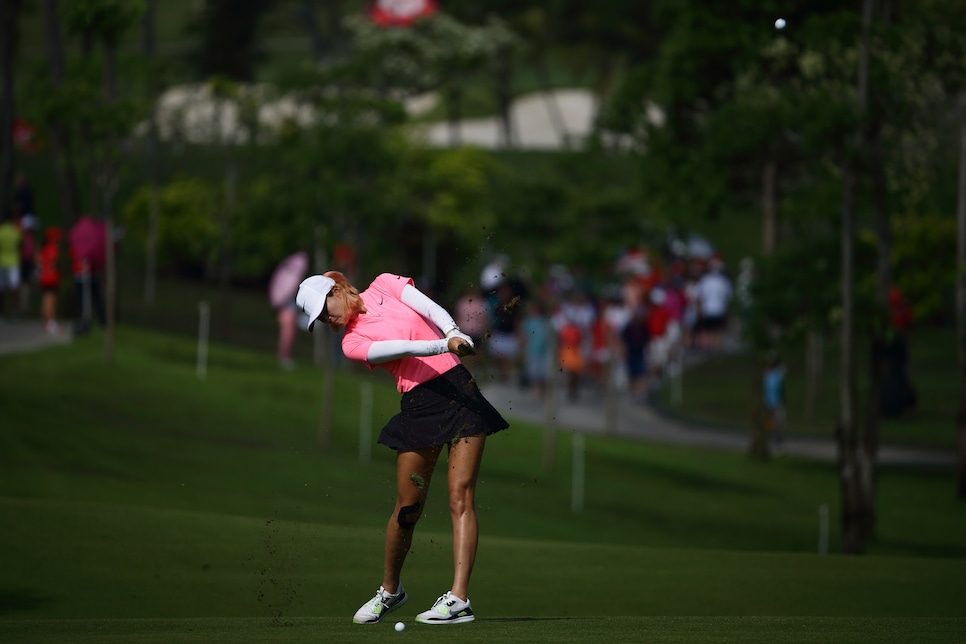 Throughout her career, Wie has played under tremendous pressure, all of the expectations that come with being a prodigy have been following her since she turned professional in 2005. Now 28, Wie looks to be more comfortable on the golf course than at any other time. She's working through injuries, found a swing that, although a bit different from the the long, smooth move that she came out on tour with, works for her. She's tinkered with her putting stroke to find a posture and grip that has her making more putts. And her demeanor on the course, a focused but lighter presence, portrays a player who's genuinely happy to be out there competing. Wie has been through a lot, but instead of being dragged down by expectations and injuries, she's evolved.
"It's been a tough journey since 2014. I think it's been kind of well documented. … But I'm just really proud of myself for pulling myself out of it," Wie said. "I felt like I had a good year last year, a year where I built confidence, and I just want to keep building confidence from there. I just want to keep rising. I just want to keep playing the best I can, trying the hardest I can and trying to become the best player that I can be."
Though this win is big for her, it's not just a win for Wie; it's also a win for American women's golf. There have been four LPGA events so far this season, and Americans have won three times, Wie joining Brittany Lincicome and Jessica Korda. It's the first time U.S. golfers have won three of the first four events on the LPGA schedule since 2007.
"I think we're definitely on the rise," said Wie of her fellow American golfers. "I think from Solheim play last year, you can definitely see the strength of our American players. You know, Jessica Korda dominating last week, and it's been great to see. That's a pretty cool stat and I'm pretty proud to be part of it."