As he was driving to his home in Glendale, Ariz., from TPC Scottsdale after his second round in the 2015 WM Phoenix Open was suspended by darkness, Michael Hopper saw that his phone was blowing up with calls and text messages. Friends were telling him that he had appeared on ESPN's "SportsCenter," and he thought they were trying to pull a coordinated prank.
The head professional at Lookout Mountain Golf Club, Hopper was nearly at the bottom of the leaderboard. He had opened with a 10-over 81 in his first career PGA Tour start, and there was nothing special about his second round, although he was playing significantly better, sitting two over par through 16 holes. At 12 over for the tournament, Hopper was 13 shots off the cutline and beating just one player. Why would ESPN be interested in his performance?
Well, because the name of that one player made all the difference. Struggling with the chipping yips, Tiger Woods had posted 73-82 and stood at 13-over 155.
"ESPN put my picture up on the screen and the announcers were saying something like, 'Tiger Woods is getting beat by this guy … a club pro,'" Hopper recalled with a slight chuckle. "We have lodging on property at Lookout Mountain, and our staff likes to tell our guests that I once beat Tiger Woods. I have to correct them and say, 'Nope, I only tied him.' It's fun to say, but the truth is neither one of us was exactly playing his best game."
Hopper returned the next morning, bogeyed the 17th hole from the fairway, made par at the last and turned in a 74 to tie the 82-time PGA Tour winner for last place.
Woods hasn't been back to TPC Scottsdale since, but in a few weeks, Hopper will make his third appearance in the WM Phoenix Open, which begins Feb. 9, having earned an exemption in the same manner as his previous two starts in 2015 and '19.
In September, Hopper won the 65th edition of the Southwest Section PGA Championship at Sewailo Golf Club in Tucson, beating Derek Shelburne of Desert Highlands by seven strokes. The victory was one of three section titles for Hopper, 38, who was named the 2022 player of the year with 19 top-25s in 20 starts. His reward for that consistency was $14,325.25.
"It was a big deal. It's always a big deal to get to play in a PGA Tour event," said Hopper, who also qualified through the section for the 2019 Shriners Children's Open in Las Vegas. "As club pros, we had that dream of playing the tour, so it means something whenever you get that chance and you live out the dream, even if it's for a week."
What makes this year's WM Phoenix Open more significant (beyond the fact that it ends the same day that Super Bowl LVII is staged in nearby Glendale) is its status as one of the PGA Tour's 13 new "designated" events. As such, the prize money payout has more than doubled, increasing from $8.2 million to $20 million, and nearly all of the game's top tour members will compete as part of their obligation to remain eligible for the tour's $100 million bonus from the Player Impact Program.
When the tour announced on Oct. 19 that the WM Open and three other tournaments—the Wells Fargo Championship, the RBC Heritage and the Travelers Championship—were rounding out the events receiving elite-level status, Hopper worried his exemption might be rescinded.
"I didn't know what it meant when I saw the announcement, and then I saw a story, it might have been from a Facebook link, something titled to the effect of 'How do you get in one of these elevated events?' So, I started to question where I stood," Hopper said. "I mean, it just wasn't super clear."
Hopper contacted Bill Ibrahim, Chief Operating Officer of the Southwest PGA section, who ran it up the flagpole to Kerry Haigh, the Chief Championships Officer of the PGA of America. Eventually, the tour came back with the news that nothing had changed regarding any section exemptions in its events in 2023. What happens in 2024 and beyond has yet to be determined, however, according to a PGA Tour spokesperson
"It was one of those details that they hadn't quite worked out; not high on their radar," Ibrahim said. "We were happy to hear there wasn't going to be a change this year. We were happy for Michael. He's a really solid player. You wouldn't be surprised if he made the cut. Think how cool that would be for him."
Not to mention how lucrative. Last-place money for those playing the weekend is expected to be around $43,000. A 30th-place finish is likely to be $137,000. And the winner's check should be around $3.6 million.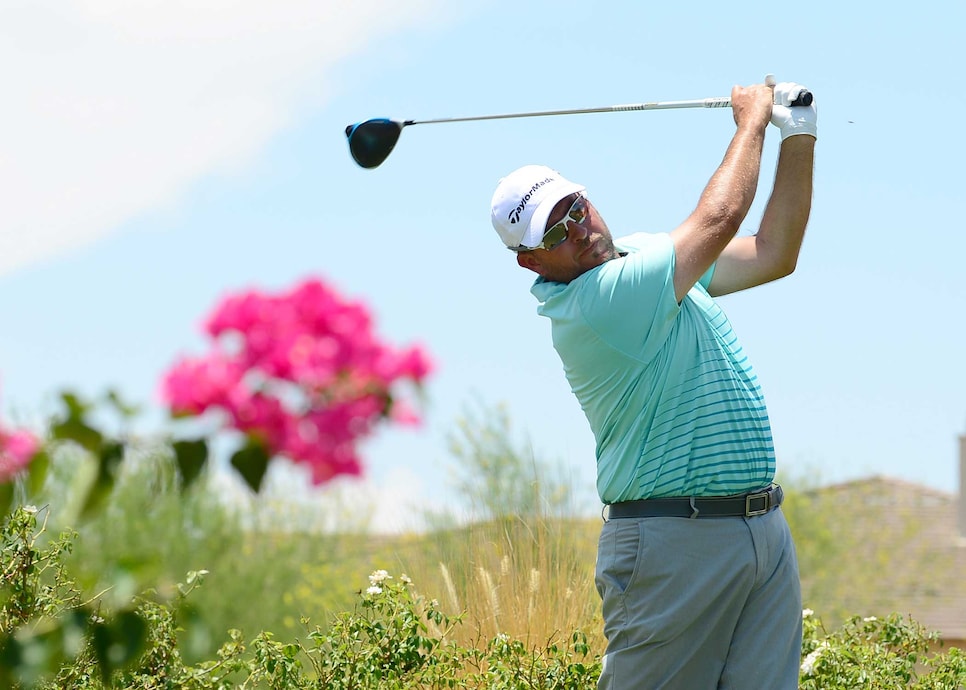 This will be the fourth PGA Tour start for Michael Hopper, who has yet to make a cut in his previous three. (Photo courtesy of Mike Schoaf/Southwest PGA)
When his eligibility to play was cleared up, the next question was whether Hopper qualified for the travel stipend program the tour initiated this season. Each non-exempt member in the 126-150 category and below receives $5,000 for every missed cut. At first, Hopper thought he might have landed a $5,000 bonus only to be informed by fellow PGA pro, and subsequently confirmed by the tour, that the program didn't apply in his case.
"Yeah, if I missed the cut, that 5K would have been pretty cool, honestly," he said. "But even before that I've been thinking about what I could make if I do make the cut. I'm a competitor, you know, and I want to perform well.
"I checked the scores from last year, and the cut was two under, nothing crazy," added Hopper, who didn't make the cut in his three previous tour starts. "I think I have that well within me. I can play pretty good golf. So, like, why can't it be that week? You know? Obviously, I have to go out and play really well, but there's a lot of incentive there."
That said, there's no more added incentive than there was before. Whether the purse is $8 million or $20 million, a club pro relishes these rare opportunities. Only a spot in the PGA Championship, in which 20 club pros qualify, would be more coveted. Hopper hasn't fulfilled that goal yet. He'll get another chance in early May at the PGA Professional Championship in New Mexico.
For now, this is his major. He's been working hard on his game to prepare, juggling practice sessions with the increased demands of his job this time of year when winter residents and golf tourists descend on Arizona. He hopes to sneak in a round or two at TPC Scottsdale before tournament week.
"The purse doesn't make a difference. It's a lot of money whatever it is, though I'd be lying to say it's not fun to think about the possibilities," he said. "The level of competition is what gets your attention. We've always had decent fields here, but now almost every top player in the world is coming, and that's what makes it interesting. Whatever happens, it's going to be a cool experience."