News
With son on bag, former U.S. Open champ Michael Campbell savoring rare chance to compete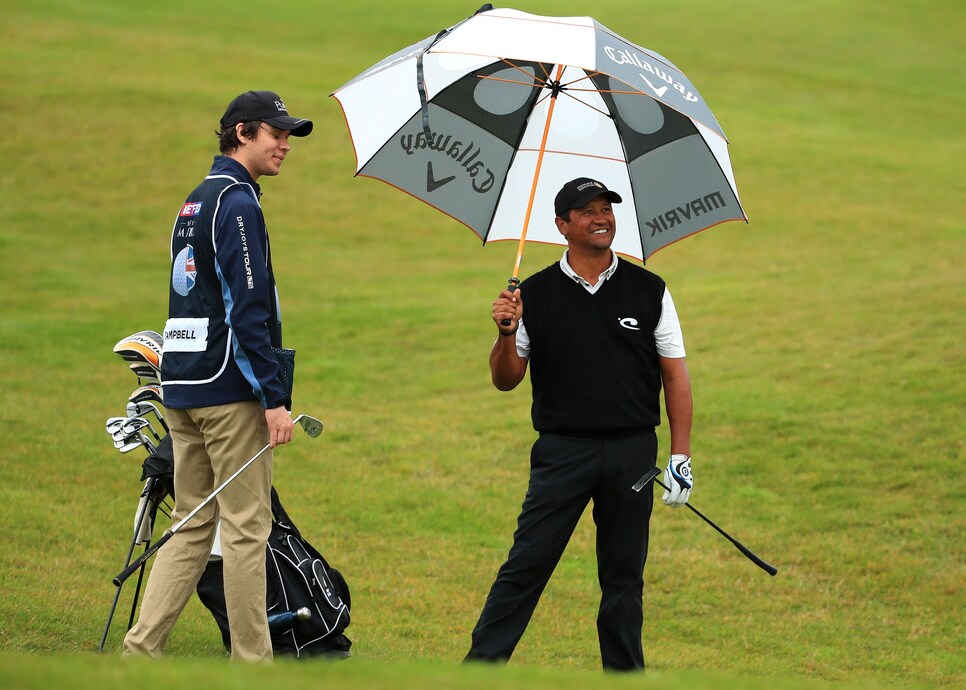 Michael Campbell prepares to play a shot on eighth hole of British Masters with his son and caddie, Thomas Campbell.
AR
Chances are, Michael Campbell isn't going to win this week's British Masters. Despite shooting an opening three-under-par 68 over the endlessly undulating Close House course in northeast England, the 51-year old, Spain-based New Zealander is already four shots off the early pace set by Scotsman David Law.
Nevertheless, Campbell might be the most heartwarming/interesting/surprising story emanating from the first of the six events on the European Tour's "U.K. Swing."
In his first competitive round in eight months—he started practicing in earnest only two weeks ago—the 2005 U.S. Open champion made six birdies to more than offset his three dropped shots. With 21-year old son, Thomas, on the bag for the first time, Campbell performed almost as if he was back at Pinehurst No. 2, scene of his biggest triumph 15 years ago.
No, he wasn't able to keep up with playing partners Justin Walters and Benjamin Poke off the tee, but combined with distance control he described as "very pleasing," Campbell's experience—he has top-six finishes in all four major championships—saw him outscore both of his younger companions.
"Lucky enough the course is fast and firm, so you don't have to hit it long here, which is an advantage for me," he said, still purring contentedly over the 6-iron he struck to four feet on the short 14th. "I've seen the kids playing out here, they hit it so far. This week it's not a huge advantage, it's about accuracy and putting your drives in the right positions. But I must admit to being a little surprised at doing so well. All I've really done recently is play a few games with a couple of mates."
Perhaps the most important part of the day for Campbell, who played the leading role within the four-man New Zealand side that won the World Amateur Team Championship as long ago as 1992, was performing with such distinction in front of his younger son.
"I'm playing more for Thomas than myself to be honest," he continued. "We hadn't seen each other for seven months, until a few days ago. I'm putting my ego aside and trying hard for him. So it will mean more to play well this week. Doing something for someone else always means more."
Going forward, Campbell's main focus was supposed to be senior golf. But the cancellation of the [Staysure] European Senior Tour—where he teed-up six times last year—and no qualifying school for the Champions Tour in the U.S. this season means his attention will turn to occasional forays onto the European circuit where he won eight times between 1999 and 2005.
"I'm disappointed about the Champions Tour," he admitted. "It's hard to get in there. The big problem right now is that pretty much everyone is playing after sitting at home for so long. Spots are at a premium. Then again, I asked for 15 invites last year and got one. It doesn't mean much, being a major winner. Paul Lawrie [1999 Open champion] has had exactly the same problem. But Monty (Colin Montgomerie) is fine because he's in the Hall of Fame."
More immediately then, Campbell will be sticking with the U.K. swing. He's unsure as to how many events he will play over the coming weeks—"four, maybe five"—citing his age as a deterrent to teeing up six weeks in succession. What he won't be doing is going back to the Marbella base he has called home for the last seven years.
"That's not practical given all the regulations currently in place," he said. "So, it's actually easier for me to keep playing. Over there you can only do essential shopping or pharmacy visits. You have to produce a receipt to prove where you have been, or it is a €600 fine. So, I cooked at home a lot over the last three months. I went through all of Jamie Oliver's recipe book. I refined my talents as a chef."
And, judging by his play so far, his golf skills too.