News
Mic'd players, remote announcers and a 'confession cam' highlight CBS Sports' plan for broadcasting PGA Tour events again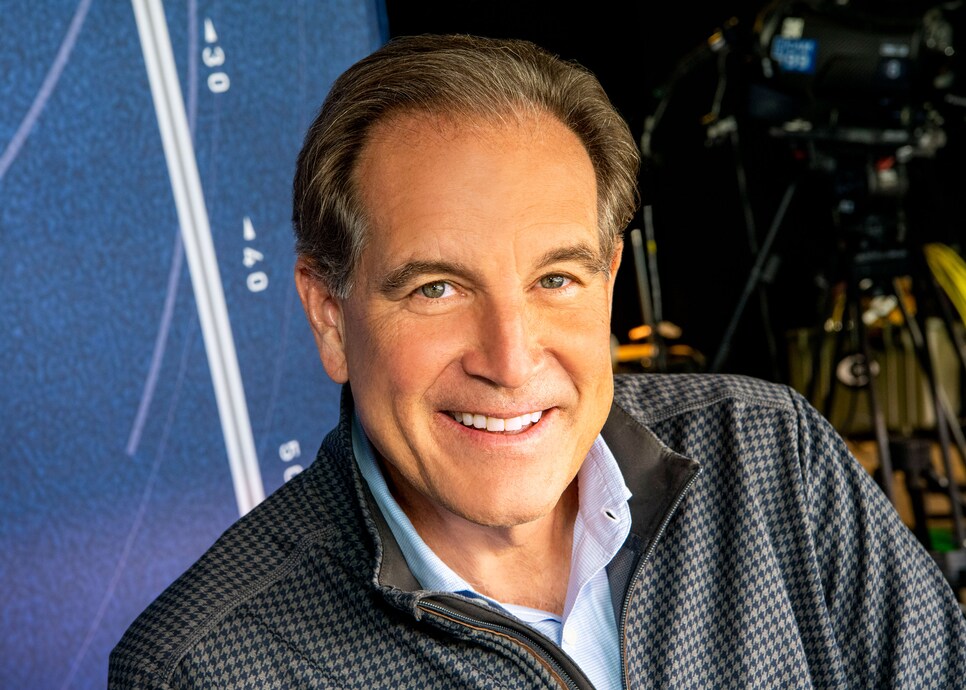 John Paul Filo/CBS Sports
Televising golf tournaments is always the most complicated and most expensive enterprise in sports broadcasting. It will be more complicated and more expensive when CBS Sports begins airing them again this week as the PGA Tour resumes its 2020 season at the Charles Schwab Challenge.
CBS Sports chairman Sean McManus on Monday laid out plans for coverage from Colonial Country Club and beyond, the network beginning a mammoth 11-week stretch that includes the PGA Championship in August. Golf's return is something fans at home are eager for, having been without tour coverage since the Players Championship was canceled after the first round on March 12 because of the coronavirus pandemic, a pause of 90 days.
The primary takeaways from a 90-minute conference call, which also included host Jim Nantz and lead analyst Nick Faldo, for viewers anxious to know what they might see this weekend included these highlights:
• Though the network plans to use roughly the same amount of equipment as before the hiatus, it will reduce the number of personnel on the ground by half, including having just three announcers in Fort Worth: Nantz in the 18th tower and Dottie Pepper and Mark Immelman as on-course reporters. Other talent, including Faldo, Ian Baker-Finch and Frank Nobilo, will chime in from Golf Channel studios in Orlando.
• "Satellite personnel" from various locations, including in Stamford, Conn., New York and Los Angeles, will provide supporting production tasks such as graphics and videotape replays.
• As many players as possible, with the tour's help, will be mic'd up in order to include them during each broadcast.
• A remote "confession cam" will be set up somewhere on the course—not yet specified but perhaps near the 10th tee, as an example—where players can voluntarily step in and provide a 20-second sound bite.
• While there will be no fans watching the action at Colonial, the network will eschew piping in any audio enhancements—another way of saying it will not add fake crowd noise or reactions. As Nantz said, appropriately, "The key word is 'fake.' As a fan … just take it for what it is, give me the real scene and let me deal with it."
"This is the most complicated production plan I've ever been involved in and that includes Super Bowls and Final Fours and other events," said McManus, who primarily is worried about the health of the on-site crew rather than the challenges of producing the golf broadcasts with a new plan that has been in the works for two months. "It's different than anything we've ever done."
"It's an unusual time in our careers," Faldo said. "You've just got to embrace it."
Another wrinkle, and a big one that will frame coverage the first week, will be an introductory monologue from Nantz shortly after coming on air. The longtime golf host will, in his own words, put the return of golf—and, more broadly, sports in general—in the proper perspective amid two ongoing world-altering events: the COVID-19 pandemic and the impassioned protests in the wake of the death of George Floyd.
"It's one of the great challenges in my 35 years in broadcasting," Nantz said, generally, of his assignment sitting alone in the 18th tower while coordinating with Faldo and other remote broadcasters.
"Tonally, we have to get this right. I consider this to be perhaps the most important moment in this country in my lifetime," Nantz said. "We can't let this opportunity pass without real and meaningful progress when it comes to equality, diversity, justice, love and empathy.
"And then I hope to express that at the top, this is not going to be something that's going to be a three-hour commentary on my part. It's just bringing us on the air, looking at the landscape of golf tournament and where are we in the world. And we are here at this moment in time, understanding the sports is a wonderful form of escape for people.
"Sports has always had a great role in this country as a chance to unify as people," he added. "And I think … the golf tour being back in action, it comes at a very important place in time in this country's history, a chance to get people to actually watch something together, root together, unify together. And I hope that that can be achieved."