UP FOR BIDS
Memorabilia from Rocco Mediate's U.S. Open duel with Tiger Woods among items up for auction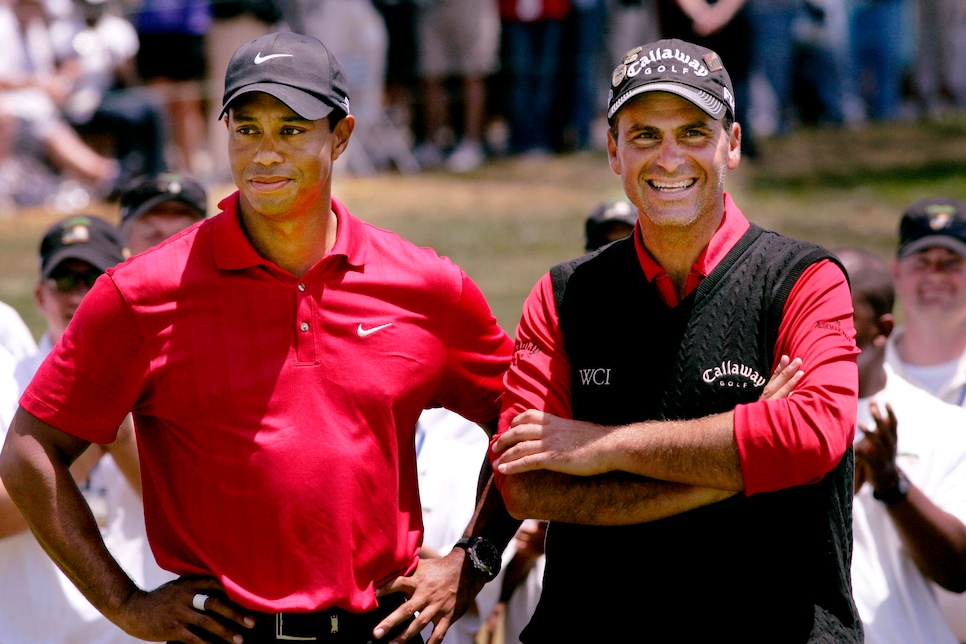 For most, the closest we'll ever get to winning the U.S. Open is watching the trophy presentation on Sunday. Get the biggest bids in over the next week and a half and you could be even closer than that. Golden Age is listing a handful of exceptionally rare bits of U.S. Open history its latest auction, which went live on Tuesday.
As a part of a trove of memorabilia he's selling, Rocco Mediate has put up the runner-up medal and tournament-used irons and putter from what might be the most famous second-place finish in recent golf history: His classic head-to-head battle with Tiger Woods in 2008 at Torrey Pines. The medal is the one Mediate received on the 18th green after the Monday playoff. The irons are a set of Callaway X-20s from 3-PW (with Rifle 7.0 shafts, if you're considering putting them into play), while the putter is an Odyssey White Hot XG Sabertooth. Bits and bobs like his player badge and belt buckle from the week are also a part of the sale.
If second place is nothing more than the first loser to you, David Graham's winner's trophy from 1981 is up for bid in the same auction. This model is the replica the USGA made for Graham to honor his performance at Merion. Yes, the silk-lined protective case is also included.
U.S. Open stuff is nice, but for the discerning collector, the most arresting piece in the auction would have to be Babe Didrikson Zaharias' signed FBI fingerprint card. Taken in before Babe married George Zaharias in 1936, the card has a clear set of the LPGA legend's personally inked fingerprints and signature on the front and a figurative murderer's row of signatures from representatives of the detective, homicide and robbery squads on the back.
Why display an autographed photo when you can show off something so much more … personal?