Meijer LPGA Classic
The frustrating reason why Brooke Henderson won't have her sister caddieing for the first time since 2016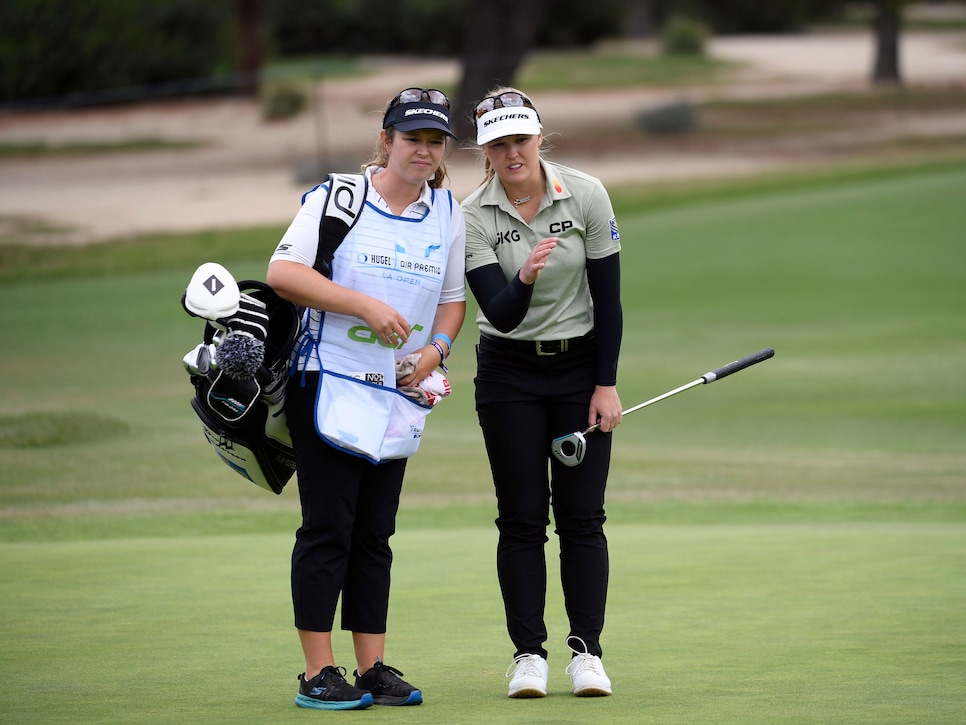 Brooke Henderson talks to her sister/caddie Brittany as she lines up her putt on the first green during the final round of the Hugel-Air Premia LA Open in April.
Kevork Djansezian
After being canceled last year due to the pandemic, the Meijer LPGA Classic returns this week to the LPGA calendar with defending champion and two-time winner Brooke Henderson strolling down Brooke Henderson Drive to tee it up at Blythefield Country Club. (Yes, there is actually a Brooke Henderson Drive leading to the clubhouse.)
Indeed, Henderson has a true connection to the town of Blythefield, Mich, just north of Grand Rapids. It was at this event in 2019 that she earned the ninth of her 10 career LPGA titles, which made her the winningest Canadian professional in history. It was the second Father's Day victory with her dad, David, on site. Additionally, her brother-in-law also grew up in nearby Grand Rapids.
Yet this week, there will be no big family gathering. There won't even be the one constant for Henderson on the golf course. For the first time since 2016, Brittany Henderson, won't be caddieing for her sister in a LPGA event.
Brittany, a Canadian citizen, married Zach Sepanik, an American who works in LPGA communications, last September. According to LPGA.com, Brittany applied for a new visa as the wife of an American, but the processing has not been completed. Her work visa expired this week, preventing her from being on the bag until the red tape is worked out.
"Sometimes it seems to be quite the challenge when things don't really go your way, like losing your caddie, for one," Henderson said. "But at the same time, it's just life. Things are going to happen. Hopefully sooner or later Brit is back on the bag."
There is no timetable for when things will be worked out.
Brooke will turn to Evertte Nini to loop for her this week in Michigan. Nini caddied for Wei-Ling Hsu, Tiffany Joh and Mariah Stackhouse in the past. Of course, it helps to have a veteran on the bag, but missing the sister connection will be a unique challenge.
"Brit pretty much reads my mind out there a lot of time," Henderson said. "So just learning to deal with speaking what I'm thinking a little bit more and just being able to adjust to things like that."
It throws a wrinkle into one of Henderson's goals for the year: winning multiple times. From 2016 to 2019, Henderson won twice a year on the LPGA. But she was winless after her victory in 2019 at Blythefield until April, when she claimed the Hugel-Air Premia L.A. Open, outdueling Hannah Green, Jin Young Ko and Jessica Korda for a one-stroke triumph. It was the most starts between titles in Henderson's LPGA career, part of Henderson's journey that the 23-year-old is working to embrace more.
"Golf is a roller coaster," Henderson said. "You're going to have good days, bad days, good holes, and then blow up on the next one. So just being patient and just being able to ride through that. Being able to travel usually around the world, and right now all around the U.S. and being able to share that journey with the people in my life is really important to remember how wonderful this life really is."