News
Meet the new Tiger, a 16-year-old making his pro tournament debut at the British Masters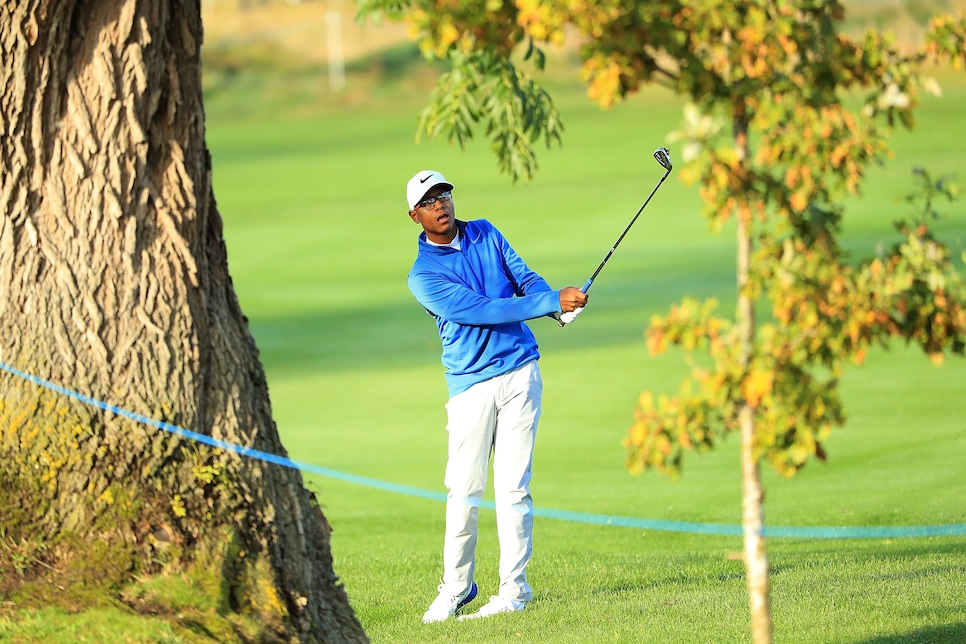 Tiger Woods rightfully has been credited with inspiring a new generation of golf talent, from Jason Day to Justin Thomas. But a new potential star is making his pro tournament debut this week. And he even shares Woods' famous middle name.
Meet "the new Tiger," Robin Tiger Williams. He's 16, he's teeing it up at the British Masters, and it took him less than one round to create a highlight that would make his idol proud.
New Tiger is even all decked out in Nike. Of course. And that chip-in birdie highlighted an opening 71. Not too shabby. Again, this kid is just 16.
The Telegraph's James Corrigan profiled the phenom ahead of the event. It turns out, Williams' parents moved from South Africa to Wales when he was three weeks old and that new Tiger spent a stint in the U.S. before returning to the UK when he was 15.
"Dad has told me I was very nearly Robin Sachin," Williams told Corrigan, referring to Sachin Tendulkar, an Indian cricket legend. "But I'm glad he settled on Tiger. I was born the year Woods completed the Tiger Slam, so I think that made up Dad's mind. It's a perfect fit the way things have turned out. The first time my dad put a club in my hand when I was 18 months, I was bitten by the golfing bug."
Sounds familiar. . . In fact, the old Tiger also made his debut in a professional tournament as a 16-year-old amateur, missing the cut at the 1992 Nissan Los Angeles Open (Williams wound up missing the cut after a Friday 73). And the new Tiger also has a dad with lofty goals for his son. Morne told the Telegraph that when Robin was 8, he had a little claret jug made that reads "Open Champion 2020."