The Loop
Meet the GB&I Curtis Cup team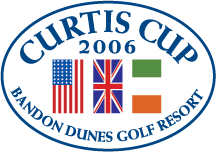 *Claire Coughlan, 26, Cork, Ireland
__ Tara Delaney__, 20, Carlow, Ireland
Naomi Edwards, 22, Yorkshire, England
__ Martina Gillen__, 24, Dublin, Ireland
__ Breanne Loucks__, 18, Wrexham, Wales
Tricia Mangan, 32, Limerick, Ireland
Kiran Matharu, 17, Leeds, England
__ Melissa Reid__, 18, Derbyshire, England
GB&I CAPTAIN ADA O'SULLIVAN – Ada O'Sullivan is serving as captain of the Great Britain & Ireland team for the second consecutive Match. She also served as captain of the GB&I team at the 2002 Women's World Amateur Team Championship in Malaysia.
O'Sullivan had a long career in Irish amateur golf and gained experience of a captain's duties with Irish teams at both junior and national levels. She won the 1994 European Masters and the Irish Under-23 Stroke Play Championship three times.
She serves as director of Phil O'Sullivan Electrical Ltd., a family business. In addition, she has been honored with several awards for fundraising for organizations such as Hospice of Cork and Irish Guide Dogs.