News
Meet Matt Parziale, the firefighter who will play in the Masters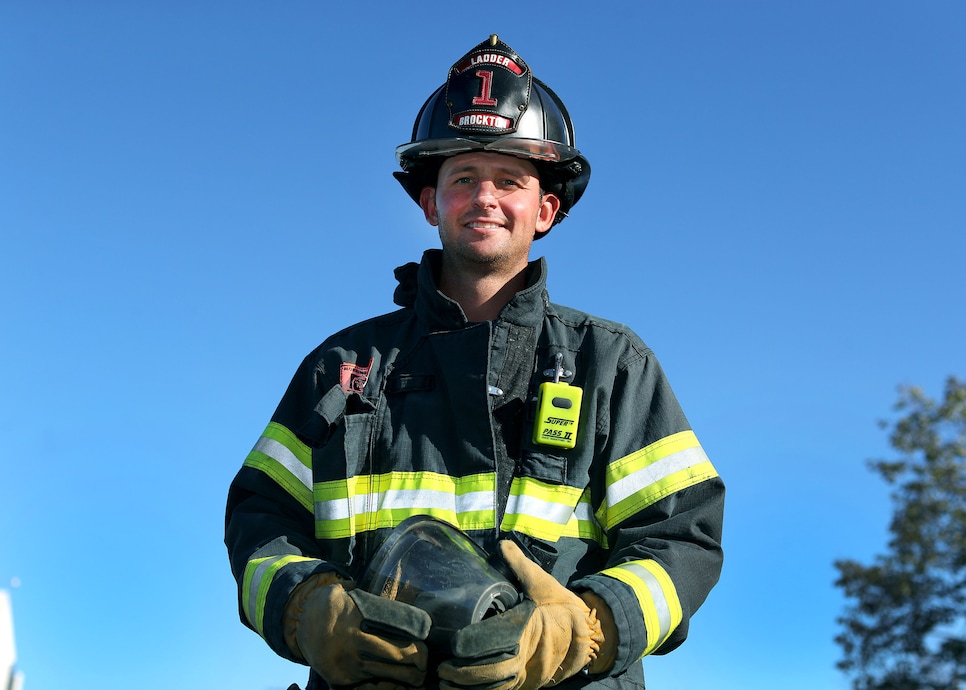 Photo By: John Tlumacki/The Boston Globe via Getty Images
Brockton, Mass., and Augusta National are not synonymous, nor necessarily even compatible. One is blue collar, the other the color of money, as different as Washington Road and Magnolia Lane.
Augusta National is urbane, refined, haughty. Brockton is hardy, its chin sturdy, a town capable of taking a punch, but also of throwing one. Augusta is Bobby Jones, gentleman lawyer. Brockton is Rocky Marciano, its favorite son, 43 KOs on a perfect 49-bout boxing ledger.
So what does Augusta National have to do with Brockton? Nothing, if the club had its druthers, the cynic might say. Cynicism aside, it is a tribute to both Augusta National and the USGA that a Masters invitation landed in a Brockton mailbox on Christmas Eve.
"USPS=Santa Clause [sic]," Matt Parziale tweeted, along with a photo of the Masters invitation. "The best Christmas present ever."
Parziale, 31, is a bona fide blue-collar worker, a firefighter with Ladder Company 1 of the Brockton Fire Department, the seventh busiest ladder in the country. His Masters invitation was extended by virtue of his having won the U.S. Mid-Amateur Championship on the Capital City Club's Crabapple Course in Atlanta last October.
"It is an amazing story," his instructor, Shawn Hester, said. "It's great to see that in this day and age a regular working person can have an opportunity through what the USGA has created with the Mid-Amateur to play in the Masters and U.S. Open [Parziale qualified for that, as well]. It really gives you a sense that these tournaments, they're still accessible to a regular person. That's a great thing about our game."
This assumes degrees of regular, we submit. As an unidentified wise man once said, "all men are created equal, then a few become firemen."
"Great firefighter," Brockton Deputy Fire Chief Charles Davis said of Parziale. "First in and last out, as we call it here in the fire department. He's a young, hard-working, aggressive firefighter."
This does not make him unique among firefighters, a heroic band by definition. But he will stand out at Augusta National, maybe the most compelling U.S. Mid-Amateur champion ever to compete in the Masters. For one who is trained to run toward and often into burning buildings, the tee shot at Augusta's par-3 12th hole and its swirling winds won't be the most daunting task he'll face all year.
Competitive golf and firefighting don't neatly align and can be a greater challenge than club selection at the 12th. Last summer, Parziale shot a 66 at The Country Club in Brookline in the second round of the 50th Francis Ouimet Memorial Tournament. He then reported for an overnight shift with the fire department, got home around 8 a.m. and was ready for his 11:10 a.m. tee time. He shot 71 and won by one.
"Matt's a better person than he is a golfer, and he is the best mid-am golfer in the country." — Greg Chalas
"I wouldn't say that I'm used to it, but you can't really think about it because you are competing and in the moment," Parziale told the Massachusetts Golf Association. "It's part of my life, so if I complain about that I have bigger issues."
Nearly three months later, Parziale won the U.S. Mid-Amateur in Atlanta, flew home, arriving at 2 a.m., and reported to work the following morning at 7 with no hope that the fire alarm would acquiesce to his weariness and go un-rung for a couple of hours.
"I wish that was the case," Parziale said. "We're never that lucky."
Brockton's Ladder 1 had 4,880 runs in 2016, according to Firehouse Magazine's annual survey (its 2017 survey is not yet complete), an average of nearly 13½ runs a day. Parziale was aware of the challenges, at any rate; his father, Vic, spent 32 years with the Brockton FD before his retirement last year.
Firefighter was not Parziale's first career choice, incidentally, and there was no second choice. Professional golf was it. Having a Plan B suggested a negative connotation. "It doesn't seem like you're all in," he said. "I was all in."
Blame it on Tiger, who set the hook, as he had done for so many kids, and the game reeled him in after that. Parziale was 10 when his father and grandfather took him and a shag bag of balls to the Brockton Fairgrounds and allowed him to flail away. Parziale did so relentlessly and became good enough to play college golf, though at the NAIA level. He competed from 2006-2009 at Southeastern University in Lakeland, Fla., a school that might be accused of a subliminal nudge toward the firehouse. Southeastern's nickname is Fire.
The years between college and career, 2009 through 2012, were spent on mini-tours and in Monday qualifiers. "I had a blast," he said. "It was great. I love to compete at the highest level possible. It just wasn't fitting the lifestyle I was hoping for. You have no money."
So he returned to Brockton and reclaimed his amateur standing, while deciding to follow his father's lead. He joined the fire department in 2014. "I watched him my whole life love his career," Parziale told the USGA. "I knew a bunch of the guys even before I got on. I always enjoyed being around them. The fact that I was able to be one of those guys is a dream come true."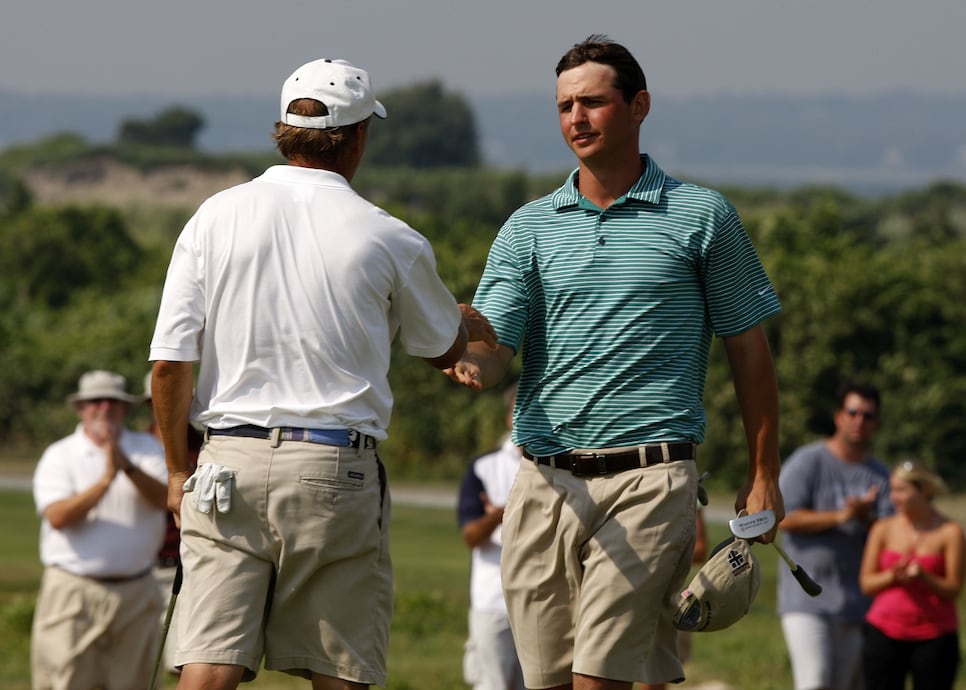 The job allows him to contribute to society and his hometown while still providing ample time to keep his golf game honed and to compete at the elite amateur level. Typically, he works a 24-hour shift, has two days off, followed by another 24-hour shift and four days off.
"Sitting in a cubicle five days a week, Matt made it a point to not do that," Greg Chalas, Parziale's best friend and best man for his impending wedding, said. "He wanted to do something great for the community. But part of it was that he has set his life up to be able to play tournaments."
Last summer alone, Parziale won the Massachusetts Amateur, the Ouimet Tournament (for the third time) and the Massachusetts Four-Ball. He also is a past champion of the New England Amateur.
As for the wedding, it was scheduled for Aug. 18, 2018, the day the semifinal matches of the U.S. Amateur Championship at Pebble Beach will be played. Parziale's Mid-Amateur victory also gives him an exemption into the U.S. Amateur.
"Try telling a woman to change her wedding date," Parziale told the Boston Globe a few days after his Mid-Amateur win.
Fortunately, he has an understanding fiancé, Alison Hubbard, a dentist in Brockton, who agreed to move the date up a couple of weeks. "We found a date that is going to work for everyone," Parziale said. "It's going to be an exciting August."
The wedding will be the capstone to a year that already resembles a golfer's winning lottery ticket: The Masters at Augusta National, the U.S. Open at Shinnecock Hills and the Amateur at Pebble Beach.
"I'm looking forward to being able to compete," he said. "I've always wanted to play golf at the highest level possible, and now I have a chance to do it a few times, which is awesome."
It will be a family affair, too. His father caddied for him at the Mid-Amateur and will caddie for him at Augusta, Shinnecock and Pebble Beach. "He went down for a practice round [at Augusta National late last year]," Vic said, "and I told him, 'If you want to get a club caddie who knows greens and stuff …' and he said no."
Matt also will have the firehouse providing moral support, belatedly. "There are probably 210 firefighters in Brockton," Vic said, "and maybe 15 that play golf, and only 10 that are serious about it. They didn't really see what was happening to start."
Copyright USGA/Chris Keane
They do now, and given Parziale's popularity among them, they'll be a formidable rooting section. "Phenomenal young man," Davis said. "Salt of the earth guy. He's worked hard to get where he is. The biggest thing is all the guys support what he's doing."
Chalas, who lives in Indiana now and works for Easton Vance, an investment management firm, has played golf with Parziale since they were teens, and went with him to Augusta for a practice round in November and another this month. He has first-hand knowledge of Parziale's skill on a golf course. Yet he rates it secondary to his character.
"Matt's a better person than he is a golfer, and he is the best mid-am golfer in the country," Chalas said. "The story for me is that he's a blue-collar, rock-solid guy. Ask anybody about his personality and it's never that he's a great golfer. It's that he's a great dude. His personality attracts him to people. He just happens to be a great golfer, too."
Good enough to own a USGA championship trophy. But amateur golf is a niche within a niche sport, so he won't likely turn a twosome, Marciano and another Brockton boxing champion, Marvin Hagler, into a threesome that gave Brockton its identity, the City of Champions. But he ought to.
He isn't a world champion, but he is a national champion with a Masters invitation and a tough blue-collar job more dangerous than trading blows with Joe Louis or Thomas Hearns. More important, too.