Blast from the past: Rex Caldwell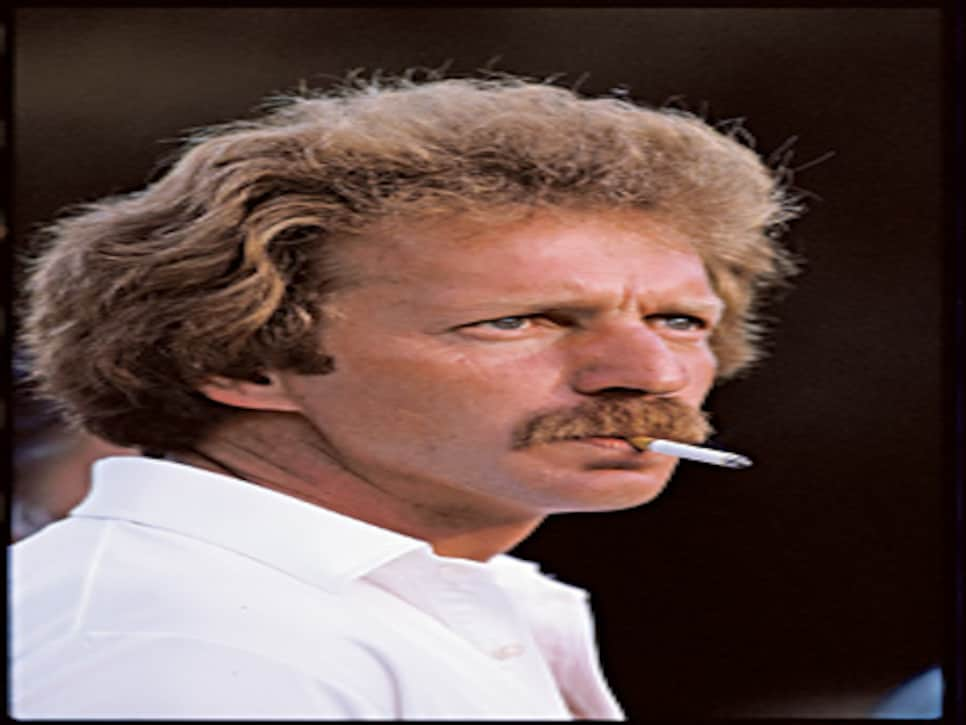 "There are some guys you just don't like, and I seemed to be one of those guys," says Caldwell, here in 1978
For every durable PGA Tour star, there are dozens who flash across the scene or TV screen for a relatively brief period, then vanish. Rex Caldwell was one such player who, with a certain flair and swagger, created a fleeting celebrity.
__Caldwell made his mark in the late 1970s and early '80s, peaking in 1983 with his lone PGA Tour victory. He agonized over playoff losses but celebrated key putts with what might have been golf's first full-throttle fist pumps. A disco-dancing fool who nearly got himself punched out for asking the wrong woman to dance, Caldwell was dubbed "Sexy Rexy'' by his pal Fuzzy Zoeller after posing semi-nude in a cheeky response to Jan Stephenson's provocative photo layouts. __
We hadn't heard from or thought much about Rex Caldwell for the past 20 years, until he was spotted last fall in Bahrain, trying to keep his playing privileges on the European Seniors Tour. True to form, Rex was told he had to change into something more appropriate than jeans to attend the tour's season-ending dinner.
__It turns out Caldwell, 55, has been kicking around mini-tours and continuing to make a living playing golf. In that sense, he has remained successful, doing what he always wanted to do (and avoiding, as he'd put it, a real job). __
__Caldwell and his fourth wife, Julie, live modestly but comfortably in Tifton, Ga. The life on tour -- traveling across Europe in a decade-old car, staying in cheap bed-and-breakfasts -- isn't far removed from how he started on tour, but you might not recognize Caldwell without the big, blow-dried hair from his heyday. And he has gained about 50 pounds since his prime (when similarities to pop singer Barry Manilow were invoked). __
As Caldwell reminisced and chain-smoked Marlboro Lights, he punctuated his stories with humor and uncensored, unflinching details. What's not to like about a tour pro who admits to a lifelong fear of water hazards?
Golf Digest: This life you've had -- playing golf for a living, never having to go into an office -- some people would call that a vacation.
Rex Caldwell: It is a vacation. I have the greatest job in the history of the world. Think about it: People live their whole lives, working 40 to 50 hours a week so they can take their clubs on an airplane and go play golf somewhere. I get to do it every day. I wake up and say, "Gee, I wonder what I'll do today? . . . I think I'll play golf.''
I've never had to do anything except exactly what I wanted to do. I meet people who are multimillionaires, got more money than God, and I think, I wouldn't give up what I did for your money for any reason.
Before you got on tour, you had a few odd jobs. Tell us about that.
I wasn't good enough to go to the tour out of college, so I worked at the Arnold Palmer Golf Academy [in Stratton, Vt.] in the summer of 1972. Me and my buddy Bob Lendzion, we hitchhiked from Vermont to L.A. at the end of that summer. Had our clubs and a backpack. It took us eight days to get home, and we played golf five of them. Early on, we stopped in Latrobe [Pa.] to play at Arnold's place.
Arnold had told us to stop by if we were ever in the area. He probably didn't think we'd take him up on it. Anyway, we slept in a boxcar the night we got there because we didn't want to spend money on a hotel. The next morning we're walking toward the course, and we meet Arnold's wife, Winnie, who's out in the front yard picking up the newspaper. We told her the whole deal, so she went inside to get Arnie.
He made us breakfast, told us to get cleaned up and showed us around his shop, where his clubs were displayed on all of the walls. We were mesmerized by the whole situation. Arnie couldn't play golf with us that day because of a business commitment, but afterward he had his driver take us back to the freeway in a limo.
Four years later you were paired on tour with another golf legend, Sam Snead. What do you remember about him?
Sam had gone to sidesaddle by then, couldn't putt a lick. Everything else was still perfect, tee to green. He didn't hit it far, but he hit it straighter than heck. We're playing in Hartford, and I'm paired with Craig Stadler and Sam on the weekend. Stadler, you know, was kind of a goofy, heavyset kid, and it's his rookie year. On the PGA Tour, they have the through-the-hole line thing, meaning, if I roll the ball past the hole, I don't want your footprints in my line on the putt coming back.
Well, Craig didn't understand that rule, had never dealt with it. He did it a couple of times early in the round to Sam, and Sam told him, "Look, son, I know you're a rookie out here, but I really don't want you to walk in my line through the hole.''
Craig does it again on the 16th green, and Sam comes unglued. "Son, I told you, I don't ever, ever want to see you do that again to anybody. If you do it to me again, I'm going to knock you out.''
Stadler was a kid then, with Popeye arms, and I'm thinking, Sam, what are you talking about? That kid would kill you.
Stadler got a little upset, and I go, "You know, Sam, he's just a rookie, lighten up. He didn't do it on purpose.''
Your image was that of being a bit different. You were known for your exuberance, your dress, your having a good time off the golf course.
I was kind of a rebel out there. I think that's more or less why people didn't like me.
Were you as much of a party boy as people thought?
I wish I'd done the stuff people think I did; I probably would have had a really good time. [Laughs.]
I liked to go out at night because I hated sitting in the hotel room. Ninety-nine percent of the time I didn't drink, but I'd stay out talking to women and asking them to dance until 10 or 11 at night. After I started running around with Fuzzy and Hubert [Green], the three of us would go out dancing.
Women would ask us to dance. People thought I was a womanizer, but I wasn't. I was married to beautiful women.
I ran around with a lot of people. Glen Campbell for a few years, the Gatlin Brothers, and they liked to have a good time. I was playing in L.A., and Glen and I were going to go have dinner. That's when he was dating Tanya Tucker. He's recording or something, so he was going to send her to pick me up. I said, "Don't send her, my wife would have a coronary; one of these wives would tell her. Me walking out the door into a limo with Tanya Tucker would not fly.'' I said, "Glen, why don't we just have lunch?'' He said. "OK, I'll save your marriage."
People still thought you were drinking and carousing every night.
Let them think what they want. I didn't go to the golf course with a hangover the next day. That was back in the disco era, and I'd ask anyone to dance. I asked a married woman one time, and her husband tried to beat me up.
Jamaica. I was in this place early in the week, with Jim Thorpe and some other guys. This couple came in. I think it was their wedding day. I bet the guys I could get a dance with her. I asked her, and she said, "No, thanks.'' The guys said, "You lost the bet." I said, "Time out, this ain't done yet." So I went back over and asked her again, and her husband took offense. I went over a third time to apologize, and that's when the guy got mad, took a swing at me. Never got that dance.
Who were some of the big partiers on tour?
There was one guy who'd close the bar every night, no matter what his tee time was. If somebody wanted to see a party machine, there was a man to look at during his career.
Another guy, John Jacobs, was quite a character back when he was drinking. A couple of Australian guys, Jack Newton and Bob Shearer, were two of a kind. They were world-class together. Brian Barnes, there's a guy who liked his beer.
Some guys used to drink on the course, too. One guy -- don't make me look like an a jerk with this -- was always drinking on the golf course, has his whole life. But nobody knew it. His caddie disguised it in a cup. They drank a lot, that breed of guys. Every night.
How about drug use, like pot smoking?
I quit after I got out of college. But we smoked our brains out in college.
Nicklaus said in one of these Golf Digest Interviews that he once had a puff.
[Laughs.] There was lots of marijuana on the tour in the '70s. We came out of the disco era. Smoking dope was no big deal. It didn't matter; it wasn't worth a damn anyway, because it cost only like $10 a bag. You'd have to smoke a whole bag to get high. [Laughs.]
Did you ever play with Nicklaus?
I was paired with him the final round of the Crosby in '83. That was premier Nicklaus. At No. 9 he takes this 1-iron and hits it straight up, and I'm thinking, I can't hit a wedge that high. Just knocked the stick straight down.
I played with Jack the year before at the Memorial, his tournament. And I got paired with him in the PGA at Atlanta in '81, and we were both in the hunt on Saturday. I hate to say it, but I might be the only guy that Jack Nicklaus has never beaten head to head, playing with him.
How good were you in your prime?
I was good enough to start finishing in the top 10, periodically, and that's all you had to do a couple of times a year to make a good living. That's how I looked at it. I was out there to make a living, not to be Sir God or anything. When I played well, it was just a bonus. I didn't have the talent all these guys had.
How are you gonna finish ahead of Watson or Kite, people who beat your brains out for as long as you've been living? Now I finish ahead of them on the money list? Yeah, right.
You got the nickname Sexy Rexy, and even posed for a suggestive photo shoot in a locker room with Greg Norman, Peter Jacobsen, Keith Fergus and Payne Stewart. How did that come about?
I think Fuzzy and Peter came up with it. It was in response to what Jan Stephenson was doing at the time [posing nude in a bathtub filled with golf balls]. It was all a big laugh. None of us really wanted to see our bodies in print. But we were wearing underwear. I was privileged to be part of it; I felt like one of the boys. That didn't happen too often.
I was on a roll at the time. I wasn't as good-looking as those guys, but I had a big ol' head of hair.
So you enjoyed that Sexy Rexy image?
I thought it was cool. It was the only image I had. I certainly wasn't known for my golf game.
You were known for wearing some tight pants.
They were Angels Flight slacks. I tried to be a really good dresser when I played. I was tall and thin. My best asset was basically looking good. The guys hated it. I got my second wife, Jana, because of those pants. She was passing out Vantage cigarettes in Abilene that week, '82. She said, "That's the best ass I've ever seen.'' I go, "Cool.'' [Laughs.]
There were a few times in the '70s, remember when they had those designer jeans with designs on the sides and stuff? And they had the frayed bottoms? Stylish, well-pressed, starched jeans, big cowboy bells, something different. Hell, I wore them to tournaments to play in. I was trying to be an individual, but the tour changed the rules real quick.
It happened in Europe last year, too. We're still not allowed to wear jeans over there; no tennis shoes at tournaments, either. So I'm three hours from getting on a plane, and I show up to the season-ending dinner for the seniors tour wearing what I'm going to wear on the plane: jeans.
"Where's your suitcase?" they asked me. "Go change." They were going to fine me, like, $300 for showing up in jeans.
You had a few run-ins with Deane Beman when he was commissioner of the PGA Tour.
How many times did he fine you?
Probably two or three times. I wasn't a bad guy, just a little different. I said the wrong thing at the wrong time, a "flying F," and some lady wrote and complained. I never paid a fine until I got one for slow play on the senior tour a few years ago.
How did you get away with not paying?
I never thought twice about it. I just ignored the letters or stated my case. But a few years ago, in Hawaii, I got the fine for slow play, which was absolute B.S. I was playing with two renowned slow players, David Graham and Jay Sigel, who took so much time to play it was a joke. I got one bad time when I went back to the cart to change my glove. I'd been waiting on the SOBs all day. I paid that one, like $500, because they were going to suspend me from playing the next year.
The Champions Tour is professional golf's ultimate mulligan. Were you expecting to cash in?
I thought I'd be back on Easy Street. It just didn't happen. I live tournament to tournament, always have. I don't have a lot to show for my career. But I live good. I've got a great wife, a great life. We're not in dire straits for money.
Ever think about getting a real job?
I've never had to get a job. I've been fortunate. Something would always come along when things got tough. I'd go play in a tournament, make 5-6-7,000 bucks.
I'm free to go for a long time on that much money.
If you ever had to get a real job, what would you be qualified to do?
Nothing. If I had to, I'd teach golf. I'm an excellent teacher; I can see what makes a swing work and not work. I know why it works. Most people who teach golf don't know s--- from shinola.
Even guys like Butch Harmon, David Leadbetter?
I'm not talking about them; they've proven themselves with players. I'm talking about Joe Blow who teaches at the club or driving range. There are a lot of guys teaching golf who shouldn't be doing it. They don't really know what makes the golf swing work.
Have you ever worked with a swing guru?
I was a watcher of others, but I was entirely self-taught. When I got on tour I took one lesson, from Jack Grout. The next two rounds I shot in the 80s. But when my timing was on, I could play as well as anybody.
Last year on the European Seniors Tour was my first full season of playing since 1989. If you finish outside the top 20 over there you should shoot yourself, and I did that more than half the time. It was horrible. I walked away every week saying, "Are you kidding me?''
I've got to do something. I'm going to lose some of this weight, gain a little more muscle and be ready to play when I go back over there in May. I have to do this. It's not a matter of whether I want to or not. I need another 10 years of playing.
Why aren't you playing over here on the Champions Tour?
I could never get through the qualifying school. Tried three times. It's tough to get to the top eight. Monday qualifying is just too tough, going for four spots -- now they've reduced it to two, so you have to have one of your best days just to qualify. It's the hardest tour to get on in the world.
Any crazy stories from life abroad this past year, making a wrong turn and ending up in the wrong country, driving on the wrong side of the road?
When I first started driving over there, I about killed everybody. Bought a car for 800 pounds, a '95 Ford Scorpio. It was the best engine Ford ever made; that's why I got it. Had to put new brakes and tires on it, another 750 pounds.
I pulled into this gas station trying to get my oil changed, parked on a little incline and walked down to a convenience store to get directions. Turned around and looked, here comes the car rolling down the hill. I didn't put it in gear, and it crashed into a post, wrecked the whole front left side of the car.
I could've gotten it fixed for $400, but I couldn't leave it anywhere to get it done. Every guy on tour laughed at me every time I pulled into the parking lot.
I had the only car on the road that was crashed.
What does it cost you a year to do what you're doing?
I played 17 events, probably cost me 40 grand to play over there. I made about 60. It's all relative. I'm not any poorer than I was a year ago. But everything is so expensive over there. You know what an oil change cost me? One hundred dollars.
So you're roughing it, not living the life of luxury?
Some of the hotels they put on the list [available to players] are like $200-$250 a night, which is absurd. I'm not spending that much money to sleep in a bed. I'm going to go out and find me a dump someplace else. The bed-and-breakfasts are about $100. Half the time you don't have a bathroom in your room; it's a shared bath.
There was one place that wasn't eight feet wide by 10 feet deep. I stayed there for two weeks, just a bed and TV. No air conditioning. I bought a stand-up fan to take in and out of the hotel with me every week. This one place I went to, I didn't know you had to pull this cord to get the hot water to work. I took cold showers for three days before I found that out. [Laughs.]
At the final tournament of the year, you were fighting for a spot in the top 40 for the year. What happened in Bahrain?
The last round, I'm in eighth or 10th place. I've got, like, 227 yards, a little downhill, wind blowing across about 20 miles an hour, and there's water in front of the green. I've only got 215 to carry it. And I hit it in the water for no reason. One thing that scared me my whole life was water hazards.
Really? We know they intimidate average golfers, but for pro golfers it's like they're not even there.
To me, water hazards are worse than hitting it out-of-bounds. If you give me water anywhere near my shot, I'm bailing. I always have. Water just messes with my mind. It's been that way my whole life, and I don't know why.
Did your fear of water ever come into play in big events like the Players Championship? How did you do on the island-green 17th there?
I remember one year I was four or five under par and near the lead, playing it as my eighth hole of the day, and I made a 9 there. Mis-hit it just enough to hit the front piling. I'm just about to load it up again when the marshal comes up and says, "There's a ball drop up there." I think I would've hit the next one on the green from the tee, but I went up to the ball drop instead. When I get there I see they haven't mowed it, and the green is like concrete. I barely fly it on the green, twice, and both times it bounces into the water. My caddie, Bruce Berry, hands me a ball and says, "This is it. It's your last ball."
It floored me. Now I've got to finish this hole, play 18 with the same ball, and get to the clubhouse for more balls.
I missed the cut by a shot that year. Too much water on that course for me. Anything else happen to you while playing in Europe, a stranger in a strange land?
I got burglarized in my hotel room in Wales. Somebody came in and stole my briefcase. I had $6,000 in cash and a gold-nugget bracelet that was worth about $5,000, plus my passport. I ended up in the U.S. Embassy to get my new passport, on the day of the bombings in London.
How close were you to where the bombs went off?
Maybe a mile away, inside the embassy. It was the day before a tournament, and I had to take a train to the bottom of England [Plymouth]. It's a day I'll never forget; people were just everywhere, trying to stop people to get a ride, because there was no transportation. I'm panicking the whole time, thinking there's no way I'll make it, I'm WDing from the tournament.
I was walking down this back street, and a guy jumped out of a cab, and I jumped right in. I got lucky. Got on the train, and you know, a train is supposed to go where it says it's going. Well, I'm on the right train, but I'm in the wrong half. I'm in first class, but this train was splitting, one half was going my way and one was going straight west. I was on the wrong half of the train when it split in half. Another big detour. Fortunately I got off my train and got on the right one.
What are the biggest differences between the Champions Tour and the European Seniors Tour?
We pull our own bags on trolleys in the practice rounds, because we don't have to have a caddie until the tournament round. Some guys carry their own lightweight bag. It looks kinda weird.
Another thing, I went out to dinner more times with players this past year than I did the whole 40 tournaments on the Champions Tour the previous four or five years. Even guys I knew really well, have known forever, I never went out to dinner with any of them. In Europe, every night it's, "Rex, let's go.'' People sitting there at the bar, "Let's go to dinner." And these are guys I've just met.
You've been around. Did you see much cheating in your days on the PGA Tour?
Nah. Some guys who came out on Monday trying to qualify probably fudged a bit, but it didn't matter in the end because they didn't make the cut anyway. I never reported anybody.
There was one guy I wouldn't have reported anyway, because he would have killed me. I was scared ----less of him. I didn't say nothin', because I liked my health. You can't print that name because he'll come find me if he's still alive.
Otherwise he was a great guy. He just couldn't help himself; he had to cheat all the time -- I'm talking every round he ever played, probably. It's hard to cheat, you know, and not get caught.
There was a story that another player caught him a couple of times, moving it all over the green -- I'm talking closer to the hole. After the round, the guy who was cheating picked him up by the shirt collar and stuffed him in a locker and said, "If you say a word -- anything -- I'll kill you.'' And the guy didn't report him.
When you think back on your days on the tour, peaking with your win and four second-place finishes in 1983, what do you remember most about that run?
It's so long ago, it's unreal. What was really weird, when I had those three second-place finishes in a row, I actually walked off the golf course at Pebble Beach, and I go, "Is that all there is to playing this good?" I thought it would be more of a rush. After it was over, there was more of a letdown.
How did it feel to be a celebrity all of a sudden?
I was probably the most popular guy in the world at that time. People for years said, "Man, I love watching you play.'' I thought I'd continue doing it the rest of the year, that I'd just show up and I was going to play well. At hotels, the people didn't even know who I was when I checked in. When I checked out, they said it was taken care of.
When I went through airports, people said, "Hey, Rex, how ya doin' buddy?'' I was at the top of the heap. Maybe I just couldn't handle it.
People told me at the time I behaved like an ---hole, but I didn't know I was doing things that people didn't like.
I don't know. The first time you get rich, you don't realize you're changing. I wasn't rich, but I had more money than I'd ever had in my life. Years later, when I started playing the way I'd always played and got back to the way I always was, people told me, "You weren't a very nice person back then.'' I couldn't have been any happier; how could I become an ass?
The traveling lifestyle must make it tough to maintain a marriage.
Women don't know what they're getting into when they marry a traveling athlete.
It looks great on paper, it feels good, it's fun. And when the fun wears out, they want to go home. And they do. And they pretty much don't come back out. I think that was the bottom line of what happened in my case, especially with Jana. She was one of those who loved the tour lifestyle. They all love it for a year or two, then they have to find their own identity, because they become known as "Rex's wife.''
You often thought that fellow tour players looked down on you?
They didn't like me at all.
Because I was so much different than they were. Who is this guy? He misses half the cuts, and all of a sudden he's hanging out on the top of the leader board. Nobody had any respect for my game.
That criticism didn't upset you, coming from colleagues?
No. There are some guys you just don't like, and I seemed to be one of those guys. I think they just thought I had no frickin' talent and I shouldn't be out there. I didn't hit it very good, and I didn't have a very good golf swing.
I have a better golf swing now. I can actually hit a 4-iron straight; before I couldn't even scare hitting a 4-iron shot straight unless I absolutely death-gripped it, steered it and held on.
They didn't like it because I played way better than they thought I should play, I guess. I don't know. Because I never said a bad word to anybody. I was proud to be out there, because I was a whole lot less talented than a major majority of them.
Talk a little more about your run and how it felt to play that well for a spurt in 1983.
I remember warming up for the third round in the old Crosby. I was to play that day at Cypress Point. I didn't hit 12 balls. Went out and shot 66 at Cypress. I go, "How easy can this get?'' I'd just lost two playoffs in a row, and I actually thought I was going to beat Kite at Pebble Beach. Then I missed an eight-footer at 17 and a three-footer at 18 to lose by two.
The week before, you holed a long putt at Phoenix to get into a playoff, and you gave it one of your signature fist pumps.
If you can't get excited about that, why play golf? We went eight holes -- TV cut away for the Super Bowl or something -- before Bob Gilder won it.
Were you golf's first big fist pumper?
Maybe. Gary Player used to curl up his arm, clench his fist against his upper body, but he didn't raise it up in the air like I did [demonstrates by shaking his fist well above his right shoulder]. Kite used to give it a little raising up of his fist. But I brought a little more emotion to it the few times I had the chance.
What do you remember from your victory at the LaJet Classic?
The last day, Trevino was three or four groups behind me, finished second. I lived in Abilene at the time, too. Probably the best round I ever played, because the wind blew like 30 miles per hour that day. That's my luck: The only tournament I ever win, they cancel it a few years later.
You played in the 1980 Masters. What are your memories of Augusta?
That was the most incredible feeling in golf that I'd ever had. They pick you up in a limousine with a chauffeur in a hat. Duh. You go down Magnolia Lane in a limousine. I've never been that excited in my life; I'd never been to Augusta.
When I got out of the car, I had to go in and sit in front of my locker for about 45 minutes because I was just sweating, I was so excited to be there. Then what was amazing was, I was never nervous during the tournament. Because they didn't have any rough, I could compete on that course. Now you actually have to hit it pretty straight at Augusta.
Just being a spectator in that tournament is exciting. To play in it was like Christmas. Augusta is the only game in town; nothing compared. I played in all the other majors, but they never got me that excited.
You had your first brush with fame at the PGA at Oakland Hills in '79, leading after three rounds. Anything stick out there?
Dan Jenkins wrote that article after that PGA. [Jenkins wrote that Caldwell "is such a hot dog there isn't enough mustard in America to cover him."] To this day I still can't figure that one out. I'm leading by two, I just shot 66 and I told them, "I'll probably win if I shoot another 66 tomorrow." Of course it didn't come out the way I said it. The headline in the Detroit paper said, "Caldwell says he'll win.'' I'd found a driver in Philadelphia, identical to the old Eye-O-Matic. Drove it in the middle of the fairway and made a few 50-footers, and all of a sudden I'm better than anybody's ever shot on this golf course. I'm going, "This is very strange. Where did this come from?''
I went out Sunday and played just as well, shot 71, bogeyed the last hole. I was playing with David Graham, who shot 65, and he doubled the last hole. [Graham went on to beat Ben Crenshaw in a playoff, and Caldwell finished third, two strokes back.]
Do you have any heroes or idols out there now, guys who are still playing well late in their 50s?
I'm such an individual, I've done everything my way, on my own, my whole life.
And I never had a hero when I was a kid, I didn't look at Arnold or Gary as somebody I'd like to be as good as. I never thought I'd be as good as they were, but I thought I could compete with them, and hold my head up. And pretty much that's what I've done my whole life.
How would you assess your career?
A major high in life, a little disappointment in my performance. But I never look back and say I should have done something else. I couldn't have had any more fun in life doing anything else. Being your own boss, always to be on your own time. . . . I've never been a businessman like Nicklaus, where your time is taken up by something else. My time has always been taken up by golf, and I wouldn't have changed that for the world. I've had a helluva career. I got to do it my way, and I'm still having a good time doing it.
I think I've missed out on something that I should have had in my career, and I'm determined to have that moment, that year or that two years. And it might never happen. But the thing is, I'm going to go to my grave trying to get it. As long as I work hard, making money will never be a problem playing golf.
My goal in life is to never get a job. There were times I maybe should have, and I got offered a couple of club jobs. But I was never done playing. I was having fun, playing the mini-tours, I was winning, and that was great. And it didn't cost much, because the events were only two days. I wasn't ready to take a job.
I'd like to have more money; who wouldn't? I've got plenty to live on, get to do what I need to do. If I need to make some money, I just go make some. I've got a little bit of a retirement plan, money's coming in every month, pays the bills at home, so everything's gravy. I don't have to make much. Costs a lot to make it, but it's all relative.
Oh, hell yeah. Absolutely. I'm not done yet. Trust me. ‹›