The Loop
Mayweather vs. McGregor conjures memories of the worst fight ever
As news broke Wednesday evening that prized Braveheart-meets-Kanye UFC hybrid Connor McGregor and Floyd Mayweather had agreed to terms for their long-rumored face-off, Sports Twitter went running for its collective paper bag. What seemed like big-budget boys-will-be-boys bullshit a few months ago, has become an honest-to-goodness-gracious reality with little more than a flick of a pen. It is every adolescent fighting fan's most passionate Cindy Crawford-less fantasy made whole and nothing—not Dana White, not Mayweather, not Vegas, not Ares in the goddamn flesh—can stop it now.
Now that the internet has had a few hours to amass the floats, however, allow us to rain on the proverbial parade for a minute: Does anyone else remember the last time the best boxer on earth met a mixed martial artist in an official, televised match? Anyone? [dunk, dunk] Is this thing on?
Unfortunately, we do. June 26, 1976. Tokyo. Muhammad Ali vs. Japanese martial artist and New Japan Pro Wrestling founder Antonio Inoki—an international sporting spectacle and quite possibly the worst fight of all time.
A 15-round slog in which "The Greatest" threw six total punches and Inoki rolled around on his back snapping at his shins like your little brother when you used to beat him up, the exhibition eventually—and mercifully, for mankind—ended in a draw. As trash rained down on the ring and chants of "Money back! Money back!" began to echo around Nippon Budokan arena, it must have felt like the fighting world would never see anything so awful again.
There are some key differences between this and its modern day equivalent, however. Ali vs. Inoki was a special rules match, while Mayweather vs. McGregor will be a straight boxing brouhaha, for starters. But before you get carried away, turn around and roll those Ali/Inoki highlights one more time. Or on second thought, don't. No matter how hard you stare and how many times you watch, they don't get any better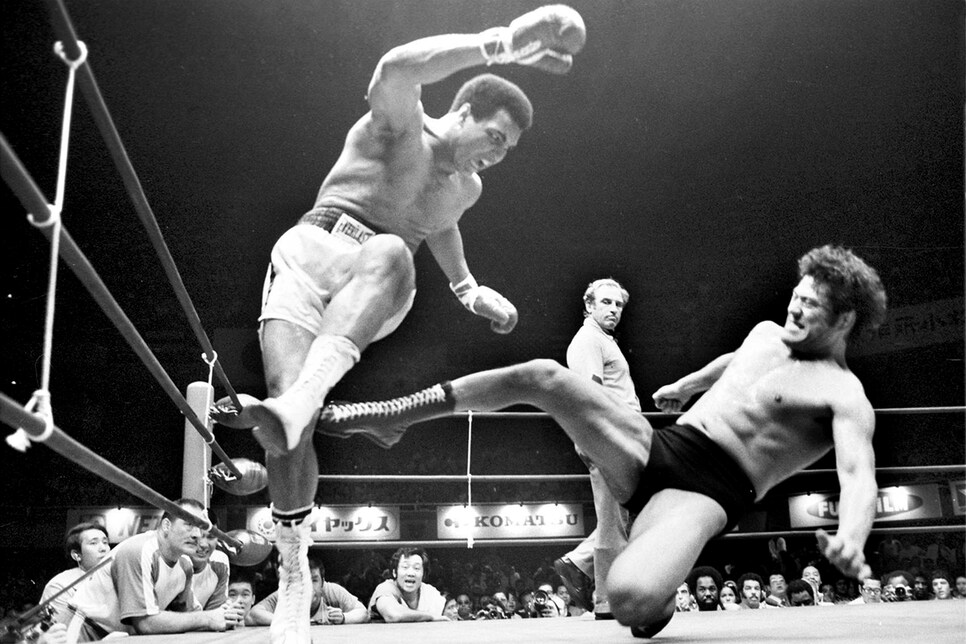 Ultimately though, it's up to the fighters, and both are at the pinnacle of their respective sports—something neither Ali or Inoki could say by the time 1976 came calling. So who knows, maybe we could have the fight of the century on our hands after all. Maybe Connor McGregor will even knock Floyd down. It could happen, and that's enough for most PPV fight fans. The star power, meanwhile, is enough for everyone else. And that's why we're buying the damn thing too. But before we all settle in on Aug. 26—Tecates cracked and Rocky quotes at the ready—let's tap the proverbial breaks and temper the stratosphere-scraping expectations.
We've been here before and, as Roger f'n Daltrey once howled, we won't get fooled again.