News
A good start for Max McGreevy finally leads to a great finish at the Price Cutter Charity Championship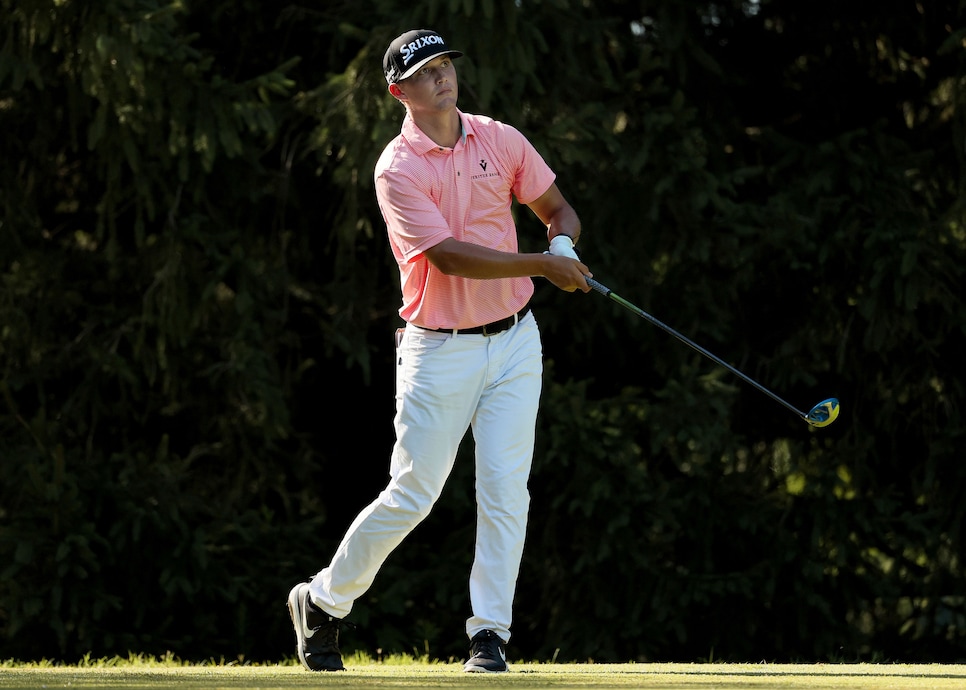 Max McGreevy closed with a 64 on Sunday to win his first Korn Ferry Tour title.
Dylan Buell
Bookend 64s generally will land one in good stead on a leader board on Sunday afternoon. In this case, it landed Max McGreevy at the top in the Korn Ferry Tour's Price Cutter Charity Championship.
On Thursday, McGreevy, 25, opened with a 64 at Highland Springs Country Club in Springfield, Mo., and on Sunday he closed with a 64 that included a back-nine six-under 30 to win by one over José de Jesús Rodríguez of Mexico.
The victory was McGreevy's first on the Korn Ferry Tour in this his 28th career start and 12th in 2020. He also won the 2019 Guangzhou Open on the PGA Tour China, on which he was the player of the year and Order of Merit winner, earning roughly $138,000 in 13 starts last year.
"Got off to a really hot start this week," McGreevy said. "Felt good about my game. Didn't really put two good rounds together Friday and Saturday, but still was good enough to give me a chance. It was just a great week. I'd never won a four-round event before."
First rounds have been a nemesis for McGreevy this year, notably when he has teed off in the morning wave of players. His first-round scoring average going off early was 74.25, 155th on the Korn Ferry Tour. Subsequently, he had made the cut in only three of 11 starts prior to this one.
"It's been kind of frustrating," he said on Thursday. "I feel like I've played well. I just haven't had good first rounds. I just really haven't given myself a breath from the cut line all year long."
This time, teeing off at 7:52 a.m. on Thursday, he shot a bogey-free round of 64 to share the first-round lead. He followed with rounds of 68 and 71, and started the final-round in ninth place, four off the lead.
McGreevy, who played college golf at the University of Oklahoma, shot another bogey-free round to close, this one with six birdies and an eagle. He holed birdie putts of 20 feet and six feet on the 15th and 16th holes to break from a four-way tie with Rodriguez, Chad Ramey and Daniel Sutton.
Rodriguez had a chance to tie McGreevy on the par-5 18th hole, but his 30-foot birdie putt slid by the hole. Ramey finished in third and Sutton, who bogeyed the last hole, dropped to fourth.